Can ChatGPT Save You From the Agony of Writing a Cover Letter?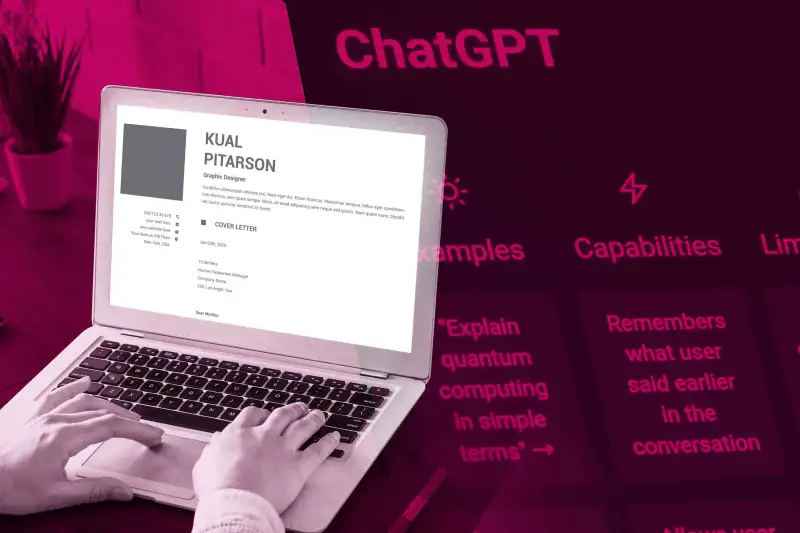 A chatbot powered by artificial intelligence is spurring intense ethical debates across industries from education to media, while striking fear in the hearts of many knowledge workers who worry they could lose their job to a computer.
But in certain corners of TikTok, some argue that ChatGPT, the darling chatbot released by the tech firm OpenAI in November, might actually help you land a job.
The powerful and free-to-use version of the AI chatbot can produce nuanced sonnets, complex computer code, well-cited research papers and just about everything in between on command. And, yes, it writes cover letters, too.
Within moments of inputting a boilerplate cover letter template — or simply after prompting the AI to create a cover letter from scratch — ChatGPT can produce a fresh one according to your instructions.
In a viral TikTok video, CEO Jonathan Javier of career consulting company Wonsulting recommends plugging a cover letter template into ChatGPT and letting the chatbot work its magic.
"It will make you a cover letter so you don't have to waste your time anymore," Javier says in the video, which was uploaded in early January and has already racked up more than 1.2 million views.
Submitting a cover letter that you didn't actually write might feel a bit like cheating. But the advice to use ChatGPT for your cover letter is typically paired with the notion that employers are demanding too much unpaid time and effort during the hiring process.
Job applications, which could require a resume, cover letter, references and multiple written responses to screener questions, may never reach human eyes. Employers often don't respond to most of the applications. And if they do, the argument goes, it's probably going to be an automated email. So why wouldn't you automate your cover letter?
"As a job seeker, you have only a limited amount of time to apply," Javier tells Money. Obviously, you want to have a killer resume, he says, but he advises applicants not obsess over the cover letter because that's the part of the application he says hiring managers are most likely to ignore.
Alison Green, creator of the work-advice site Ask a Manager, says that sentiment is valid, as job hunters really are being asked to jump through an ever-growing number of hoops and produce lots of unpaid work upfront.
"So of course people are looking for shortcuts, and of course there's a bit of an F-you in there toward employers," Green says. "People feel like: If I can game the system, why shouldn't I?"
ChatGPT is no doubt an easy-to-use shortcut for cover letters, but is it a good idea to use? We asked Green and other workplace experts to weigh in.
Should you use ChatGPT to write your cover letter?
The question of whether to use ChatGPT to write your cover letter is really implicitly two questions: Is it ethical? And is it practical?
As for the ethical portion? Experts are split, but it's certainly a gray area.
Alex Alonso, the chief knowledge officer at the Society for Human Resource Management, says that these types of ethical questions are "just now catching some momentum" among hiring managers as the industry begins to grapple with the use of AI during the hiring process.
As a result, there's not a firm consensus around the ethics yet. Alonso, who holds a Ph.D. in industrial and organizational (aka workplace) psychology, says "it's an 'it depends' answer."
He explains that in some cases a ChatGPT-written cover letter might be permissible, particularly in tech fields. Using it could show the employer that you're familiar with the technology. However, he says you should always disclose that you used it.
"If you share that information and somebody feels comfortable with it, that's perfectly okay," he says, but in other cases it could be unethical, especially in the case that you're trying to pass off the cover letter as your own work.
(For what it's worth, ChatGPT itself also recommends going the disclosure route. "It's important to be transparent about the role that a language model like me played in the creation of a cover letter, and to make sure that the final product accurately reflects your own qualifications, skills, and experiences," the chatbot said when asked if using it for cover letters is ethical.)
Green, of Ask a Manager, also notes that the ethics become more of an issue depending on the field. In certain writing-heavy industries, she says, more weight is placed on the cover letter, and it's often considered a sample of your writing.
"If you submit a sample of your writing for a writing-heavy job and you didn't write it — I mean, you're just setting yourself up for disaster," Green says.
For Liz Ryan, CEO of the career coaching and consulting firm Human Workplace, the ethical question is basically irrelevant. Ryan views the ethical debate around ChatGPT as the next iteration of debate about using a resume writing service to help with your job application.
"It used to be scandalous," Ryan says. "Like, 'Oh, you paid somebody to do this?'"
These days, nobody bats an eye about using those types of services.
The downsides of using ChatGPT-written cover letters
The far more important question, at least according to the career experts we spoke with, is about the practicality of using ChatGPT to write your cover letter.
"The question is less about the ethics and more about whether it's smart," Green says. "And I would say no, it's really dumb."
That's because experts say a good cover letter doesn't regurgitate your resume and is hyper specific to the job you want. It should rely on well-thought-out personal anecdotes that connect with the reader.
Ideally, your cover letter should "tell us a story because people are attracted to stories," Ryan says. And that's where ChatGPT can fall short. It doesn't know your unique experiences and can't make them up for you.
What it can do very well is spit out a few quick paragraphs that will make the eyes of even the most corporate of hiring managers glaze over in boredom. Ryan says cover letters get such a bad rap because they're already rife with jargon and boilerplate language. Feeding that already stodgy language into an AI is essentially creating a dreadful, robotic feedback loop.
Javier concedes that point, too. Even his recommendation to use ChatGPT for your cover letter comes with an asterisk: the 80:20 rule, as he calls it.
"ChatGPT will get you to the 80% mark," he says. "The 20% mark will be up to you — or a mentor to help you edit it."
In other words, the examples ChatGPT produces are not ready to fire off to employers. At the very least, they will require fact checking because the chatbot may add in random stats and figures that don't reflect your actual experience. And the tone will certainly need some massaging too. (Javier recommends prompting ChatGPT to use a "fun and energetic tone.")
On the other hand, if you're feeling tempted to submit a ChatGPT cover letter for a job you actually want, Ryan's advice is simple: "Don't follow that instinct."
"Unless you literally can't write in English, which in that case, go for it," she adds. "Then it's just Grammarly on steroids."
More from Money:
Meet the Changemakers on the Forefront of the Labor Movement

More Employees Are 'Actively Disengaged' at Work Since the Pandemic Began: Survey

WFH Forever? Returning Workers to the Office Isn't a 2023 Priority for Most CEOs