Gas Under $2 a Gallon as Gas Stations Launch Price Wars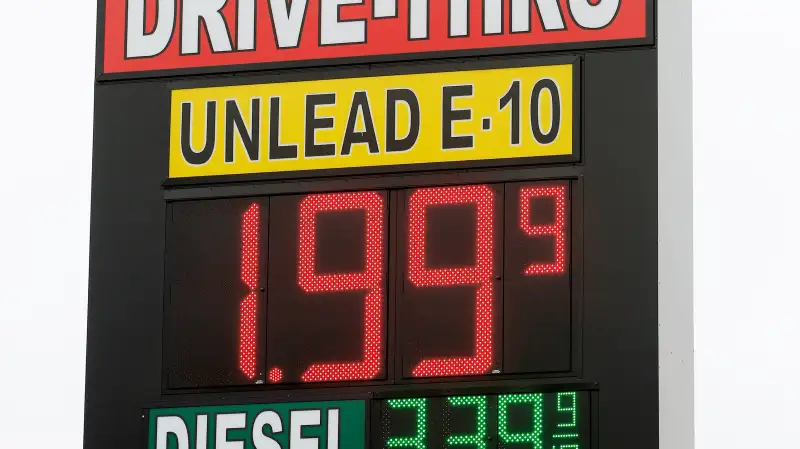 Less than a week ago, gas price analysts were forecasting that gas stations in some part(s) of the country would probably drop prices below $2 per gallon sometime in the near future—most likely "by Christmas." Turns out it didn't take nearly that long to dip under the $2 mark.
Less than one month after the national average dropped below $3 per gallon, a gas station in Oklahoma City apparently became the first in the country to plunge beneath $2. It happened sometime on Wednesday, and as Bloomberg News reported, within a few hours several other gas stations in the Oklahoma City area had engaged in a price war, with per-gallon costs falling from $2.11, to $2.03, to $1.99, to $1.98, and at least one reaching $1.95. As of Thursday morning, drivers in the Oklahoma City area are reporting four gas stations where a gallon of regular starts under $2, according to GasBuddy.
This doesn't mean that all drivers in Oklahoma, or even in the capital city area, can expect to see such low gas prices. According to AAA, the statewide average in Oklahoma is $2.51, and GasBuddy estimates the average in greater Oklahoma City is around $2.42. It's just that some stations are being particularly aggressive on pricing in order to attract drivers. They're not making much if any money on sub-$2 gas, but the stations hope that customers grab coffee, snacks, and other purchases while they're filling up.
Meanwhile, the latest press release from AAA notes that gas prices nationally have dropped 69 days in a row and have fallen nearly $1 from the 2014 high in late April, when the average was $3.70.
Based on the way things are going, prices at the pump should only get cheaper, indefinitely. "The holiday joy should continue as gas prices drop even further in the weeks ahead," AAA spokesperson Avery Ash noted in the release. "We could see prices drop to the lowest levels since the Great Recession if the cost of crude oil continues to set multi-year lows."
Another likely prediction is that Oklahoma City won't be the only metro area where drivers will enjoy the financial benefits of gas price wars. Look for similar pricing competitions at a gas station near you, coming soon.