Your Newest Fast Food Obsession: Cheetos Chicken Fries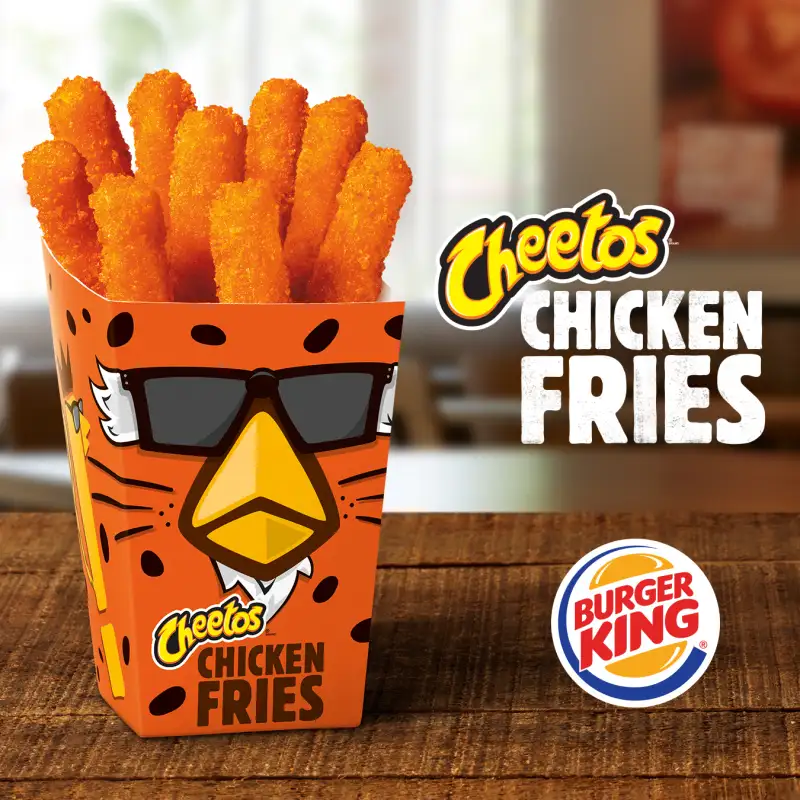 Why should a snack lover be forced to choose between chicken, french fries and Cheetos?
That's the thought behind Burger King's Cheetos Chicken fries, which will go on sale Wednesday, September 14, at select restaurants, Ad Age reported. The result of a collaboration with Cheetos manufacturer Frito-Lay, the snack will consist of Cheetos-flavored breaded chicken pieces, with a "dangerously cheesy outside."
The best part? Diners' hands reportedly won't be stained with the typical orange stain that usually comes with eating a bag of Cheetos.
Cheetos Chicken Fries follow Mac N' Cheetos, which were sold for a limited time at Burger King starting in late June. It's also the latest in a series of takes on Chicken Fries; in the past year, Burger King has also sold varieties including fiery, buffalo and jalapeno, as well as Chicken Fries Rings.
Burger King introduced the product launch in a commercial that aired during NFL games on Sunday. Cheetos Chicken Fries will retail for a recommended price of $2.89 for a nine-piece order.
Last month, Taco Bell also jumped on the Cheetos snack bandwagon. The Mexican fast food chain introduced a Cheetos Burrito in select locations in mid-August, following Burger King's unveiling of its Mac N' Cheetos. The burrito is filled with beef, rice, nacho cheese and naturally, Cheetos.
The changes come as restaurants are trying to spice up their menus to meet consumers' demand for healthier alternatives in an affordable way. The top 250 restaurant chains added 325 new chicken items between June 2015 and June 2016, CNBC reported in July. Just 73 new beef items were introduced during the same time period -- perhaps not a surprising trend given the trend of rising beef prices.