This Fast Food Chain Has a Secret Loyalty Program with Awesome Perks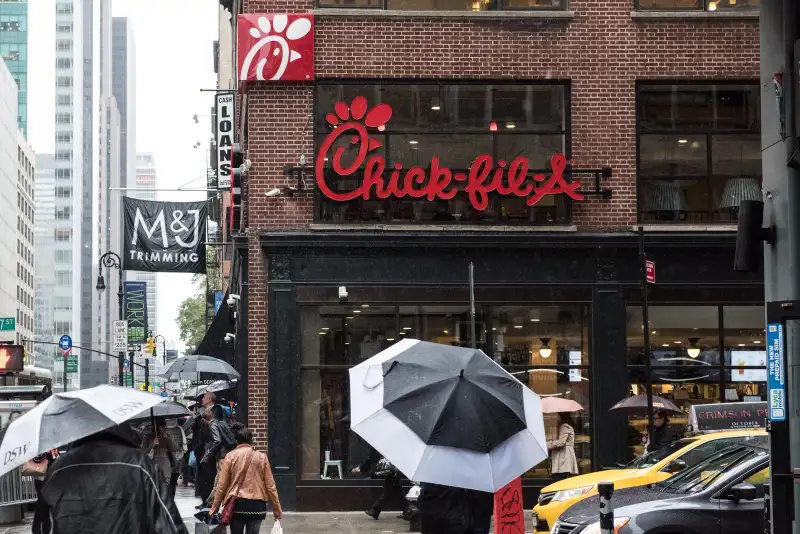 Andrew Renneisen--Getty Images
Chick-fil-A may be sitting on one of the best-kept secrets in fast food value.
Fried chicken chain Chick-fil-A rewards select customers with access to perks such as free food, private tours and special events, CNBC reported. The catch? The program is available by invitation only, and is offered in less than half of the chain's more than 2,000 restaurants.
Chick-fil-A's club stands apart from the pack because the overarching point of loyalty programs like those from Starbucks and Dunkin' Donuts is generally to compile the largest customer base possible.
Yet Chick-fil-A's program, which launched in 2013, is instead intended to strengthen relationships between key customers and their local restaurants. It allows customers to gain access to an app that clues them in on exclusive events and giveaways.
For instance, Chick-fil-A fan Brittany Breen, who regularly visits a local restaurant near Philadelphia, was impressed that the staff remembered her usual breakfast order, and some employees even followed her on Instagram. It wasn't long before Breen was inducted into the secret rewards program. The first event she was invited to was a private dinner, to which Breen was allowed to bring a guest, followed by a private tour of the kitchen.
"At Chick-fil-A, it's more of a community center," she told CNBC. "I'm not just a number there; I'm a member of the community."
The approach has apparently paid off: Chick-fil-A has earned more than $5 billion in annual sales and generated more revenue per restaurant than any other fast-food-chain in the United States. It's also ranked number one in surveys for customer satisfaction in the limited service restaurants industry category.
Read next: Dunkin' Donuts Upstages Starbucks with Quick, Easy Free Coffee Rewards
While it's unclear how much if at all the secret loyalty program has helped the chain grow, it's clear that Chic-fil-A has been a standout performer in the fast food marketplace--with expansions like 20 planned locations in Michigan, up from just two currently.
It wouldn't be remotely surprising it some competitors copycat what Chick-fil-A is doing, including its under-the-radar loyalty club with secret perks. "When the industry sees the impact of this kind of program, others will try to follow suit and invent a similar program on their own," Bonnie Riggs, a restaurant analyst at NPD Group, told CNBC.