Dunkin' Donuts Upstages Starbucks with Quick, Easy Free Coffee Rewards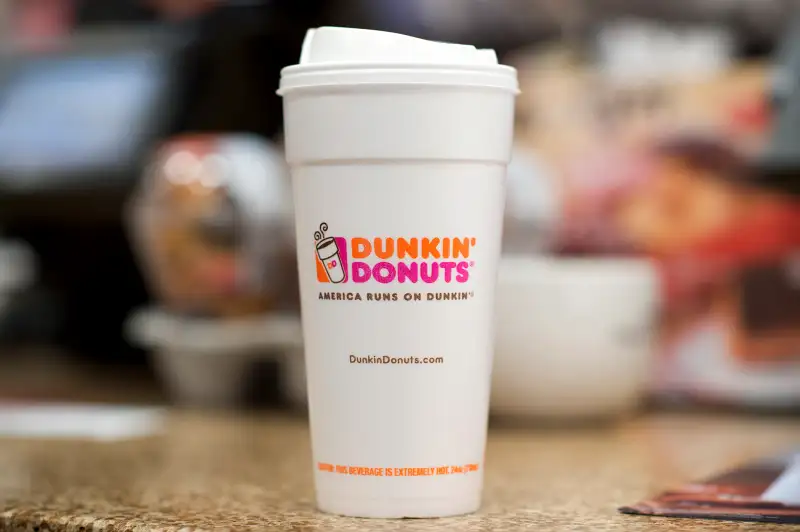 Craig Warga—Bloomberg via Getty Images
Your move, Starbucks: Dunkin' Donuts has just launched a new mobile app to allow customers to earn free drinks faster.
On the eve of Starbucks' planned roll-out of its new loyalty program, Dunkin' Donuts launched its counterstrike Monday by rolling out a new version of its mobile app, Nation's Restaurant News reported. The updated app allows users to pay with a virtual card using Apple Pay at participating locations. Customers can also manage and load their cards from the app, as well as earn loyalty offers and rewards, including free beverages. The app is available for iOS devices and Android smartphones.
What's especially interesting is that the introduction of Dunkin's new app coincides with new promotions that make it exceptionally easy to snag free beverages in the near future. Anyone enrolling in the new DD Perks program in April automatically gets one free beverage. Starting this Thursday, members should also enter the special code "STARS" to get a bonus of 125 points. Members will then get an extra 125 points during their second and third visits when making a purchase with an enrolled card. That's a total of 375 bonus points, plus whatever points have been accrued with normal DD purchases, which add up at a rate of 5 points for every $1 spent.
A free beverage in any size is granted to members once they pile up 200 points. So it's easy to see how new app members can snag easily three free Dunkin' drinks in the coming weeks.
Read next: Winners and Losers in the Latest Cheap Fast Food Battles
Earlier versions of Dunkin' Donuts app have been downloaded more than 16 million times. Still, the coffee chain trails behind caffeine competitor Starbucks, which launched mobile ordering and payment services in 2015. In response, Dunkin' is testing mobile order and pay-ahead features that will let customers in some markets to skip the line. The chain expects to roll out the feature later this year.
Dunkin' Donut's improvements to its app are likely a response to Starbucks' changes to its rewards program that rolled out Tuesday. Previously, My Starbucks Rewards gave customers one star for each purchase. After they earned 30 stars, participants earned Gold Status. As Gold members, they were eligible for a free drink of any type or size after gaining 12 stars.
The new system now gives customers two stars for every dollar spent. Additionally, they'll now need 300 stars to become Gold members and 125 to earn a free reward. The changes have caused some caffeine fiends to complain that the rule change favors those who make more expensive purchases—and Dunkin' Donuts hopes to take advantage of their discontent.
Nigel Travis, chief executive of Dunkin' Brands Group Inc., said in March that he believes disgruntled Starbucks customers will switch their loyalty to Dunkin' Donuts. He added that the company plans to entice them to do so by occasionally passing out $5 gift cards.

However, Starbucks claims that customers requested the change and most will get better deals under the new system, though a customer satisfaction poll says otherwise. Regardless, it's up to coffee connoisseurs to decide which chain offers them the best value for a cup of joe.