How to Host Christmas Dinner on a Budget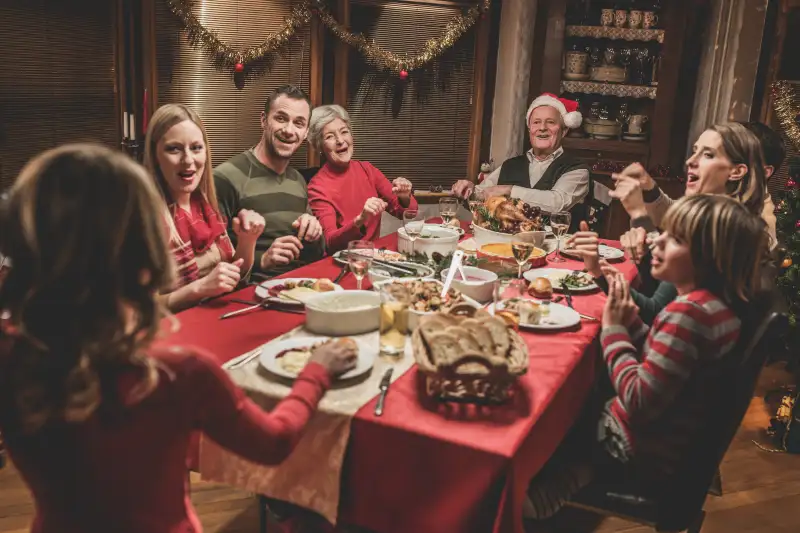 If you're taking on the responsibility of hosting Christmas dinner, the holidays might not seem so merry or jolly this year—especially if you're also worrying about your budget.
The typical dinner for a group of six will cost about $78.93, the BBC reported. While that price tag might give you some sticker shock after the other costs of Christmas, from gifts to decorations, there are ways you can make sure the day is festive without wiping out your checking account.
From detailed planning to asking your guests to chip in, here are a few ways you can keep a lid on costs if you're hosting friends and family for the holiday season:
Set your budget and menu in advance.
Make a list of the items you'll need for your dinner ahead of time and make sure they'll meet the budget you've set for the evening. Try to plot your menu around sales the supermarket is running, and buy seasonal fruits and vegetables whenever possible. When you can, try to buy items in bulk so you can use them on more than just Christmas Day. Also make good use of leftovers or supplies you already have in your pantry to further cut down on costs.
Limit your drink offerings.
Consider making an introductory cocktail to offer to guests as they enter the party. That way, everyone will remember your signature drink, but you won't have to spend a ton of money on buying beer, wine and liquor that suits everyone's taste. Even better, tell your guests to BYOB so everyone is happy—and you're not blowing your budget on alcohol.
Ask your guests to bring a dish.
Cut down on the costs of your meal by asking each person to chip in a small item, whether it's Grandma's famous apple pie or some fancy cheese from your parents' last vacation. Doing so can prove even more helpful if your guests have specific allergies or dietary requests. Just make sure you give your guests plenty of notice—and be clear about what you want.
Hold a white elephant.
After dinner, cut the costs on the gift-giving portion of the evening by telling your guests to bring a small gag gift. You'll have fun exchanging the gifts after dinner, and no one will go home empty-handed at the end of the night.
Serve adequate, not excessive, portions.
You don't need to load up everyone's late; people can always go back for leftovers if they choose. Scale back the appetizers and focus on a few side dishes that are in season, like Brussels sprouts or squash. Best of all, you'll be able to give people leftovers to take home—or feed yourself with them for a few days after Christmas.