This Game-Changing New Minivan Will Make You Dump Your SUV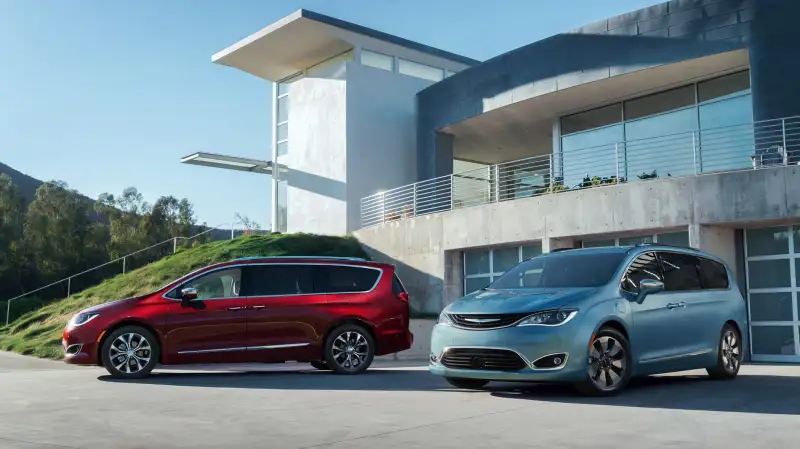 Minivans have never really been cool. And over the past few years, as car owners' love affair with SUVs has only grown deeper, sales of the practical-but-embarrassing minivan have tanked. Chrysler, which invented the minivan category, announced it was killing off the Town & Country a few years ago, while other automakers have been doing their best to rebrand minivans as "people movers" or "family haulers"—because even the name "minivan" itself was deemed to hurt a vehicle's appeal.
This week, however, Chrysler aims to make drivers rethink everything they assume about minivans, with the launch of the 2017 Pacifica. The original Chrysler Pacifica, on the market for brief run in the mid-'00s, wasn't a minivan at all but a crossover wagon fairly similar to a Subaru Outback.
Even though the new Pacifica has a sleeker look than the typical minivan, it more closely resembles the old Town & Country than it does the old Pacifica. But clearly, Chrysler wanted to give the car a name that has no relation to old-fashioned minivans. "We wanted to change the name so that you think, 'This is new, this is fresh, I need to check this out and forget the perception that I had about the previous minivan,'" said Tim Kuniskis, head of Chrysler, Dodge and Fiat, according to the Detroit Free Press.
Beyond the new look (and the new name), Chrysler says that the 2017 Pacifica has bragging rights for 37 "minivan firsts," and plenty of features previously unheard of in minivans—notably, the capability of the equivalent of 80 mpg thanks to hybrid plug-in technology.
Yes, in addition to a traditional gas-powered Pacifica, a plug-in hybrid model will be released, able to be driven 30 miles purely on electric power with a full charge. That kind of range will suffice for the daily routines of many families, potentially allowing parents to chauffeur kids to school and activities and drive to work without using a drop of gasoline. When the vehicle goes on sale later this year, it will be the only plug-in hybrid minivan on the market.
(MORE: New Toyota Prius Is Better Than Ever, But Sales Will Fall Anyway)
Overall, the pitch is that the 2017 Chrysler Pacifica is it's not merely just as good as an SUV, but that it's better because it provides more space, a comfortable ride, and hi-tech amenities. What's more, it boasts an appearance that's stylish and non-minivan enough to appeal to younger millennials—who probably grew up riding in the back of a bloated, lame minivan, and who aren't particularly eager to relive their childhoods in the front seat of a similar vehicle.
"There is, maybe, a stigma associated with owning a minivan, but I think the utility and functionality, and versatility of the vehicle can overcome that," Bruce Velisek, director of the Chrysler brand, said over the weekend.
For more 2016 Detroit Auto Show coverage, visit The Drive.
Pricing details haven't yet been released for either the gas-powered or plug-in hybrid 2017 Chrysler Pacifica.