The Most Expensive Things You Can Do at Coachella 2017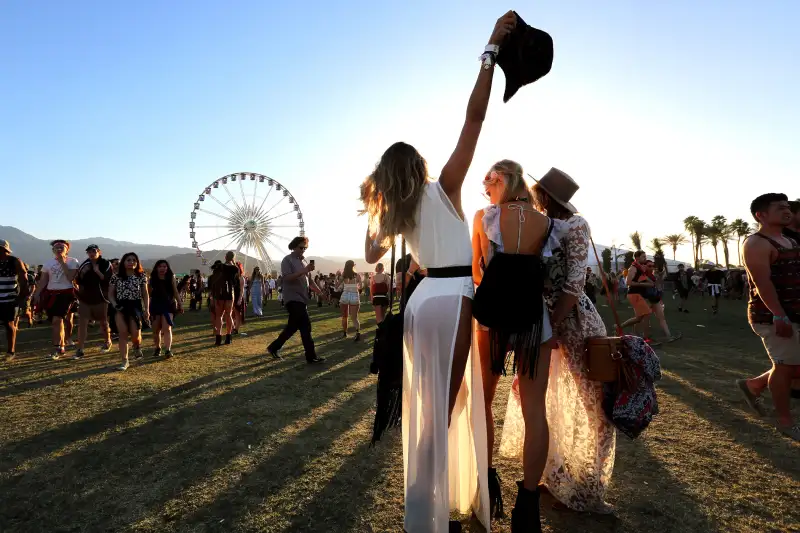 David McNew—Getty Images for Coachella
This year's Coachella festival features big-name performers like Lady Gaga, Radiohead, and Kendrick Lamar, just to name a few.
But there's more to the festival — which runs from runs April 14 to 16 and April 21 to 23 at the Empire Polo Club in Indio, Calif. — than just music. It's also known for endless food, art and fashion, all of which can cost you a pretty penny for the full Coachella experience.
If you've got the money to spend, here are three of the most expensive things you can do at Coachella this year, ranging from fine outdoor dining to helicopter rides.
Take a helicopter to the festival
Blade — more commonly known as the "Uber for Helicopters — is a chopper service based out of New York that has since expanded to Los Angeles. In a partnership with Casa Dragones Tequila, the company is offering rides to Coachella for a second year in a row. Chopper flights will take off from Santa Monica or Palm Springs and drop passengers at Thermal Airport, which located just outside the festival's desert grounds. Tickets are on sale now, and Coachella-goers can choose to ride from Thursday, April 13 through Monday, April 24.
Although a helicopter ride would save attendees significant time on the road, the prices aren't cheap: A six-person ride from Santa Monica to Thermal costs about $695 per person, a Blade spokesperson told Money. That's about $4,170 per one-way. Since the flight from Palm Springs to Thermal is shorter (according to Blade, it's only about a 5 minute helicopter ride), these tickets are a bit cheaper: A ride from Palm Springs is about $350 per person, or $2,100 per one-way.
Get your own festival estate
This housing option is the ultimate luxury experience for Coachella-goers. For up to six nights, attendees can get a private estate equipped with its own pool and jacuzzi, fire pit, wi-fi, bicycles, a fully-stocked kitchen, and a washer/dryer. Each package includes eight or 10 3-day guest passes to Coachella and daily round-trip transportation to the festival. Those who choose this option can also customize their services to include massages, golf tee times, airport transportation, and more.
Though a Coachella spokesperson told Money this is one of the priciest options at the festival, she declined to confirm the cost. Those interested in renting an estate can call (888) 527-6658 or email Platinum@valleymusictravel.com for pricing information.
Eat at a restaurant without walls
Outstanding in the Field is a "restaurant without walls," its Facebook page reads. The company is known for its long tables set up in the great outdoors — typically in the middle of a garden, on farm, on a mountain top, in sea caves, and more. Diners experience food from local farmers and food artisans of wherever they are dining — all the ingredients are locally sourced. Each meal is prepared by a local chef.
For the fourth year in a row, festival attendees can take part in this unique dining experience, which offers a four-course, family-style dinner that features local foods from farms in the Coachella Valley. The dinner is $225 on top of the cost of a ticket, which aren't cheap to begin with: General admission starts at $399, and VIP starts at $899. In other words, a VIP ticket and an Outstanding in the Field dinner would cost an attendee at least $1,124.