COBRA subsidy for jobless expires soon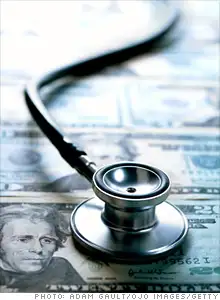 Many workers unfortunate enough to get the ax in this recession at least had one thing working in their favor: subsidized health insurance. This past February Congress threw out a temporary life preserver for workers laid off between September 1, 2008, and December 31, 2009: For up to nine months, Uncle Sam covers 65% of the monthly premium that these newly unemployed people have to pay to stay on their company health care plan. Previously, if you stuck with your company benefits (under the federal program known as COBRA), you had to pay your share of the monthly premium, plus how much your employer covered. For singles, that totaled an average of $400 a month, according to Kaiser Family Foundation; for families, it came to $1,050.
Thanks to this new subsidy, 38% of unemployed workers are opting to remain on the company health plan, double the number that typically stick with it, according to a study from Hewitt Associates, a human resources consulting firm.
But now that lifeline is running out.
For workers who still haven't found work and began receiving the subsidy on the first possible date, March 1, the benefits are set to expire at the end of November. This story from Kaiser Health News points out that there is some talk in Congress to extend the program beyond nine months, but no green light so far.
So once that subsidy disappears, where should the unemployed turn for health insurance? Check out my story from our May issue that explains your options.
Also, if you are fearful you may soon lose your job, listen up: If you are laid off in November or December, you still qualify for the subsidy for up to nine months. But come January, unless Congress extends the program, you are out of luck. So if you receive the bad news of a pink slip anytime soon, aim for your end date to be in the 2009 calendar year, and not 2010. You may save hundreds of dollars on health premiums.
If you were recently laid off, how have you been managing your health insurance and health care?