Here's What America Eats When We're Sick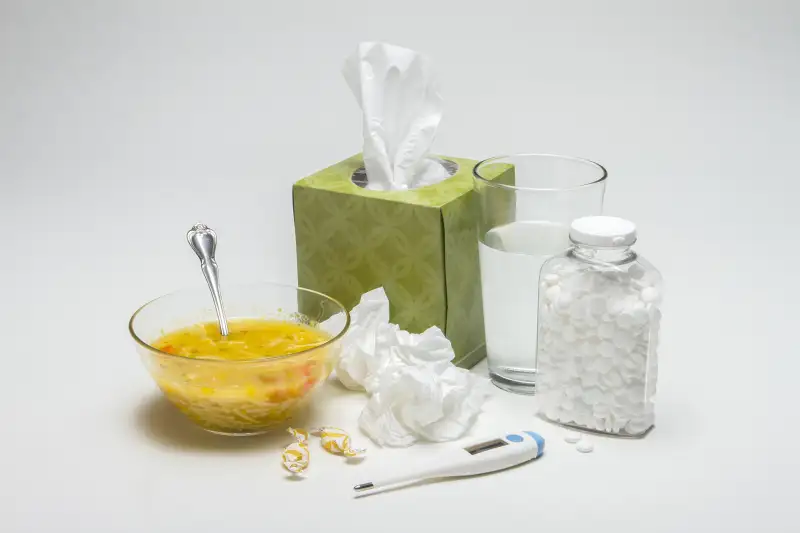 When you feel crummy, especially in midwinter cold and flu season, you might turn to a comforting bowl of soup to feel better. If so, you're not alone: Food delivery service GrubHub teamed up with appointment-scheduling site ZocDoc to take a look at how America eats when we're sick.
In short, feeling bad enough to go to the doctor makes us want to eat soup. When more people made doctor's appointments seeking treatment of cold and flu symptoms, soup deliveries soared. On average, GrubHub and ZocDoc found that when cold and flu-related appointments increased by 15%, soup orders increased by an average of 22% over the same time period.
When GrubHub looked at the context surrounding soup orders, a similar pattern emerged. "Mentions of having a sore throat, being sick or having the flu are 283% more likely to appear in delivery instructions of orders containing soups than orders without," the company said.
Perhaps not surprisingly, people tend to order chicken soup in particular at a much higher rate when they're sick, GrubHub found. During a cold and flu spike in early 2014, GrubHub found that chicken rice soup orders rose by about 54%, and chicken noodle soup orders increased by about 52% over the regular yearly average. Last year, a similar pattern emerged, with orders of chicken noodle, chicken rice, chicken tortilla, and Thai chicken coconut soup (tom kha) all rising when cold and flu appointment bookings spiked in late January.
Aside from chicken varieties, it seems America likes a diverse array of ethnic soups when we're under the weather. Orders for Indian mulligatawny, Italian minestrone, French onion, and Chinese wonton soup all rose when flu season was at its worst.