Instant Pot Saves You Time and Money in the Kitchen: These 5 Cookbooks Show You How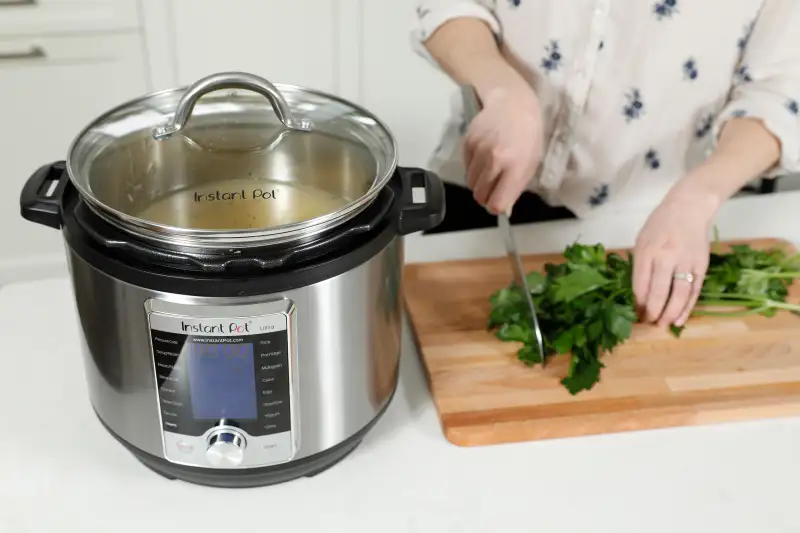 Pressure cookers, slow cookers, and even rice cookers make preparing healthy meals cheaper and easier, but these small appliances can be a little intimidated for the uninitiated.
This is especially the case when it comes to the Instant Pot line of electric cookers, which pack Silicon Valley-grade technology into a single gadget that can do the work of all the cooking devices mentioned above and more. Devotees certaily looove their Instant Pots: On Amazon Prime Day 2017, some 250,000 eight-quart DUO80 Instant Pots were sold for $90 on the site, where the product enjoys a lofty 4.7-star user rating based on nearly 25,000 reviews.
Based in Canada, Instant Pot has developed a cult following among foodies, including a vibrant social media community of cooks who share advice and recipes. But sometimes, you're going to want help from a pro. The good news is there is a slew of cookbooks out there that can walk you through the Instant Pot and help you make the most of this multi-purpose gadget. Then, after you've mastered the settings and controls, it's a short step to converting your favorite recipes from conventional slow cooker cookbooks.
We rounded up a few of the best-selling and top-rated versions for your reading – and cooking! — enjoyment.
Instant Pot Electric Pressure Cooker Cookbook: Easy Recipes for Fast & Healthy Meals ($10 paperback, $3 Kindle)
Courtesy of Rockridge Press
This is one of the "official" Instant Pot cookbooks. It's also one of the most popular, with more than 200,000 copies sold. The book is beginner-friendly, with references like cooking times and pressure settings that take the guesswork out of operating your Instant Pot. It also provides original and tweaked recipes for people trying to follow Paleo or gluten-free diets, and helpfully highlights kid-friendly recipes.
Instant Pot Obsession: The Ultimate Electric Pressure Cooker Cookbook for Cooking Everything Fast ($12 paperback, $3 Kindle)
This is a newer entrant to the roster of Instant Pot cookbooks. Although it just came out this past spring, this cookbook already has racked up more than 200 Amazon reviews, and a 4.3 out of 5-star ranking. Users especially like that this isn't just a cookbook; it serves as a good overall resource for cooks just learning their way around the Instant Pot, with background information about how to use the device, cooking charts, and the like.
Paleo Cooking With Your Instant Pot: 80 Incredible Gluten- and Grain-Free Recipes Made Twice as Delicious in Half the Time ($27 spiral-bound, $13 paperback, $10 Kindle)
Courtesy of Page Street Publishing
One of the big selling point for Instant Pot is that it can make healthy cooking easier. This cookbook is a good introduction for anybody with a vague idea of what "Paleo" means as a dietary term (short version: focus on whole foods like meat and veggies; cut out sugar, grain and processed junk) but is skeptical about incorporating it into a 21st-century lifestyle. The cavemen the Paleo diet references didn't have hourlong commutes and after-school sports to worry about, after all.
Fix-It and Forget-It Big Cookbook: 1400 Best Slow Cooker Recipes! ($21 hardcover, $17 Kindle)
Courtesy of Skyhorse Publishing
This tome might seem intimidating, but it's a terrific resource for users of Instant Pot as well as ordinary slow cookers. Think of this as the analog version of Allrecipes.com, with input and recipes gathered from home cooks around the country, curated and edited by a New York Times bestselling author. The only thing bigger than this cookbook is the size of its fan base: More than 600 Amazon users have given the Big Cookbook five-star reviews.
The Pot and How to Use It: The Mystery and Romance of the Rice Cooker ($11 paperback, $9 Kindle)
Written by famed film critic Roger Ebert, this unlikely hit is dedicated to one of Instant Pot's more esoteric — for most American home cooks, at least — functions. The Pot and How to Use It is a paean to all the meals you can make with just a rice cooker, which turns out to be way more than just rice — think pasta, chili and soup, just for starters. Readers note that this comes with a side of Ebert's distinctive writing style, which some say makes it more fun to read, but others say can make the actual how-to part a bit harder to follow.
We've included affiliate links into this article. Click here to learn what those are.