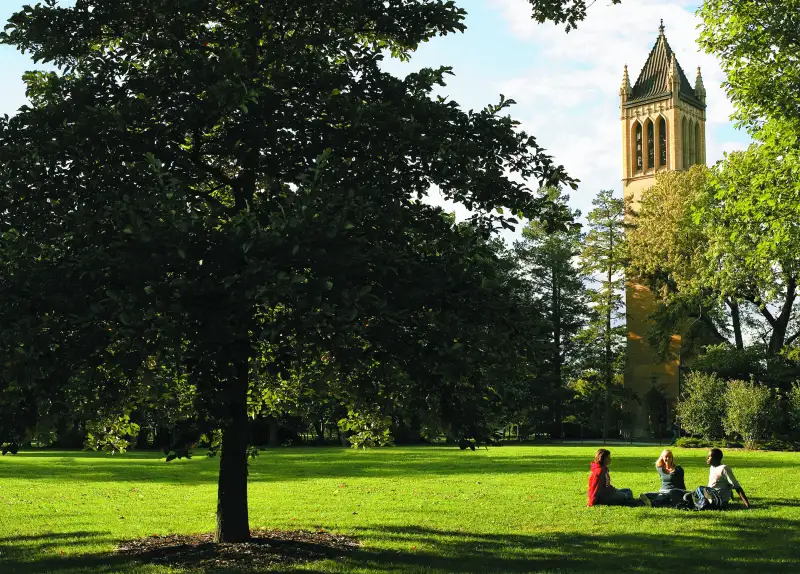 Courtesy of Iowa State Universit
| | |
| --- | --- |
| AT A GLANCE | |
| Population | 62,131 |
| Median Home Price | $190,000 |
| Property Tax | $2,639 |
| Unemployment rate | 3.2% |
| Commute time | 15 minutes |
Situated 30 miles north of Des Moines, Ames was incorporated in 1864 as a station stop on the Cedar Rapids and Missouri Railroad. Today it's home to the Iowa State University of Science and Technology, a large research institution; the U.S. Department of Agriculture's National Animal Disease Center, and the U.S. Department of Energy's Ames Laboratory, as well as the Iowa Department of Transportation's central offices.
Though the city's biggest employers are state and federal institutions, companies including 3M, Barilla, and Syngenta also call Ames home. Outdoor enthusiasts love that Ames features 55 miles of cycling trails and more than two dozen public parks and aboretums, including a dog park, skate park, and aquatic center. The Union Pacific Railroad still runs 60 to 70 trains through Ames on a daily basis, so train noise can be an issue for those who live west and northwest of downtown.
Politically speaking, because Iowa is a "battleground state" and Ames is a college town, presidential candidates get to know this city well during their campaigns. (Chelsea Clinton's father-in-law, Edward Mezvinsky, the former U.S. congressman who spearheaded Richard Nixon's impeachment, grew up here.) From kindergarten to advanced degrees, this city's educational system is top-notch. There's nothing small-town about the Ames Public Library; it's actually a Carnegie library from 1904 with nearly 1.4 million items in circulation.
The Octagon Center for the Arts, which includes galleries, art classes, art studios, and a retail shop, sponsors The Octagon Arts Festival, a lively annual local street fair. Ames may look and feel like a charming small town, but it offers many of the amenities and benefits of a bigger city.