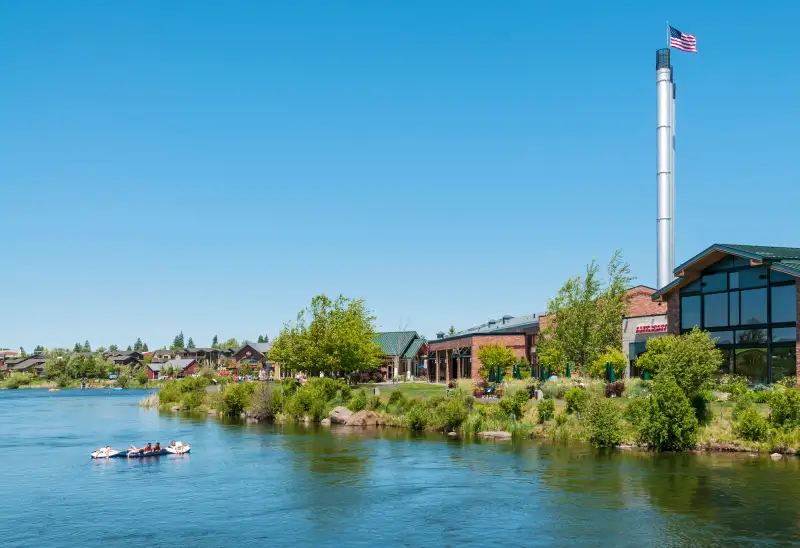 Stephen Saks/Getty Images
Settled in the early 1900s, Bend started out as a logging town situated along the eastern edge of the Cascade Range, along the Deschutes River. That setting—with a skyline surrounded by majestic, snowcapped peaks—has helped transform it into an international mecca for outdoor enthusiasts. The recreational activities on offer include hiking, mountain biking, whitewater rafting, stand-up paddle boarding, kayaking, skiing, fishing, camping, and rock climbing.
Those all combine to make tourism a huge industry for Bend, where the average commute is just 15 minutes (and almost 5% of workers commute on foot or by bike). Other major employers are St. Charles Medical Center and Les Schwab Tires; jobs in the area are forecast to rise almost 10% between 2016 and 2021, according to Moody's Analytics.
Livability is also key here: The town is incredibly dog-friendly, with Bend locals claiming to have one of the highest per capita dog populations anywhere in the U.S. Another key element of the Bend lifestyle: beer. Bend has more breweries per capita than any other city in Oregon, and aficionados can trek the Bend Ale Trail and enjoy events like Bend Oktoberfest and Central Oregon Beer Week. —Sergei Klebnikov