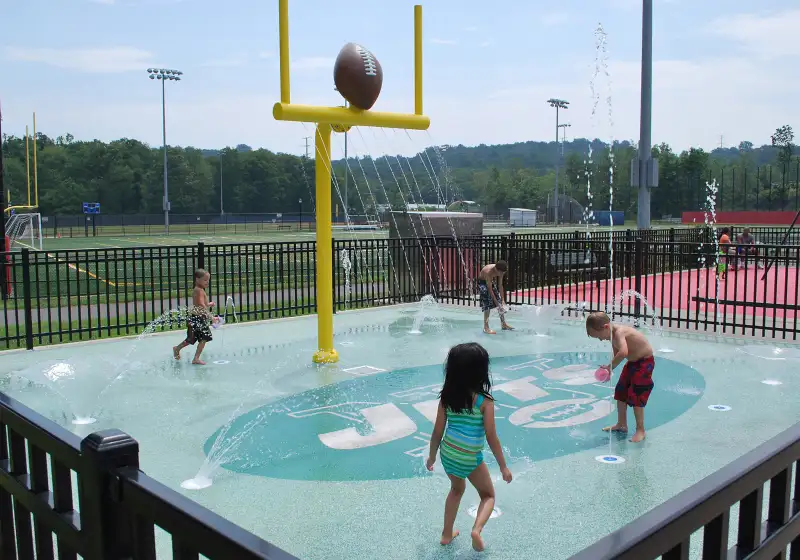 Top 50 rank: 6
Population: 13,345
Home to Alcatel Lucent's U.S. headquarters, close to major pharmaceutical makers, and a 50-minute commute into New York City, Berkeley Heights offers easy access to a wide range of jobs.
The dining scene in town has flourished in the past couple of years, thanks to new additions like Strega Bistro and Nagoya Sushi. The 2,000-acre Watchung Reservation gives locals a place to picnic, canoe, and ride horses. And the community has a neighborly feel.
On the downside, there are few major retailers. Plus the housing market can be daunting, though not out of line with the area. --D.R.
| | | |
| --- | --- | --- |
| Berkeley Heights, NJ | | Town stats |
Berkeley Heights, NJ
| | | |
| --- | --- | --- |
| Median family income (per year) | | $164,920 |
| Job growth % (2010-2012) | | 5.69% |
| Median home price (2012) | | $474,000 |
| Reading test scores (% above/below average) | | 32.1% |
| Math test scores (% above/below average) | | 23.2% |
| Personal crime incidents (per 1,000) | | 0 |
| Property crime incidents (per 1,000) | | 5 |
Financials

Median family income (per year)
$164,920
Family purchasing power (annual, cost-of-living adjusted)
$107,412
Sales tax (state)
6.91%
State income tax rate (highest bracket)
8.97%I
State income tax rate (lowest bracket)
1.40%I
Auto insurance premiums (Average price quotes, for the state)
$1,977
Job growth % (2010-2012)
5.69%
Financials
Housing

Median home price (2012)
$474,000
Average property taxes (2011)
$10,959
Housing
Education

Colleges, universities and professional schools (within 30 miles)
124
Reading test scores (% above/below state average)
32.1%
Test scores math (% above/below average)
23.2%
% students attending public/private schools (located within town limits)
100.0/0.0
Education
Quality of life

Air quality index* (% of days AQI ranked as good)
83.8%
Personal crime incidents (per 1,000)
0
Property crime incidents (per 1,000)
5
Median commute time (in minutes)
28.2
% population with commute 45 mins. or longer
25.6%
% population walk or bike to work
1.9%
Quality of life
Leisure and culture

Movie theaters (within 15 miles)
53
Restaurants (within 15 miles)
6,116
Bars (within 15 miles)
483
Public golf courses (within 30 miles)
272
Libraries (within 15 miles)
130
Museums (accredited by AAM; within 30 miles)
27
Ski resorts (within 100 miles)
N.A.
Arts funding (Dollars per person of state funds spent on arts)
1.6
Leisure and culture
Weather

Annual rainfall (inches)
46.25
% clear days in the area
56%
High temp in July ° F
86.6°
Low temp in Jan ° F
21.5°
Weather
Meet the neighbors

Median age
43.0
Completed at least some college (% of residents)
72.4%
Married %
62.7%
Divorced %
6.0%
Racial diversity index (100 is national average; higher numbers indicate greater diversity)
61.2
Meet the neighbors