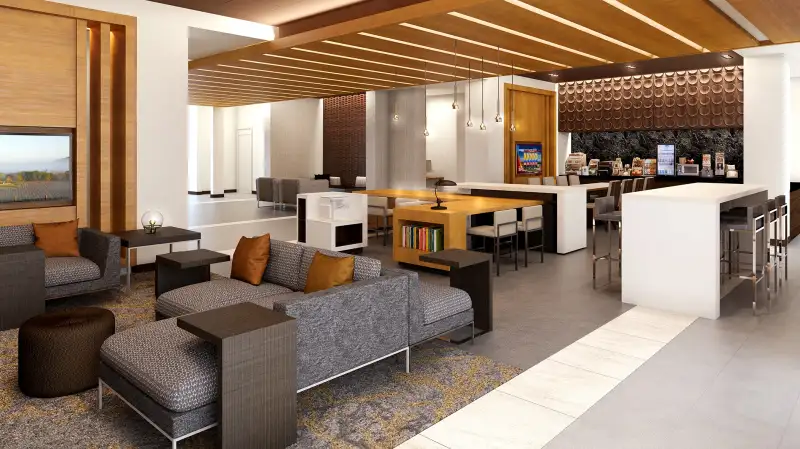 Money ranked the 71 biggest national hotel chains based on average cost per night and year-over-year price changes, along with customer ratings in a variety of areas: the reservation process, check-ins, room quality, food and beverages, services, facilities, and fees. We also factored in reader reviews from our sister publication Travel + Leisure.
---
Platinum
Wingate by Wyndham
Rooms at Wingate by Wyndham cost about $100 per night in 2016, down 9% over last year, according to Hipmunk. But customers still give it higher satisfaction scores than many upscale hotel chains (and even a few luxury ones), thanks in part to the free Wi-Fi, 24-hour fitness centers, and hot breakfast you'll find at every one of its 150-plus hotels. "A lot of 'extras' are a given—that's something people appreciate," says Krista Canfield, getaway expert at the crowdsourcing website Gogobot. Nights at the chain's Manhattan location—three blocks from the Empire State Building—start at just $176 in early April.
---
Gold
Four Seasons Hotels and Resorts
The Four Seasons has always meant luxury, and its rooms are still rated No. 1 among all North American hotel chains, according to Travel + Leisure. But if you have ever wanted to pamper yourself at one of its 96 locations worldwide, the time is now. While Four Seasons hotel rooms can run $400–$500 a night, that's down 10% from the year before, according to Hipmunk. And the Four Seasons is famous for its luxe list of complimentary amenities, from canoeing in Maui to salsa lessons in Costa Rica. Kids under 5 also eat free at every one of the hotel's properties.
–––––
tip: Book direct
Search the web for low prices, but then go to the hotel's website and check for a better deal. "Some hotels have decided they're sick of paying Expedia and Booking.com, and they want to reward you for booking directly from them," says Jason Clampet of the travel website Skift.