3 Ways to Cut the Cost of College Tours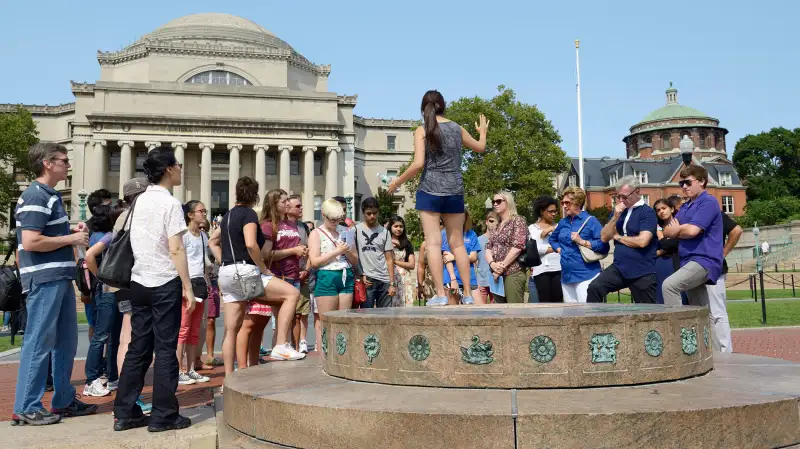 As a parent, you expect college tuition to be painfully high. What may come as a shock is the price of getting into school in the first place. One of the biggest expenses? Campus visits. Kat Cohen, CEO of admissions consultant IvyWise, estimates that applying to college runs upwards of $3,500, including application and testing fees and trips to the schools.
The price of skipping the tour, though, can be higher: not getting in. Three out of four schools say "demonstrated interest," such as visiting the campus, meeting an admissions officer, or at least calling, is a consideration in admissions, according to a 2013 National Association for College Admission Counseling survey.

NEWSLETTER: COLLEGE_PLANNERSign up for COLLEGE_PLANNER and more View Sample
These three strategies can help you keep your college touring budget in check.
For Starters, Stay Home
You and your high schooler will want to visit your top choices before making a pick. But for narrowing down schools, it's fine to explore online. You can find virtual campus tours at many college websites. Or go to YouVisit, where you can stroll around more than 100 schools. (With a $30 virtual reality headset, you can feel like you're actually there.)
To dig deeper, your child can join web chats with financial aid officers and admissions reps at collegeweeklive.com, which hosts events with more than 100 schools over the summer. "Today's students are more comfortable asking questions online," says CEO Robert Rosenbloom.
Keep exploring. By reading college newspapers, social media, or blogs by professors, says Cohen, students can pick up insights that can help them demonstrate "informed interest" in a school in their essays and interviews.
Make Your Road Trip Epic
To save money, visit more than one school per trip. Two tours a day is a reasonable goal. Also, start close to home, says Cohen. You can learn what's most valuable to you before you spend thousands on flights and hotels.
If you want to send your kid on the road without you, specialized tour companies make the logistics easier (and provide adult supervision). College-visits.com offers trips by region, including New England and California. An eight-day tour of 12 schools costs around $2,000.
Ask the College to Help
Check to see if a school offers reduced hotel rates, free meals in the dining hall, or bookstore discounts. Even better, if your child is in high demand—a woman interested in tech, say, or a minority candidate or East Coast kid looking to travel far—schools might pay for a visit. "It wasn't until I started researching college secrets that I learned about fly-in programs," says Lynnette Khalfani-Cox, author of College Secrets for Teens. But by then, she'd spent thousands visiting campuses with her daughter. When it comes to paying for college, every thousand you can save is well worth the effort.