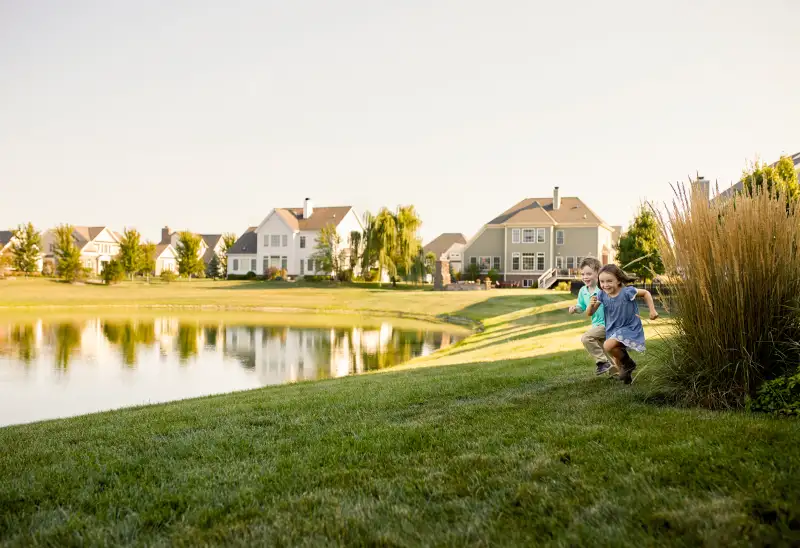 When Rocky Walls, 34, was looking for a new home for his video production company, Fishers—a small city of about 86,000 just 16 miles from Indianapolis—was at the top of his list. His company of 20 employees had outgrown its space in another Indianapolis suburb, and he and his partner craved an environment that would nurture his organization's creative spirit.
"We wanted to be in Fishers because of the energy and momentum we saw coming there," says Walls. "So I met with the mayor, and he showed us the space we're in now. A month and a half later, we moved in."
That was in 2015, when Walls' 12 Stars Media relocated to the Nickel Plate District, the downtown area of Fishers that has been developed as a walkable destination for dining, shopping, and working. Today, Walls says his team loves their loftlike space and the ability to walk to nearby restaurants for lunches and meetings. And Walls himself lives within minutes of the office, often jogging to work.
"Fishers is safe and quaint and full of young families," says Walls, who has three boys with his wife, Jessica. "But what makes it unique is this huge emphasis on Fishers as a place with an entrepreneurial spirit."
That startup energy is no accident. There are several big companies with operations within the city's borders, such as student loan provider Navient and Roche Diagnostics, but local leaders have placed a special emphasis on creating and inviting more jobs to the community. Major redevelopment projects totaling $90 million downtown have made Fishers attractive to businesses looking to relocate. The city has also invested in Launch Fishers, a 52,000-square-foot coworking space that is designed to give entrepreneurs and tech startups a place to grow while also providing networking and business events.
The efforts are paying off: Moody's Analytics projects 11.6% job growth in the city by 2021. Stanley Security just relocated its headquarters to Fishers in August, bringing 350 jobs with it, while high-tech company Memory Ventures singled out Fishers as its new home, moving to Indiana from California in 2015. Memory Ventures CEO Anderson Schoenrock says he was impressed by the tour community leaders gave him.
"It gave me a sense that the city was very committed to this vision of building a city around entrepreneurship and driving economic growth through entrepreneurs," says Schoenrock. "It was incredibly unique and certainly not something I'd seen on the West Coast."
But don't expect all work and no play in this vibrant young city. The redeveloped downtown area boasts a number of restaurants and boutiques and a popular farmers' market every Saturday that was recently voted one of Indiana's best. (It doesn't shut down in the winter, either—it just shifts to an indoor building.) The Nickel Plate District Amphitheater hosts summer concerts and movies, as well as cold-weather festivals in the fall and winter. And participating businesses display the work of local artists for an annual arts crawl.
Fishers has emphasized preserving its green space and features 24 parks and 104 miles of nature and multiuse trails. Flat Fork Creek Park offers the highest peak in Hamilton County—perfect for sledding during Indiana's snowy winters.
And while some residents complain that there aren't enough independent eateries within the city's borders, Fishers is planning to remedy that with the Yard, an upcoming $40 million development that will include up to 18 new restaurants, not to mention entertainment venues and a 3,000-square-foot culinary incubator enabling food entrepreneurs to launch new food concepts and experiments.
Jennifer Vail, a human resources manager who lives in Fishers but commutes to Indianapolis for work, says she and her husband chose Fishers in 2005 because it offered a low cost of living alongside high community standards, good schools, a safe environment, and "top-notch" local services.
During her 12 years in Fishers, Vail says she's seen a lot of positive change and booming growth. Of course, some of that growth brings its own issues: "Traffic has become a noticeable challenge in the past 15 years," she says. "However, they are constantly widening roads, putting in roundabouts, and making infrastructure improvements to ease some of the congestion."
Vail adds that the increased traffic is a small price to pay. "It's a wonderful place to live. There's certainly no shortage of things to do. It's kind of anything anyone would want, aside from having a mountain range or beach in your backyard," says Vail, 36. "A small part of me doesn't want the secret of Fishers to get out." —Ismat Sarah Mangla