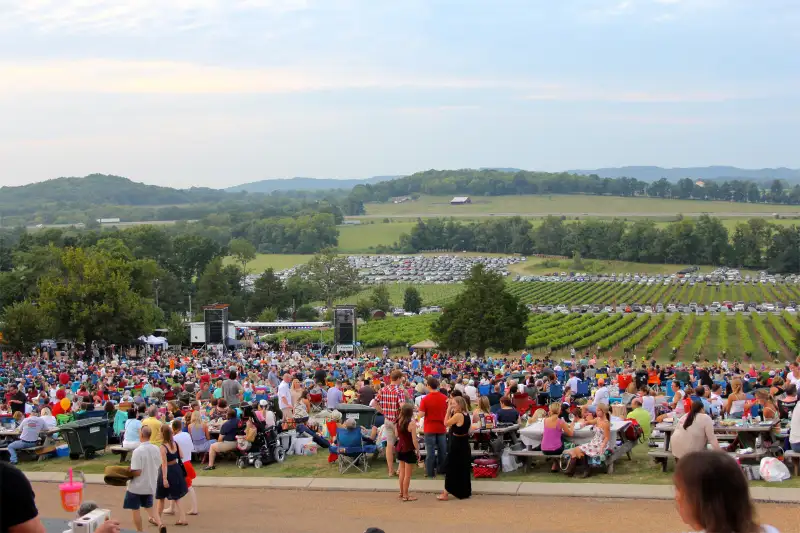 The Foo Fighters, The Killers, and Keith Urban walk onto a stage — where are you? If you lived in Franklin, Tennessee, you'd be home. This is the caliber of artists that the Pilgrimage Festival draws every September to The Park at Harlinsdale Farm in Franklin.
This Tennessee town has been a strong contender in our list for the past few years, twice ranking in the top 10. It's not just because of its music cred. Located just 20 miles south of Nashville, Franklin has seen a 44% job growth in the last 10 years, matched by a 33% increase in population.
This growth has been due in part to healthcare and manufacturing companies like Optum and Mars Petcare coming to Franklin in the last decade. Other major employers, like Nissan North America and Community Health Systems, have continued to expand. Jobs in the area are expected to increase by 10% in the next five years.
Residents of Franklin have an median household income of $110,000. The median price for a family home is $495,000, compared to homes in neighboring Brentwood, which typically sell for more than $550,000.
Another big reason people are moving to Franklin: the quality of its schools. Franklin forms part of the highly-rated Williamson County School District. Franklin High is the 7th best in Tennessee, as ranked by US News, and its students consistently rank in the 97th percentile in the state end-of-course exams.
When it's not hosting Grammy-award winners, The Park at Harlinsdale is open to the public year-round, and residents of Franklin enjoy hiking, picnicking, and walking their dogs on the well-maintained lawns. In April, the town celebrates the Main Street Festival in the Downtown Franklin district, featuring live music, street food and crafts. — Mayra Paris
[money-bpl-toolkit]