How to Foot the Bill for a Boot Camp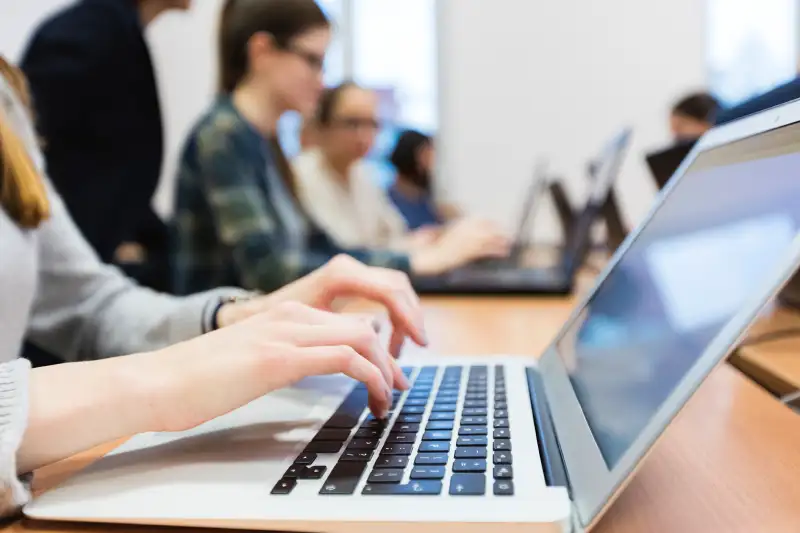 Izabela Habur—Getty Images/iStockphoto
The sales pitch for coding programs is that they can give you valuable skills to boost your earning potential.
But that boost certainly doesn't come cheap.
A full-time, 12-week coding boot camp will set you back on average more than $10,000 in tuition alone. Spending a month over the summer at an elite college's business accelerator will cost you roughly the same. And week-long supplemental programs offered on college campuses typically carry a price tag of at least $1,000.
There are both private and college-sponsored scholarships available for all types of programs. Fifteen of 21 students at Colgate's business accelerator last year received financial aid to bring down the $3,000 price tag. And there are several scholarships for coding boot camps aimed at getting women and underrepresented minorities into tech fields.
Coursereport.com has a long list of available scholarships to start your search. Then ask programs you're considering applying to whether they know of others that may apply to your scenario.
If it's a college-sponsored program, also ask whether money from a 529 college savings plan can be used. That's allowed for Vanderbilt's summer business accelerator, for example.
After that, though, you may still have to pay a significant sum out of pocket or borrow money. That's especially likely for full-time, longer programs, like coding boot camps, where you'll need enough money to go without a steady income for a few months on top of the cost of the program.
Lending designed specifically for coding boot camps and similar skills programs is still a developing area. Until recently, students had few options beyond personal lending companies such as Prosper, credit cards, or trying to get a bank loan.

NEWSLETTER: COLLEGE_PLANNERSign up for COLLEGE_PLANNER and more View Sample
Before 2015, nearly all students paid out of pocket or borrowed money from family or friends. And for the majority of students, that's still the path. Less than 15% of students at General Assembly had used financing to pay tuition as of the end of 2015, according to a paper on boot camp funding.
But the number of students who do rely on borrowing has grown quickly in the past few years, as more lenders have entered the space. A survey of about 700 boot camp graduates found that almost a quarter used loans to finance their program, up from only 4% in 2013 and 8% in 2014.
Most of the largest lenders are new companies you've likely never heard of, and they approach lending a bit differently than traditional banks or federal student loans. Here are a few things to keep in mind about this new area of lending:
Terms are short. Boot camps are shorter than other types of post-secondary training, and their loans reflect that. Most companies offer terms between two and three years, though there some are as short as a year or as long as five years. The deferral period after you finish your program is also shorter, usually a month or two. You should aim to make payments at least equal to the interest during the program and while you're job searching.
Schools and lenders partner up. Lenders such as Skills Fund and Upstart will only provide money to students enrolled in specific coding programs. But nearly all the lenders have preferred partner schools. Borrowing from a lender your program has an established relationship with will likely make the process more seamless, and in some cases, schools may subsidize the interest rate you're offered by that lender. But that doesn't guarantee you'll get the best rates. You should still see what terms you'll get from other lenders, even if your school doesn't list them as partners.
Your financial history and credit background matters. You'll need to demonstrate that you're a worthy financial applicant, and even then you may not qualify for the best rates, which is important since annual percentage rates can range from 5% to well above a very expensive 20%. That, of course, is how all private loans work, but some of these loans, designed as personal loans, won't allow you to use a co-signer if your credit isn't up to snuff. Most of these lenders look beyond just a credit score to determine who to lend to, considering things such as your debt-to-income ratio, savings, earnings potential, and even college performance. Still, in most cases, you'll need a credit score around at least 650 to qualify for a loan.
Program outcomes may determine your loan options. Skills Fund, for example, serves as both a lender and an oversight agency of sorts, lending to students of specific programs only after assessing their curriculum and student outcomes. So far, the company has signed off on about 30 programs, after looking at their graduation and drop out rates, job placement, and the salaries of graduates. Climb, another lender, considers similar data before approving a program. Co-founder Zander Rafael says the lender can accept a much broader range of borrowers because it takes the time to investigate whether the program they want a loan for is worth the money. "The lender and the student have more aligned incentives than the school and the student," Rafael says. "The lender gets paid when someone graduates and is able to pay their loan." In theory, federal student lending should work in a similar way, with only accredited universities eligible to give out federal loans. But college accreditors have been under significant scrutiny in the past few years, criticized for letting schools with remarkably low graduation rates continue operating without penalty and for paying little attention to what types of jobs students were getting after graduation.
Here's a look at some of the most common boot camp lenders.
| Lender | APR | Loan length |
| --- | --- | --- |
| Affirm | 6% - 30% | 12, 15 & 18 months |
| Climb | 5% - 15% | Mostly 3-year loans but a range from 1-year to 7-year available |
| Earnest | 5% - 12% | 1, 2 & 3 years |
| Pave | 7% - 27% | 3 & 5 years |
| Skills Fund | 9% - 11% | 3 & 5 years |
| Upstart | 5% - 30% | 3 & 5 years |