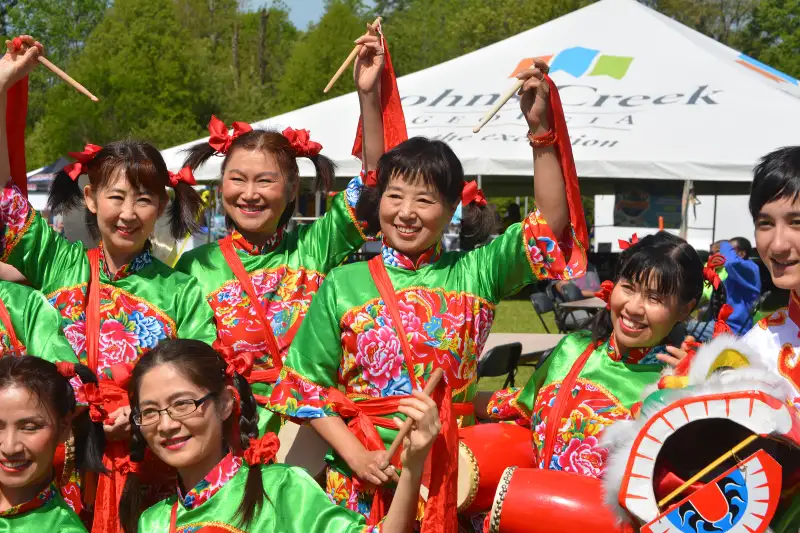 A safe and diverse suburb 40 minutes away from Atlanta, Johns Creek has one of the best public school systems in the country and no shortage of family-friendly activities, making it an ideal place to raise children.
Since it was incorporated as a city back in 2006, it's become the 10th largest city in the state, home to over 80,000 residents. In 2018, the median household income was about $119,000, and almost three-fourths of the population were homeowners. Owning a home can be a little costly. Last year, houses sold for a median $383,439 (about $150 per square foot), although loans were an option. Of the nearly 17,000 loans issued in 2018, 94% were considered to have "good" loan-to-value ratios. And those residents who aren't looking to buy anytime soon can find very reasonable rental rates.
The diversity within Johns Creek's borders is impressive — a positive for many reasons — and the racial representation here is pretty evenly dispersed throughout the city, according to census data analyzed by Synergos Technologies, making it a true melting pot.
In addition to the cultural exposure, Johns Creek residents enjoy its proximity to the city, access to major chains and restaurants, and low violent crime rate, but the real draw is the city's well-respected education system. The district has 19 public schools, including four high schools known for their inclusive extracurricular programs and excellent academics. Students in the Johns Creek area scored 37.4% above the state average in math and 34.3% above average in reading.
Outside of school walls, there's plenty more to do. Johns Creek has a surprising number of nature trails for a suburb of its developed size. Ocee Park offers grounds for seemingly every outdoor activity, and the non-profit Ocee Park Athletic Association hosts recreational sports there. — Prachi Bhardwaj