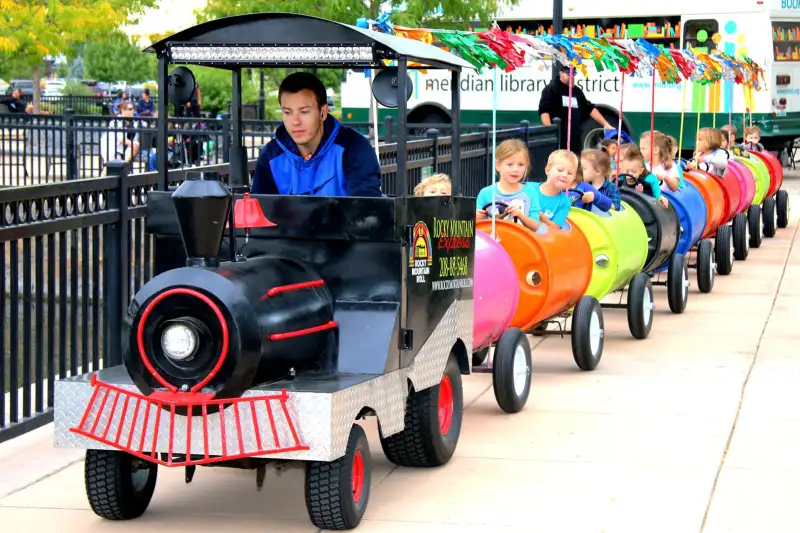 Ask George Seybold about Meridian, and he'll paint you a picture: wide cloudless skies, streets lined with elm trees and honeysuckles, children riding their bikes past neighbors on the porch. In other words, "Mayberry-esque," he says.
Nestled in Idaho's Treasure Valley, along what was once the Oregon Trail, Meridian boasts 80 square miles of local and state parks within a 15-mile radius. The closest one is 545-acre Eagle Island State Park, about 15 minutes north by car, offering hiking trails, zip lines, and paddleboarding.
But nature isn't the only thing that's drawn Seybold and others to the area. It's also just 10 miles from the high-paying jobs of Boise's booming tech scene. Seybold, founder of startup networking platform Talloo, says he chose to start his company here after trying out some more well-established tech hubs, like San Francisco and Austin.
Whatever extra capital and expertise he might have had access to in those places was no match for the affordability, healthy work-life balance, and strong work ethic of Idaho, he adds. "I spent a good amount of time in Silicon Valley....and quite honestly, I found a lot of people who wanted to be CEOs and not do work," he says. "The people in Boise actually want to work."
Seybold gives a lot of credit to Boise State — a public university in the heart of the city with a top-notch computer science program, which graduates about 120 students a year, many of whom are recruited by Boise start-ups like VisitPay and Clearwater Analytics.
It's helped turn Ada County — which encompasses both Meridian and Boise — into one of the hottest job markets in the country, according to our analysis of nearly 2,000 national locations.
Unemployment was just 5.6% in June, half the national rate. Over the last 10 years, the county's employed population has surged by more than one-third.
[money-bpl-toolkit]
All that economic development has made Meridian, which offers better schools and a more suburban feel than Boise, the sixth-fastest growing large city in the U.S., according to the Census Bureau. With 114,000 residents — up nearly 50% since 2010 — it's one of the largest cities on our list and the largest in our top 10.
Such rapid growth isn't without its drawbacks. The median price for a house is $340,000, up nearly 20% in just two years, and there isn't any sign of it slowing down. In March, one in every eleven sellers in Meridian hiked the asking price for their home, according to data provided by Realtor.com.
The good news: Meridian is building new homes at a breakneck pace. The city added more than 16,000 residential units between 2010 and 2019, 70% percent of which were single-family homes, according to The Community Planning Association of Southwest Idaho, with more than 2,000 built in 2019 alone.
It's not just suburban cul-de-sacs. In 2013, residents welcomed The Village at Meridian — a large walkable luxury shopping complex that employs about 2,000 year round, and is expanding to include more retail and office space, as well as a new residential section. In addition to dozens of stores and boutiques, you can stroll around the 60-acre park, or grab a bite to eat at Twigs Bistro & Martini Bar (Yelpers rave about the $12 Bruschetta Flatbread).
But in Idaho, it's all about the great outdoors. On the weekends, residents can drive 20 minutes to the other side of the Boise River for over 100 hiking and biking trails. Just an hour northwest is a popular white water rafting destination in the Payette River. And to the northeast is Bogus Basin Mountain Recreation Area — a ski resort and home to Shafer Butte, the highest point of the Boise Ridge Mountains.
"You don't have to go very far to actually enjoy life," says Seybold. — Prachi Bhardwaj