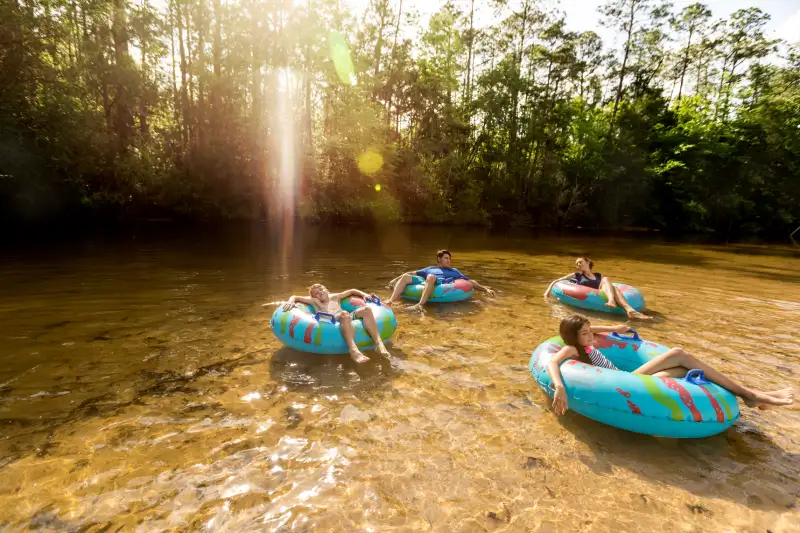 Courtesy of Santa Rosa County Tourism
County: Santa Rosa
Nearest big cities: Pensacola and Tallahassee, Florida; Mobile, Alabama
Don't let its prime role in Jaws 2 scare you. Though Navarre's beaches were the backdrop for the 1978 film, it's not all sharks and scares here. In fact, the town is actually a safe harbor for many of the ocean's most beloved creatures.
See for yourself at the Emerald Coast Wildlife Refuge, the Navarre Beach Marine Sanctuary and the Sea Turtle Conservation Center, home to Sweet Pea, the center's rehabilitated, three-flippered ambassador.
Want to enjoy the water yourself? The options are endless. From swimming and kayaking to paddle boarding, jet skiing and snorkeling, there's no shortage of ocean-based fun here. The town's even home to the state's largest fishing pier, which spans a whopping 1,500 feet.
Still, the city's more than just fun in the sun. For those looking to move to Navarre, the conditions are prime. Home prices sit around $281,000 — well below the $360,000 our list averages — and job opportunities are expected to surge 19% by 2025. — Aly J. Yale
[money-bpl-stats population="41,980" income="$75,970" home-price="$281,456" unemployment="4.5%" location="Navarre, Florida"]