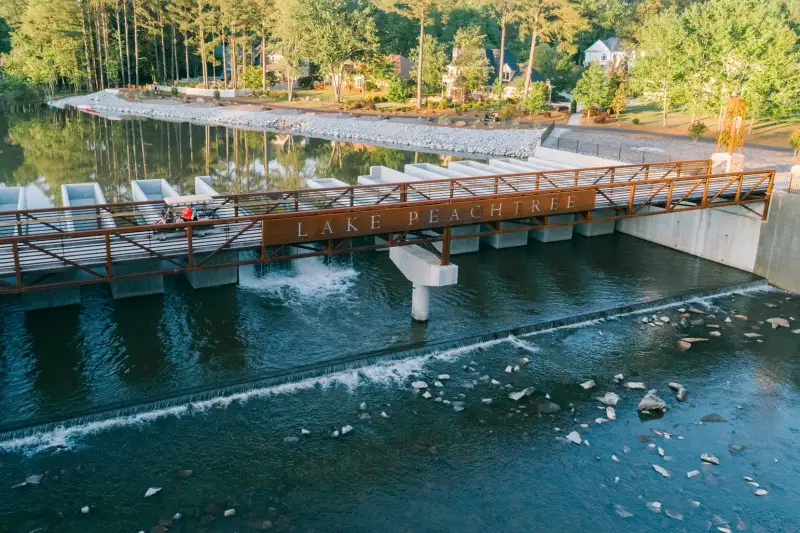 Courtesy of Peachtree City CVB
County: Fayette
Nearest big city: Atlanta
A mere 30 miles from downtown Atlanta, idyllic Peachtree City offers a vacation-like atmosphere with the convenience of a suburb.
Built in the 1950s, the planned community features two lakes and an extensive trail system, which has the added quirk of being traveled largely by golf cart. Many of the city's residents own golf carts, which allow them to use the 100 miles of tree-lined paths for easy access to everything from shops to the area's schools (the paths are also pedestrian-friendly). With three golf courses, a tennis facility, a BMX park and multiple turf soccer fields, Peachtree City offers ample opportunity to get outside.
Also outdoors? Frederick Brown Jr. Amphitheater, known as "The Fred." Due to the pandemic, the woodsy concert venue's popular summer series has been scaled back in recent years. In the past it hosted acts like Joan Jett and the Blackhearts, Kool & the Gang, and KC & the Sunshine Band.
Around 16,000 people commute to Peachtree City for work, many to Panasonic's automotive division offices. As of June, the city's unemployment rate was just 3.3%, among the lowest on our list and far below the national average.
For all its amenities, home prices in Peachtree City are relatively affordable. The average home sold for around $355,000 last year. Fayette County, where Peachtree City is located, grew 11% since the 2010 census and the area is becoming increasingly diverse. Data from the 2020 Census shows the county's Asian American population grew by more than 50%, and the African American population grew by nearly 40%. — Ana Lucia Murillo
[money-bpl-stats population="37,071" income="$111,870" home-price="$355,690" unemployment="3.3%" location="Peachtree City, Georgia"]