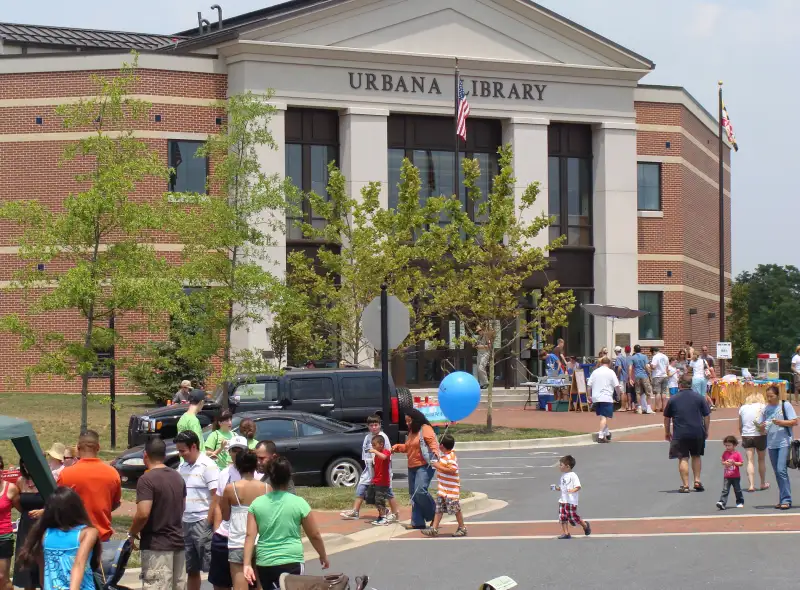 | | |
| --- | --- |
| AT A GLANCE | |
| Population | 11,154 |
| Median Income | $120,909 |
| Job Growth | 6.2% |
| Median Home Price | $409,172 |
| Property Tax | $5,598 |
Talk about a booming economy. Work opportunities abound thanks to the nearby MD-355/I-270 tech corridor, where more than 300,000 people work at over 18,000 businesses, including Lockheed Martin and bio-pharmaceuticals giant MedImmune (both headquartered in the tech corridor). The Social Security Administration opened a 300,000-square-foot data center in Urbana last year. And residents also have access to downtown Washington, D.C., via the town's metro rail station.
Urbana's schools get high marks. The high school was named one of the top 50 most challenging schools in the Washington, DC area by The Washington Post. Students earned the highest combined mean score on the SAT (1605) and the highest percentage of seniors taking the SAT (88.8%). The high school offers 24 Advanced Placement courses and 75% of high schoolers go on to a four-year college and 20% to a two-year school. It also has an International Baccalaureate diploma program which focuses students on language, science, math and humanities curriculum. Some 95% of those in the IB program earn the full diploma.
There is, however, a shortage of things to do: aside from a senior center, the town has no official community center and essentially no nightlife scene. Urbana's schools and police force have also had trouble adjusting to the town's rapid growth—its population ballooned from 622 in 2000 to 9,175 in 2010, the Census reports.—Daniel Bortz