College Ave Student Loans | Review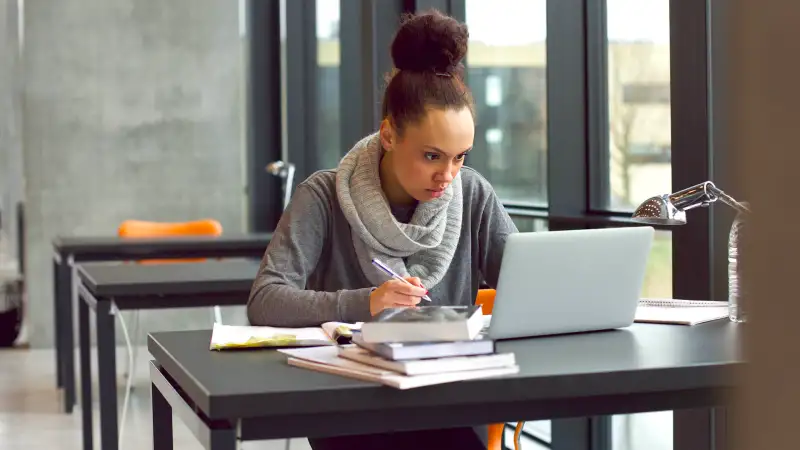 After college scholarships and federal student loans, many families still need to access funds to pay the rest of their college bill. That's where private student loans tend to come in.
Whether you're a parent looking for loans to help your undergraduate or an aspiring doctor shopping for med school loans, College Ave has options for you. The lender, which focuses exclusively on student loans, offers a wide array of loans and repayment terms, quick approval and strong customer service — making it one of our best student loan companies.
Table of contents
College Ave student loan overview
College Ave is a lender that specializes in student loans. In fact, that's the only kind of loan the company has offered since it was founded in 2014. College Ave operates strictly online and has done a lot of work to streamline the loan application process, loan funding and loan repayment.
Pros
Multiple repayment terms to choose from
Quick application and approval process
Parent loans available
Cons
Cosigner release not offered until half the repayment term has passed
Late payment fee of up to $25
College Ave has a prequalification tool to allow borrowers to see the loan terms they're eligible for without a hard credit check. If you do decide to apply for a loan, the process is quick and simple — taking just a few minutes.
College Ave has loans specifically for parents (not all private lenders do), and unlike other lenders that may have just one or two available repayment terms, College Ave's customers can choose from between four or five repayment terms on most of its loans.
The lender offers cosigner releases. But to apply, a borrower must have already paid through half of the original repayment term. So, for example, if your term was 10 years long, you cannot apply for cosigner release until you've made five years of payments. That's much longer than other lenders, who typically allow borrowers to apply for cosigner releases after a year or two of on-time payments.
While College Ave doesn't charge origination fees, you will be charged a fee for late payments.
College Ave services
College Ave offers loans for undergraduate students and parents looking to borrow for their children's education. It also offers several types of loans for graduate students, including for MBA programs, medical school and law school. It offers student loan refinancing, too.
What they offer: Private student loans
College Ave Student Loans
Loan Types
Loan Amounts
Loan Terms
In-school Repayment Options
Variable Interest Rates
Fixed Interest Rates
Undergrad
$1,000 to total cost of attendance
5, 8, 10 or 15 years
Deferred
Interest-only
Flat Monthly
1.75% to 12.99%
3.22% to 13.95%
Grad
$1,000 to total cost of attendance
5, 8, 10 or 15 years
Deferred
Interest-only
Flat Monthly
1.99% to 10.97%
3.99% to 11.98%
Law
$1,000 to total cost of attendance
5, 8, 10, 15 or 20 years
Deferred
Interest-only
Flat Monthly
1.99% - 10.45%
3.99% to 11.46%
MBA
$1,000 to total cost of attendance
5, 8, 10 or 15 years
Deferred
Interest-only
Flat Monthly
1.99% - 9.96%
3.99% - 9.96%
Medical school
$1,000 to total cost of attendance
5, 8, 10, 15 or 20 years
Deferred
Interest-only
Flat Monthly
1.99% - 10.45%
3.99% - 11.46%
Dental School
$1,000 to total cost of attendance
5, 8, 10, 15 or 20 years
Deferred
Interest-only
Flat Monthly
1.99% - 10.45%
3.99% - 11.46%
Parent
$1,000 to total cost of attendance
5 to 15 years
Interest-only
Interest-plus partial principal
1.75% - 12.99%
3.22% - 13.95%
Career training programs
$1,000 to total cost of attendance
5, 8, 10 or 15 years
Deferred
Interest-only
Flat Monthly
1.29% - 13.95%
3.22% - 14.96%
Rates current as of Aug. 8, 2022. Lowest-possible rates reflect a discount for setting up auto-pay. The loan maximum for MBA, medical, dental and law school is $150,000.
College Ave offers both fixed-rate and variable-rate student loans. Currently, the company is advertising variable APR rates as low as 1.29% for undergraduate and parent loans, 1.99% for graduate school loans and 3.44% for student loan refinancing. Rates quoted include an autopay discount.
Borrowers can choose among four repayment options, including making interest-only payments while in school or choosing to wait to make payments until after graduation. The company also allows students and parents to select from various loan terms, ranging from five years to 20 years, depending on your loan type. That's more choices than offered by some well-known student loan lenders like Discover and Sallie Mae.
For borrowers struggling financially when it comes time to pack back the loans, College Ave offers up to 12 months of hardship forbearance over the life of a loan. Individual forbearance periods are usually between three and six months, depending on the situation.
The choices you make about your loan and repayment term will, of course, affect the life-long cost of your loan and your monthly payments. Your loan amount is a major factor in determining the interest rates you'll be offered. You can borrow up to 100% of your educational expenses, but the less you borrow, the more likely you are to get a low rate from College Ave. Similarly, a ten-year repayment plan will earn you a lower rate than a 20-year repayment period. The shorter your loan term, the lower your interest payments will be over the life of your loan.
What they don't offer
College Ave is a private lender, so you cannot borrow federal student loans through the company.
College Ave does offer what it calls "career loans," but these are more limited than other lenders' career prep loans. To apply, you still must be enrolled at an eligible institution in an associate's, bachelor's or graduate degree program. So if you're in a certificate program or other trade school, you'll have to find another lender.
College Ave's loan qualifications
College Ave's qualifications are in line with most other student loan lenders. Your eligibility for College Ave private student loans depends on these primary criteria:
Attending an eligible school
Being a U.S. citizen/permanent resident or an international student with a U.S. Social Security number and eligible co-signer
Having a credit score in the mid 600s or eligible co-signer
The company also has a standard range of credit factors it considers. These include certain income requirements you or your cosigner must meet, though it doesn't disclose income cutoffs. The company will also consider your annual income compared to the amount of debt you already carry, also known as your debt-to-income ratio.
College Ave's credentials
Founded in 2014, College Ave is a relative newcomer to the student loan scene. But the company has quickly established itself as a formidable player and competitive resource for student borrowers — appearing on many lists of top student loan lenders. The company has attracted many rounds of venture capital funding over the years and has enjoyed steady growth since its inception.
College Ave loan products are made available by Firstrust Bank, which is covered by the Federal Deposit Insurance Corporation (FDIC). After you take out your loans, you'll make your payments through College Ave, using the lender's sleek interface. The company also provides a mobile app.
Licenses and registrations
College Ave is licensed to do business and offers loans in all 50 states. The business has been accredited by the Better Business Bureau since 2015.
Third-party ratings
College Ave earns an A- rating from S&P Global Ratings for its long-term credit outlook. Neither the company itself, nor the bank that funds its loans is rated by Moody's or Fitch.
Regulatory and legal actions
Our search of the Consumer Financial Protection Bureau's database found 36 complaints against College Ave over the past three years. Among the complaints, 24 had to do with student loans. Of those, 10 had to do with borrowers struggling to meet their loan obligations, and two cited issues with the customer service College Ave provides.
College Ave's accessibility
College Ave services are available online and, once you've opened an account, via its mobile app. The College Ave mobile app earns 3.3 out of 5 stars from users on the Apple App Store. That review is based on 17 ratings. The app is not rated on Google Play.
Availability
College Ave offers a number of ways to get in touch. You can chat live with a company representative directly from the company's website. You can text message the company at 855-910-0510. The company offers separate phone lines for students who need help applying for a loan and those who already have one and need to discuss repayment or make payments by phone. Nowadays, most people don't want to take the time to mail a letter, but sometimes it's a good idea for documentation purposes. You can mail College Ave at its headquarters, located at 33 North King Street, Suite 400, Wilmington, DE 19801.
Contact Information
To call for questions about applying for a loan:
844-422-7502
Monday through Friday, 9 a.m. to 10 p.m. EST; Saturday 9 a.m. to 3 p.m. EST
To call for questions about loan payments:
844-803-0736
Monday through Friday, 8 a.m. to 8 p.m. EST
User experience
Applying for a student loan can be confusing, especially for students who have never applied for a loan before. College Ave has spent years trying to make the application process easier and less intimidating.
College Ave's website is extremely user friendly. The lender provides an excellent loan calculator that allows borrowers to compare multiple loan scenarios before selecting a loan. You can check rates immediately and apply for a loan in under five minutes from the company's website. The interest rates you'll be offered will vary depending on your and/or your cosigner's credit score, your loan amount and other factors. College Ave, like other lenders, offers its best rates to borrowers who demonstrate a high degree of creditworthiness.
If you're just at the shopping-around point in your student loan journey, the company offers an easy way to compare loan options and see your prequalified (though non-binding) rates almost instantly.
In addition, College Ave publishes an extensive blog to help borrowers better understand student loans and make a more informed loan decision — a decision that can affect your financial life significantly for years to come. Articles run the gamut from how to budget for law school to less serious topics like decorating your dorm room.
College Ave's customer satisfaction
Relationships between borrowers and lenders aren't always smooth or straightforward. That's especially true when borrowers have a hard time meeting their obligations. We've learned that lenders are often the recipients of unflattering reviews. College Ave is no exception.
Although College Ave is A+ rated by the Better Business Bureau, customers who review the company on the BBB website award it only 1.47 out of 5 stars. That rating is based on a total of only 17 reviews.
On Trustpilot, College Ave has a score of 2.6 out of 5 stars, based on a total of 59 reviews. But 73% of customers gave the lender an excellent rating. Most of the positive reviews praised the speed and convenience of doing business with College Ave.
Customer complaints
Over the past three years, the BBB has received and closed 35 complaints against College Ave. Ten complaints have been closed in the last 12 months. The company's 17 customer reviews, which are different from actual complaints, show no clear consensus. One borrower didn't understand that interest begins to accrue the day a loan is funded. Another thought he was asking to see loan and rate options, but he actually went ahead and applied for a loan, which he was then obligated to pay back.
College Ave Student Loans FAQ
How much does College Ave cost?
You won't have to pay a loan origination fee to apply for a College Ave student loan. Your monthly payment will be based on your loan amount, loan term and the repayment option you select. There is no prepayment penalty if you decide to pay off your full principal early. However, if you are late with your monthly payment, College Ave will charge you a late fee of $25 or 5% of your unpaid balance (whichever is less.)
Can College Ave loans be forgiven?
No. Only federal student loans offer forgiveness and, even then, under just a very few circumstances. However, you can apply for loan forbearance with your College Ave student loan. You can also apply for a loan with a 4-year deferment period so you don't have to make any payments until you graduate. If you are struggling to meet your student loan obligations, contact College Ave to set up a repayment plan you can afford.
Do I need a cosigner to apply for a College Ave loan?
If you're entering college directly after high school, chances are you will. Older students who have an established earning and credit history may want to apply on their own. If you do have a cosigner on your loan, you can relieve him or her of their obligations down the road — once you're on your own and financially solvent — by signing a co-signer release.
What credit score do you need to get a College Ave loan?
According to the company's website, borrowers are required to have a credit score in the mid-600s to be approved for a loan. Students who don't have their own credit scores can rely on a cosigner to help them qualify. Many students who are just starting out have never taken out a loan before or owned a credit card. That can be a barrier to qualification and that's what cosigners are for.
Is College Ave a direct lender?
College Ave is considered a direct lender, but loans are actually funded by Firstrust Bank, an institution that was founded nearly 90 years ago.
How we evaluated College Ave's student loans
We evaluated College Ave student loans according to the criteria that are most important to student borrowers. We found the company offers more loan options than average, including refinancing options. We compared the annual percentage rates offered by College Ave and found them very competitive. We looked at how consumers review the lender online and the issues they raised in any complaints. Finally, we evaluated the customer experience you can expect while working with the company, from its application process to its reputation for customer service.
Summary of College Ave review
College Ave offers a simple application process, and one of the widest selections of loan types, terms and repayment options we've come across. College Ave offers competitive interest rates and provides services to international students — not something all student loan lenders do.
Like with most private lenders, the majority of young borrowers are going to need a cosigner to qualify for College Ave's loans. Unlike other lenders, College Ave requires a long period of on-time payments before cosigners can be taken off the loan.