College Tuition Prices Are Actually Decreasing Thanks to Inflation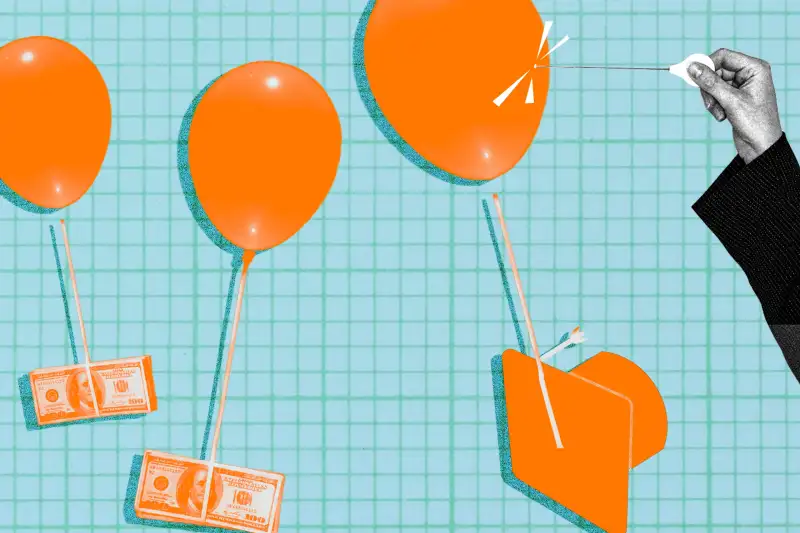 Olive Burd / Money; Getty Images
It might sound hard to believe, but college tuition prices are actually decreasing, due in large part to inflation.
Educational non-profit College Board's latest report on trends in college pricing shows that an uptick in college prices for both private and public higher education is negated by the fact that inflation is so high this year.
The average sticker price of tuition at a public, four-year college increased by 2.5% year-over-year to $11,260 for in-state students, not adjusted for inflation. Prices for out-of-state students increased by 3% to $29,150, and private school tuition prices rose by 4% to $41,540.
However, when adjusting for inflation, College Board says that the sticker price of tuition across both public and private schools has effectively declined since last year. That's because the average Consumer Price Index (CPI), a common measurement of inflation, was 4.5% higher in the first eight months of 2023 compared with the first eight months of 2022.
In fact, College Board data shows this is the fourth consecutive year of depreciation in tuition sticker prices; since the organization's 2020-2021 report, tuition price hikes have been continually outpaced by inflation.
It's worth pointing out that was the year many colleges also began implementing tuition freezes in response to the pandemic, helping along the decrease in tuition costs by stopping price hikes. College Board researcher and report co-author Jennifer Ma noted that "several public college and university systems continued the tuition freeze in 2023-24," helping to keep the growth of sticker prices mostly flat.
These factors lead to a surprising finding, especially given that much of the 2010s was marked by sticker price increases that outpaced inflation (and household incomes). When adjusted for inflation, the current figures mark a 4% decline in published tuition prices at public four-year institutions since 2012-13; for private colleges, sticker prices declined by 5% in the last decade.
The decline is more dramatic when comparing the change in average net prices, or the amount students pay after subtracting financial aid. Where ten years ago the net price of in-state tuition for a first-year student peaked at an inflation-adjusted $4,230, that figure is just $2,730 in 2023. Private college net prices also dropped during this time from $18,820 to $15,910.
This isn't to say that college expenses are necessarily cheap. College Board estimates that the average in-state student at a four-year public college will pay $28,840 for the total cost of attendance for the 2023-24 school year. Costs for out-of-state students will total an average of $46,730. Total cost of attendance, as measured by College Board, includes tuition price (before aid), housing, food, books, transportation and other costs; and at many public colleges, the cost of on-campus room and board is just as expensive as tuition and fees (if not more so).
What's more, college affordability varies widely from state-to-state for students who attend a public college in their home state. In Florida and Wyoming, tuition and fees for a four-year public college are $6,360 and $6,700, respectively in 2023. Compare that with New Hampshire and Vermont, where costs were $17,170 and $17,180, respectively. In-state tuition at a public four-year university averages $11,260 across the U.S.
More from Money:
What Actually Happens if You Don't Pay Your Student Loan Bills?
Does Student Loan Debt Affect Your Credit Score?