Guide to College Grants and Scholarships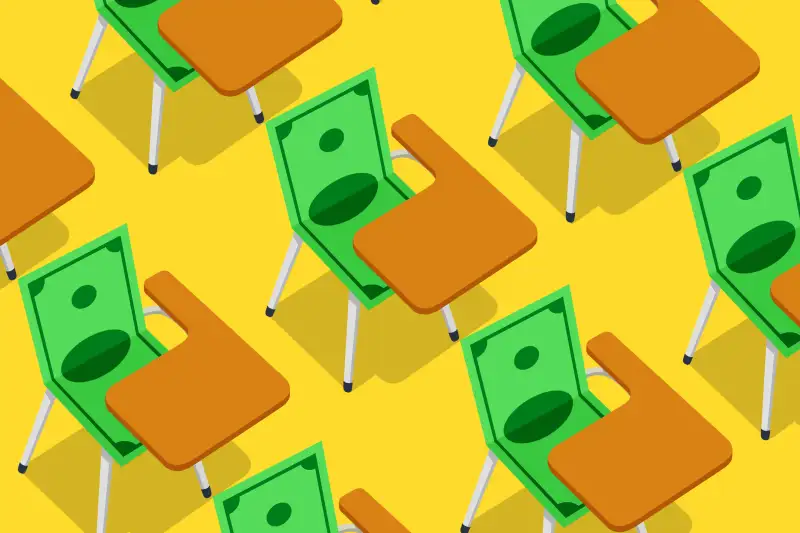 Kiersten Essenpreis for Money
College-bound students might think application season is done once they hit submit. But college is pricey, and for many students the harder work involves searching for grants and scholarships. Some of the best free money comes from colleges themselves, but not every school offers the same kinds of grants and scholarships to every student — so applying to the right colleges for you is key. That can feel like needle-in-the-haystack work.
Here, we offer an in-depth guide to finding grants and scholarships for college students, whether you're attending a four-year, two-year or technical program.
Table of contents:
Scholarships versus grants: How are they different?
Scholarships and grants are types of free money, aka "gift aid" in college parlance, that don't need to be repaid — unlike student loans. Grants and scholarships come from different agencies and institutions, including the federal government, state governments, colleges and private organizations.
The big difference between the two is that grants tend to be need-based, while scholarships tend to be merit-based or interest-based. Merit-based awards are often tied to academic achievement; that means good grades, test scores or both. But scholarships can be awarded for other attributes, such as an underrepresented background, leadership, music, sports, community service, a specific major or geographic diversity. Sometimes scholarships include a need-based component and may require students to submit their Free Application for Federal Student Aid (FAFSA) to show qualifying income. The main thing is to read the fine print on eligibility and start applying early.
Types of scholarships
Scholarships come from a variety of places. Two of the largest sources are state scholarships — funded by state governments — and institutional scholarships from colleges.
State scholarships
Many states offer scholarships as incentives for resident undergraduate students to stay in-state for college. The goal is to encourage eligible students to stick around after graduation to contribute to the state workforce, possibly in a high-need field like healthcare. A few examples are Florida's lottery-funded renewable Bright Futures Scholarship, Georgia's Hope and Zell Miller Scholarships, New York's Excelsior Scholarship, and Washington's Opportunity Scholarship for specific fields.
Many state scholarships require demonstrated academic achievement in high school, such as a certain GPA, standardized test scores and specific coursework. Even if a scholarship is need-based, like the Excelsior program in New York, it may include stiff academic progress requirements while in college. Many state scholarships only work at public institutions (community colleges or universities), but some, like the Washington Opportunity Scholarship, can also be applied to private colleges.
In your scholarship search, check out your state financial aid program and the U.S. Department of Education's higher education agency map. Most state scholarships require residency, but not all do.
College scholarships
If you apply to the right college for your profile, you could be awarded a renewable scholarship for good grades, a sport or a special interest. Common scholarship types include:
Academic (for GPA and/or standardized test scores)
Geographic diversity (for regional representation)
Underrepresented (students of color, first-generation, LGTBQ+, etc.)
Music, fine arts
Leadership, community service
Departmental (specific major)
Athletic
Religious affiliation
Not all colleges offer equally generous scholarships. For example, the highly elite colleges don't offer academic scholarships at all, only need-based financial aid. That's because everyone at these schools is a top student. So, if you're a valedictorian from a high-income family hoping for a merit scholarship, you won't receive one at Ivy League schools, for example. You'd be better off looking for a college that is known to award large merit scholarships.
This is why it's critical to take the time to understand the different types of financial aid individual colleges offer. (Many colleges explain their financial aid policies on their websites, but if you're confused about how a specific college hands out its financial aid budget, you can ask the financial aid office. Colorado College, for example, has a clear policy about meeting need rather than offering merit scholarships.)
Private scholarships
Community-based organizations, nonprofit foundations and other groups award scholarships for the same kinds of attributes that colleges do. These scholarship opportunities start as small as a couple hundred dollars and increase in value all the way up to awards that cover most of the cost of attendance. In general, the more money on the table, the more competitive the scholarship program. More on how to find these below.
Types of grants
The three main types of grants come from the federal government, state governments and colleges. They're given to students with financial need.
Federal grants
The most well-known grant is the federal Pell Grant, but the federal government also offers a few others for specific demographics.
State grants
Many states offer one or several need-based grants for resident undergrads. Like state-funded scholarships, the goal is to encourage students to work in-state after graduation. Check state financial aid programs where you live or in the state where you're interested in attending college to learn the latest (not all require residency). A few examples of state grants include:
California's Cal Grant program offers three tiers, and the amount awarded partly depends on the type of school you plan to attend (including community and technical colleges). After you file the FAFSA or CADAA (for students with undocumented status), colleges determine the amount. Also check out the state's grants for teachers, law enforcement, and military service.
Texas provides several grants. Three of them are Texas Public Educational Grant Program; Toward Excellence, Access, and Success Grant; and the Tuition Equalization Grant for private college.
Washington's maximum Washington College Grant covers public in-state tuition in full. The money can also be applied to private Washington colleges or career-training programs. An income of $56,000 for a family of four may qualify the full amount; up to $102,000 garners a partial grant.
College-based grants
Typically, grants from colleges are renewable if your income doesn't change much. That can add up to a significant amount of money. Remember those elite colleges? They can open affordable doors with need-based grants to qualifying students. Even middle-income families can qualify at these colleges. Stanford, for example, recently expanded its financial aid program so that most students from families earning up to $100,000 get tuition and room and board covered. And several schools, including Princeton and Rice universities give full tuition scholarships to families earning up to $140,000 or $150,000.
Private grants
Organizations and foundations offer grants for study abroad, particular fields of study, underrepresented students, and non-traditional students such as a mother returning to college. Note that many of these aren't designed for bachelor's degree programs, and instead are specific to graduate-level studies.
How to find scholarships and grants for college
For federal grants, simply fill out the FAFSA. Federal financial aid is a good beginning, but for most people, it's not a major way to pay for college.
State grants also require the FAFSA and possibly a supplemental state form accessible through the FAFSA or your state's education website — check your state's requirements. For example, New York offers the TAP grant via the FAFSA or the state Dream Act form if you're not FAFSA-eligible.
Institutional scholarships and grants are trickier to find because they depend on you applying to colleges that offer money for your academic, financial or extracurricular profile. That takes research. Start by running the net price calculators on college websites. You can also check out these tools to find best-fit colleges.
For private scholarships and grants, search locally first to minimize the competition (national scholarships draw thousands of applicants). Some scholarships require the FAFSA; many don't. For private grants, check out this list of resources, especially if you're a graduate student.
Tips for finding scholarships and grants
Talk to your high school guidance counselor and search your high school's online scholarship page.
Ask the financial aid office of the college you're attending. They keep lists of outside scholarships.
Explore your community's local businesses, organizations, civic or religious groups, and parents' employers, such as Key Club, Lions Club, Rotary Club and Soroptimist International chapter.
Search online for race/ethnicity/nationality-based organizations, or groups focused on first-generation students, military families, or a special interest. Examples include Golden Door Scholars, Hispanic Scholarship Fund and Human Rights Campaign's LGTBQ+ scholarships.
Search our lengthy list of scholarship sites. Pro tip: Some states have specific scholarship dashboards. For example, Washington state residents can tap their state site, Washboard.org.
How to apply for grants and scholarships
Grants tend to simply require college financial aid forms — the FAFSA and maybe the CSS Profile — while scholarships run the gamut on requirements.
Common college scholarship requirements
Some colleges offer automatic scholarships for certain grades and test scores, and they don't need an extra application. Other college scholarships — and private scholarships — will require their own application. Possible requirements include:
High school diploma and good academic standing
Acceptance to a college program
Eligibility for the scholarship's parameters
Transcripts, SAT or ACT scores, and letters of recommendation
Essay or other prompt, such as a video
FAFSA and possibly the CSS Profile for need-based scholarships
When to apply for grants and scholarships
This fall, the FAFSA doesn't open until December (a one-time opening date to accommodate the new design and then the schedule will return to Oct. 1 in 2024). Some colleges also use the CSS Profile for awarding institutional grants, and that opens Oct. 1. States also have individual FAFSA deadlines, so check yours. This year, colleges and states will flex their deadlines to account for the later FAFSA opening.
Some colleges offer scholarships with early deadlines — ask admissions offices about those so you don't miss them. Private scholarship deadlines vary widely with many having spring deadlines.
It may sound cliché, but it is both never too early nor too late look for scholarships to apply to.
Tips for how to stand out on scholarship applications
Staying organized isn't easy, but it will help you manage the application process with a lot less stress. Track scholarship deadlines and completed submissions in some kind of spreadsheet. Here are some additional tips on how to stand out:
Start early. Besides finding early-deadline scholarships, starting early gives you time to submit your best work.
Ask for letters of recommendation early. Give your teachers, coaches or others plenty of time to do their best work.
Follow directions. Make sure you submit what the application asks for.
Be honest and authentic. Present yourself as you, not who you think the scholarship committee wants to see. Highlight your accomplishments, personal experiences and unique perspectives.
Proofread! You want to put your best foot forward, and an easy way to do that is avoiding sloppy mistakes.
Send thank you notes. Thank the the scholarship committee and those who wrote letters of recommendation.
Alternatives to scholarships and grants
Sometimes you come up empty-handed or don't receive enough money. Maybe your family doesn't qualify for financial aid at the colleges you applied to, or the scholarships you're awarded are small. What else can you do to pay for college?
Work-study
Work-study is an approved on-campus or off-campus job funded partly by federal or state work-study funds. Work-study is a need-based award, typically ranging from $2,000 to $5,000. Fill out the FAFSA to find out if you qualify. Once you receive work-study funds, you need to apply for a work-study job just like you apply for any job. Work-study jobs tend to be flexible, fitting in around your classes.
Even if you're not awarded work-study, you can look for a non-work study job on-campus or off-campus to earn money for college.
Student loans
As a last resort, after exhausting all other free money, there are student loans. They come in two types: federal loans and private loans. The low-interest federal direct student loans come with annual limits, which are different for dependent and independent students.
Then there are private student loans. You should always borrow federal loans first, because private loans don't offer the protections that federal student loans do, like income-driven repayment plans. Still, private loans may be necessary to cover funding gaps. Private loans can offer a lower interest rate for a good credit score.
Guide to Grants and Scholarships FAQs
Can you apply for scholarships while in college?
Resoundingly yes! Look for scholarships all through college. Check with your academic department and also look for returning student scholarships and grants.
Can you get scholarships for community college?
Yes, many scholarships apply to both four-year and two-year colleges, and some are specifically targeted for students in two-year or technical programs.
Do scholarships affect financial aid?
Unfortunately, outside scholarships can affect how much financial aid your college awards you. You should ask your college financial aid office about your specific situation. We offer
tips
for how to do this.
More from Money:
The Best Colleges in America, Rated by Value
Parent PLUS Loans: A Guide to Helping Your Student Pay for College