4 Myths About College Scholarships That Could Cost You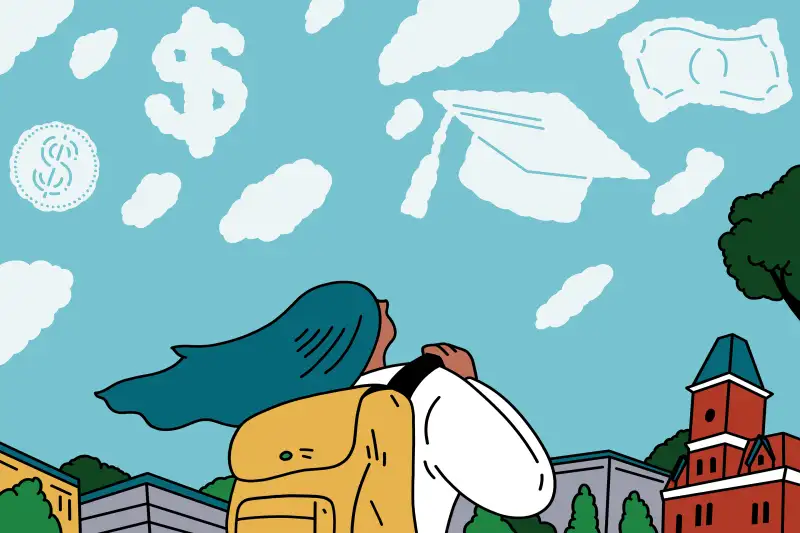 Applying for scholarships — aka free money to cover college bills — sounds like a no-brainer. But actually finding the right types of awards isn't easy.
Scholarships come in different kinds of packages, from institutional scholarships, to state-sponsored merit awards or need-based scholarships, to smaller scholarships from private foundations. They play a key role in affording college, with some 60% of families using them to cover a portion of the bill, according to the Sallie Mae's 2022 How America Pays for College report. And yet, this time of year often brings unhappy surprises as college acceptance letters come in without solid financial awards.
The problem is, for the chance of a meaningful award, students need to have applied to the colleges that are most likely to give scholarships to students like them.
"Families just don't know what they don't know," says Chad Dorman, a private college counselor and founder of Leonard Andrew Consulting.
Whether your family is in the throes of acceptance letters coming in or a college search in the near future, it's useful to understand how scholarships work. Here are four common myths about them.
1. My stellar scholar will get a scholarship at an elite college
One of the biggest scholarship myths is that straight-A students with top test scores can apply to any college and get a big scholarship. But there's a cluster of top-tier colleges, including the Ivy League and so-called "little" Ivies, that don't offer merit scholarships to anyone. These colleges give out need-based financial aid only, and family income and savings, not grades or test scores, determine if your student qualifies.
For middle and lower-income families with top students, these "meets need" private colleges can be a boon (if the student can get in, which is a long shot). At Harvard University, for example, families earning under $75,000 without significant assets are expected to contribute $0. For wealthier families, though, it can be a big blow to learn they must pay sticker price — between $70,000 and $80,000 — because it's a lot even for high earners. These institutions do have high thresholds to qualify for need aid, but families earning north of $250k will likely pay full freight. If this is you, your kid will need to focus on schools that give merit aid.
Even at schools that do award merit aid, scholarships aren't guaranteed for every A-student. It's about finding a college that wants your student.
"Students need to choose a diverse list of schools," says Candace Chambers, a college coach and author of The ABCs of College Admissions and Scholarships. "That involves research to determine what a school offers for what the student brings to the table."
Chambers recommends researching the "Common Data Set" for each school (pro tip: Google Common Data Set and the school name to find it quickly) to learn whether they give merit aid and how many students received it. Also, use the school's net price calculator, which predicts merit and need-based aid for your student, though be aware that mileage varies with these calculators.
"The best scholarships come from colleges themselves because they're generally bigger than what the student would receive from a private scholarship," Chambers says. Another bonus: institutional scholarships usually last all four years if a student meets the requirements. Private scholarships are more often one-and-done, leaving you in the lurch for sophomore year or frantically hunting for replacement scholarships.
2. My star athlete will get a sports scholarship
Plenty of high school sports stars go on to compete in intercollegiate sports. But a tiny percentage of them earn a scholarship for doing so. Whether an athletic scholarship is a possibility depends on the student's talent, but also on the school, sport, coach and whether the team needs your student — and it's a lot of work to find that combo. According to Dorman, who specializes in working with student-athletes, the average athletic scholarship is about $5,000 with fewer than 2% of student-athletes receiving a true athletic scholarship. In other words, all those hours of club practice and travel costs might not translate into a sports scholarship.
It's also critical to understand that earning a full-ride scholarship for athletic abilities is vanishingly rare. Just six Division I sports offer the possibility, with two sports for men: football and basketball, and four for women: basketball, volleyball, gymnastics and tennis. In Division II programs, scholarships tend to be partial ones, with coaches dividing up the funds among a group of athletes. Division III doesn't give athletic scholarships at all.
This isn't to say that athletic prowess won't help your student stand out: It may give them a leg up in the admissions process, and ultimately, some 50% of student-athletes do receive some kind of scholarship, Dorman says.
"I always recommend that families and student-athletes review and compare all financial aid offers from schools," he says.
He encourages families to explore the possibility of merit or need-based aid because these monies could benefit the student more than an athletic scholarship, and a student may find that the academics or student culture at a Division II or Division III college is a better fit than the big-name, D-I schools, he says.
3. We can say yes to any college and hunt for scholarships later
If you can afford the school without scholarships, go for it. But if you can't, it's unlikely you'll be able to cover a big annual bill with scholarships from independent foundations.
Many private scholarships are small, in the $500 to $1000 range, and you'd need to be batting well to win, for example, five scholarships equaling $5,000. It's possible, but more typically, you're better off choosing a school that offers an institutional scholarship or need-based aid and then topping up with outside scholarships — if the school doesn't reduce your institutional aid by the amount of the private scholarship, also known as scholarship displacement. Talk to the financial aid office at the college about their policies around outside scholarships before you devote hours to crafting scholarship applications.
When you do hunt for outside scholarships (and yes, it's usually worth it unless you've already determined your college of choice will reduce institutional monies you've been awarded), focus locally and regionally because there's less competition than for national scholarships, experts say. National awards such as the Pepsi, Gates or Jack Kent Cooke Foundation scholarships give out much larger sums than local awards, but they also require an intensive application process.
To find local and regional scholarships, start with your high school or school district's scholarship page. Parent friends who've been through it may know about scholarships in your area. Your state universities may list state scholarships available to residential students. Washington state goes even further, offering a state scholarship clearing house, theWashBoard.org, for Washington families.
4. My kid doesn't get straight A's — we're out of luck
You aren't! But you're not alone in thinking this: 45% of families think students need to be academically exceptional to win money for college, according to the Sallie Mae report.
Instead, it all comes down to finding the scholarships that match your student. For institutional scholarships, search for colleges fitting your student's academic and financial profile using the Common Data Set. Just like top students, a more average student needs to be strategic about the schools they choose.
"One way to do that is to look for the schools that publicize their scholarships on their website," Chambers says. Some colleges list automatic scholarships for grades and test scores for residents and nonresidents, like Boise State University. Many institutional scholarships have earlier deadlines than the application deadline, so be sure to find out what they are.
Students with financial need or other attributes, such as leadership, music or other extracurriculars, may also be eligible for scholarships that aren't tied to grades — or at least don't require a high GPA. The Barron Prize for Young Heroes, for example, awards $10,000 to students working on an inspiring service project. Students committed to the environment might be eligible for the Brower Youth Award ($3,000). Other scholarships are awarded to students from underrepresented groups, such as The Dream scholarship (for students with Deferred Action for Childhood Arrivals (DACA) status). The Soroptimist organization, meanwhile, awards scholarships to mothers who are the primary breadwinners for their dependents.
Whether you're searching for institutional, state or private scholarships, it will be a treasure hunt, but the hunt will be easier if you start early. And word to the wise: "Don't ever pay a fee to apply for a scholarship," Dorman says.
More from Money:
'Too Good to Be True': Student Loan Borrowers Start to Doubt Forgiveness Plan