Comedian Jim Jefferies Says He's Rich, But All He Wants Is to Be Comfortable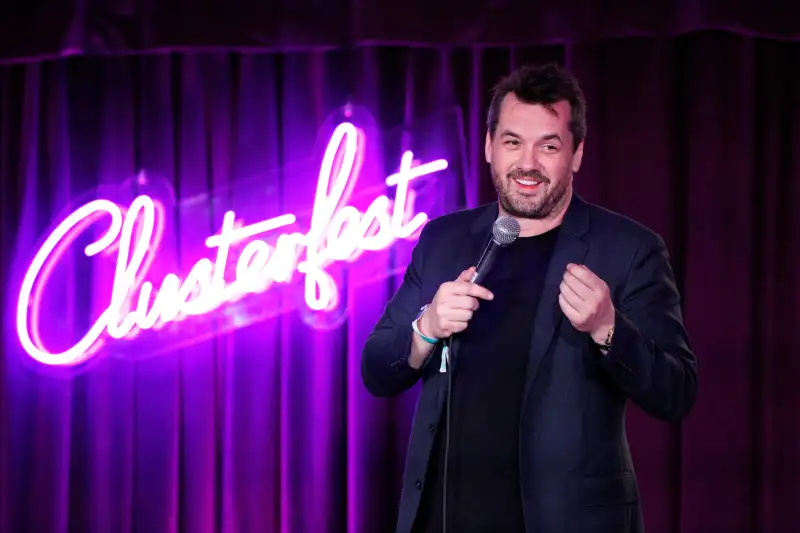 Jim Jefferies has finally made it as a marquee comedian, but that doesn't mean life is easy.
The Australian stand-up performer and host of Comedy Central's late-night program The Jim Jefferies Show has become known for his incisive takes on political and social issues, and managed to gain modest wealth along the way.
"I don't think I'm particularly good with money, but I have made some," Jefferies, 41, told Money from his office in Los Angeles. In his new Netflix special, This Is Me Now, he admits to real financial troubles, including struggling as a stand-up and owing more than $100,000 after breaking his first recording contract. Here, Jefferies shares his first big purchase, why a "holiday home" is a waste of money, and the trouble with handing out loans to friends.
Money: Your new special was filmed in London, where you started your comedy career. What were those early days like?
JIM JEFFERIES: It just seemed like the hub for comedy clubs. I'd do a ton of open-mic spots and eventually started getting paid jobs. I was earning about £20,000 pounds [$25,000] a year for the first five years doing comedy. They were pretty lame years, but it was still my occupation. I haven't had a different job for the last 18 years.
You've said you were poor then.
It was the standard thing, living hand to mouth. If I didn't have a gig, I used to ring up all the comedy clubs across the country and go, "If anyone drops out, I can be there." Normally, someone would ring you up the day of. It's just perseverance, being scrappy, being a hustler. The first few years, a lot of it was under-the-table work, so that was good. I think I can say that now.
You later signed a record deal with a label for £90,000 pounds [$114,000] that required you to produce five specials. It went badly.
I broke the contract and started working for other people [including HBO]. They made me pay back the money and then some. But I'm very happy I did. If I had stayed in that contract, it would've cost me millions of dollars. Everything was wrong with the deal, it was just terrible. I remember then thinking they overpaid me, but five specials would've taken me eight years to do. I had a manager helping me out, but he was fairly new to the game. It's a little bit more Wild West-y over there [in the UK].
What'd you learn from the experience?
You've got to gamble on yourself. If you don't, no one else is going to. It's very hard when you're poor to turn down money. When you've got money, it's easy. When you're poor, you need money today. People take advantage of poor people.
So do you feel rich now?
I'm very comfortable. I'm doing well. "Rich" is such an arbitrary, weird term. Am I rich? Yeah, I guess I am. Like I don't give a f--- how expensive the restaurant, I'll order whatever I want. That's cool.
You like to spend your money on food?
What else do you spend money on? Clothes are nice. I go to the fanciest restaurants in the world and try them out. I like to see these chefs that are wizards do their thing. I like two types of food: cheap fast food—In-N-Out Burger, Taco Bell, stuff like that—or expensive food. Anything in between just bothers me.
There are worse things to splurge on than meals.
I don't understand people who buy holiday homes. Rent the f---ing thing. Who wants another house to worry about? All I want money to do is make my life easier. Here's how I like to spend money: If I go to a concert, I want to have the best seat in the house. If I go to a theme park, I want to pay to go to the front of the line. I don't want any possessions. I just want to be comfortable—like, literally, physically comfortable. I look at things [and think] like, That chair would be nice to sit in.
What else have you learned about money?
It's weird because when you're poor, friends always need to borrow five bucks. But when you're rich, they always need to borrow $5,000 to $15,000. They need it. I have learned to say no because I think I've been stung a few too many times. It's sad. You give money to somebody, and then you think, "Well, that's the end of that friendship. I'll never get it back." They'll feel guilty and never talk to me again. Then I lost $10,000 and a friend.
What was your first big purchase when you were making your way up?
It was a Spider-Man pinball machine. I've still got it. It cost $6,000. I remember thinking, "This is a crazy purchase."
What would you tell yourself in your early 20s?
How do I say this? There are certain substances I would've told myself not to take. [Laughs] There are certain women I would've told myself not to date. I would tell myself to appreciate my downtime a lot more. Now I dream of days off.
How busy do you feel at the moment?
I don't have a free moment. When I'm not gigging, I'm a single parent. I'm doing the show every week. I don't have a day to myself to run errands. It sounds like I'm crying about success.
Do you still feel the need to hustle?
Yeah, but it's a different thing now. It's, How far can I take this? Do I need to go further? Do I need all these different jobs? What am I personally getting out of it? I feel like there has to come a time when I have to let it all go and just sort of show up and be happy with the fact that I did it for a long time, because I would hate for my career to go in the opposite direction.
So you'll eventually just walk away?
I won't have a TV show anymore. I won't be selling as many tickets as I did. You know, just getting old, man. I think one day I'll just retire rather than fade into oblivion. I haven't set a timeline on it—maybe in 10 years.
And you'd be able to live off what you've made?
I already can live off the money I've got. What's the point of putting yourself in the grave working yourself to death?
People in show business tend to keep themselves out there as long as possible.
I think maybe you miss [performing]. Joan Rivers always wanted to be working, Don Rickles was working up until the end, Jerry Lewis was doing shows right up until the end. I'm trying to think of any comics who have retired, and I don't know. I'd like to think I could find a time where I was content without it.
Younger comedians today look up to you. What do you say when they ask how they get to where you are?
Try to be as authentic as possible in your own voice. And the big secret to stand-up comedy is in the amount of material you produce. Not even the quality. Every time you're onstage, do a new bit. It keeps creative juices flowing, and it stops [the jokes] from being bitter. It also keeps the audience coming back to see you. Work hard. That's all it is. There's no actual secret. It's obvious what you have to do. Also, don't be a pain in the ass.