How to Keep Your Pandemic-Induced Impulse Shopping in Check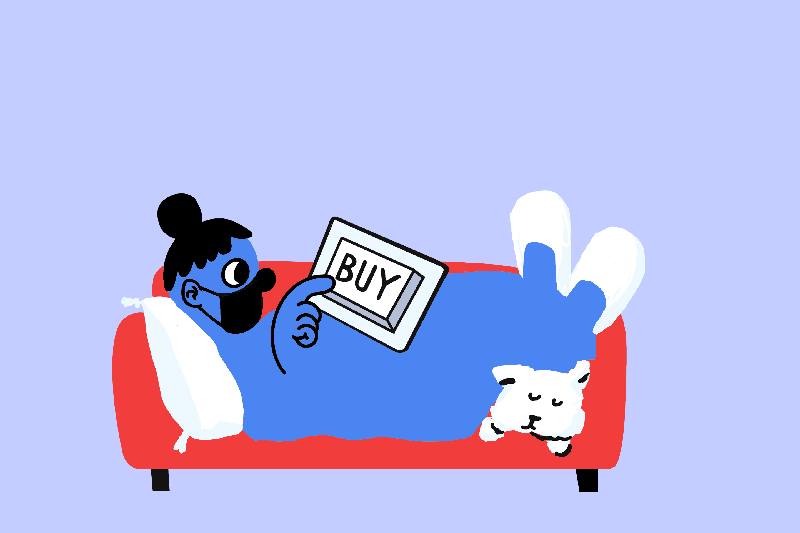 We may not be able to aimlessly wander through the mall with a hot pretzel and a credit card, but the coronavirus crisis is the perfect opportunity for retail therapy. Between being cooped up inside and the depression of doing nothing for weeks on end, people are realizing that sometimes it just feels good to shop.
Even Money staffers have found themselves caving to the allure of the impulse buy recently.
Careers reporter Kenadi Silcox said the best thing she purchased this summer was a "ridiculously expensive" linen bed set, which keeps her cool enough at night to not use the A/C. For real estate editor Sam Sharf, it was a $30-per-month subscription to her favorite yoga studio's new video channel. For reporter Mallika Mitra, it was Brooks running shoes — "In quarantine I wasn't getting much activity besides running … I felt like I could splurge," she explained.
This made us wonder: How is the coronavirus crisis changing shopping? How can you take advantage of it while also staying financially responsible?
Lisa Lee Freeman, a consumer and shopping expert, said she's seen several micro-trends recently. The first is hoarding. A lot of Americans got into a survivalist, must-stock-up-or-else mindset back in March when shortages started. Many still haven't moved on.
"People aren't shopping around like they used to," Freeman says. "If they see something they want, they just buy it."
That's not great, especially because there are a lot of shady companies out there trying to exploit customers right now.
For example, some mask manufacturers have been caught with meaningless Food and Drug Administration certificates. The FDA has recalled some 150 brands of hand sanitizer that have been contaminated with a harmful chemical. There are fake "cures" and unauthorized coronavirus test kits going around.
Freeman said to be careful even when shopping for legit items because prices in certain categories are spiking. Meat is one of them — data from the Bureau of Economic Analysis shows that beef and veal prices have increased by 20% since February. Poultry and pork are up over 8% each.
"You have to stretch every dollar in order to get your food costs down," Freeman says.
To that end, she recommended buying fruits and vegetables in bulk while they're in season and freezing/canning them for the winter. She suggested looking into cash back programs like Ibotta and Rakuten, which will give you rewards for choosing certain retailers.
Freeman said she's also seen shifts in discretionary spending. Though there's "still a lot of impulse purchasing going on," it's happening online instead of during a meandering Sunday-afternoon Target trip. Bike, car and tent sales are booming, as are those of home items like trampolines and furniture.
The focus seems to be more on permanent improvements than instant gratification.
"We're going from this mindless shopping for sport to mindful shopping thinking about what would make our lives better," Freeman says.
That's certainly true for Money staffers. Editor Kristen Bahler's best summer purchases were skincare products, including True Botanicals' radiance oil, that have made her "dewy AF." Data reporter Prachi Bhardwaj praised this $230 14-inch Lenovo monitor for making working from home easier.
Still, you need to exercise caution. Sure, new numbers from the Commerce Department suggest retail spending is bouncing back, but there is still a recession going on.
Adam Goetz, president of MassMutual's Advisors Association and partner at Burstin & Goetz in Pittsburgh, said to make sure you're being prudent about the cash you're devoting to online shopping. He typically tells his clients to have about six months of household expenses stashed away in a liquid, accessible emergency fund, but he's upped that to the nine- to 12-month range in light of the pandemic.
Goetz said that once you're comfortable with your savings, you have any debt under control and you're on track for retirement, you can loosen up a bit.
"Checking those three boxes makes it that much easier to go out and splurge on an inflatable pool or the big screen [you've] been eyeing," he adds. "It's important to make sure those fundamental pieces are in place first so you're not kicking yourself."
Bottom line?
Shopping is indeed changing, with people leaning more toward mindful purchases that will improve their lockdown lives. Part of being mindful is making the most of your dollar. Freeman said now is a good time to buy clothes, and Labor Day Weekend will have tons of deals on appliances and mattresses.
More from Money:
As Malls Across America Reopen, Here's What Your Shopping Experience Will Look Like
The Best Online Grocery Delivery Services for Your Money: A Comprehensive Guide to Fees, Prices and Availability
Coronavirus Has Turned America Into a Nation of Savers. But How Long Will It Last?