Corvette Stingray: All American Muscle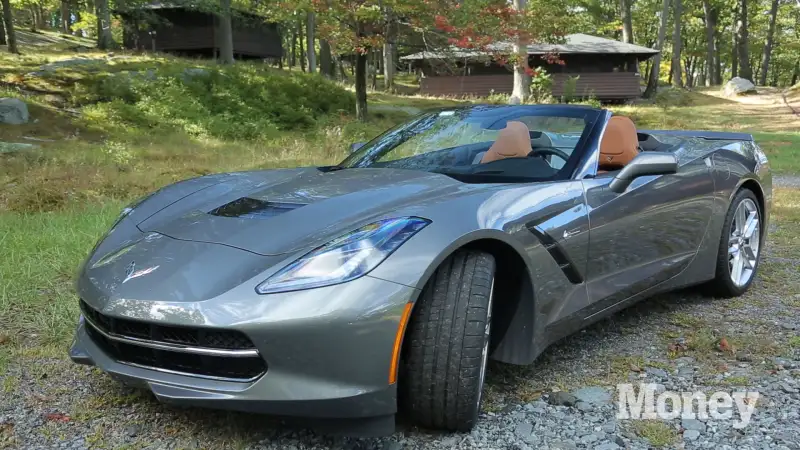 The guy standing on the traffic island seeking donations didn't want one from me. He just walked over to the car, gave the thumbs-up and then moved on to the unremarkable vehicle behind me.
The 2015 Corvette Stingray ZF1 convertible I was driving is the type of car that can do that. You park it at Home Depot and guys start circling, taking pictures. Parking lot attendants, who see everything on wheels, nod in admiration. New cars that attract this kind of attention are relatively few: The awesome Audi R-8 comes to mind, as do the recently remade Camaro and the old Jaguar XK8. Even that funky little Fiat 500 was a head turner when it first landed.
For Chevrolet, the Corvette is an iconic automobile and you redesign it at your peril. Yet as Ford proved with its Mustang this year, and Chevy itself with Camaro, you can remake trophy cars without denting their heritage. This Vette is a perfect example of heritage brought smartly—and swiftly— forward.
The Stingray did show up with a surprise: an eight-speed automatic with paddle shifters. The automatic trans adds $1,725 to the base price of $58,000, and the other goodies on the car I drove—including a performance data and video recorder—pushed the price up to $71,255. Who would want to drive a Vette with an automatic? Turns out, lots of people, and fully 65% of new Vettes being sold are automatics, according to the company. And it's not just Corvette owners. Manual transmissions simply can't match the efficiency of a new generation of 8-, 9-, and 10- speed automatics now being introduced into high performance cars. (In fact, the new Porsche GT3 isn't available with a manual transmission. It rides a dual-clutch automatic called a Doppelkupplungsgetriebe.) The manual transmission is going the way of the manual window. Do you miss cranking?
Although I absolutely doppelkupplungsgetriebed at the thought of a stickless Corvette, any disappointment disappeared when I stomped on the pedal at a highway on-ramp. Very instant gratification. Chevy has equipped this Vette with its LT1 6.2 liter V-8 engine, the latest version of a famous power plant known as the small block V-8. In GM lore, this engine actually saved the Corvette when it was introduced in 1955, because sales had been languishing with the underpowered 150-hp engine then in use. The small block V8 put the muscle in muscle cars. This updated one has variable valve timing that deactivates cylinders when you don't need them—say cruising when the tachometer's barely pushing 1,500 r.p.m.—which helps the car's impressive 29-m.p.g. highway fuel rating.
But when you want'em, all eight cylinders snap to attention and report for duty, ready to throw out 455-to- 460 h.p. —the higher figure if you get the optional multimode exhaust option ($1,195) that is exquisitely tuned to zoom. This Vette will get you from here to there—0 to 60 mph—in a throaty 3.7 seconds. The eight-speed automatic is even a tick faster than the seven-speed manual, although the thrill of rocketing up the speedometer is very much the same. And if you insist on shifting the gears yourself, go right ahead and use the paddles. Automatic or no, this thing is still low, wide, and nasty. The two competition seats in the Z51 version come with adjustable side bolsters to lock yourself in on tight turns.
It's not all about speed, I guess. The Stingray includes a 5-position Drive Mode selector (Sport, Track, Tour, Eco, Weather) that adjusts the performance to suit conditions or your whims. And on nice days, there's that drop-top, which can be popped while moving at up to 30 m.p.h. if you'd like to really show off.
Chevy is also making the convertible available on a supercharged Z06 racing model rated at 650 h.p. that it will introduce next year. Which is going to provide a whole new definition of driving with the wind in your hair. You are probably going to need that automatic. Because you'll be too busy hanging on to your hat to work a stick.
Correction: a previous version of this story stated the Corvette has a dual-clutch transmission.
Related Videos: