What It Costs to Cavort Weightless Like OK Go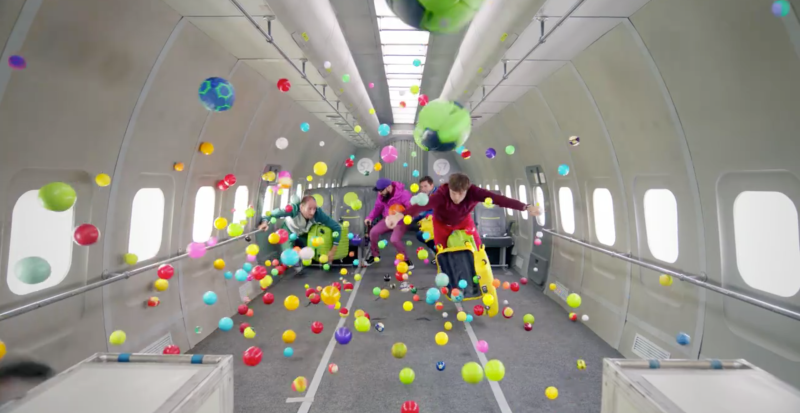 Los Angeles pop-band OK Go, masters of the irresistibly viral music video, are back at it again with a new single, "Upside Down & Inside Out."
This time the band members are flinging laptops and balloons full of paint in zero gravity, looking a bit like someone sent four hyperactive J. Crew models to the International Space Station.
If you haven't yet enjoyed their antics, you can do so here. Once you have, the first question you'll ask yourself is: Can I do this too?
The short answer is yes!
But it will cost you a bundle. And like so many things in life it won't be quite as smooth and effortless as it at looks in the music video.
According to OK Go's Instagram blog, the video was shot over Russia with a company called S7 Airlines, which apparently cut the band a deal for promotional purposes.
However, at least one U.S. operation, Zero G, offers similar flights at locations around the country, to adventurers willing to pony up. The cost: $4,950 plus 5% sales tax for a 90-minute flight, which includes 15 of the steep parabolic dives that allow you to experience weightlessness.
There is one big catch. While the four members of OK Go appear to be dancing weightless for more than three minutes, in fact, aircrafts' weightless dives last only about 30 seconds. As the band's Instagram blog explains, the video was actually shot in half-minute increments and strung together in the editing room.
Then there is the fact that all those climbs and dives can take a toll. As the blog also fesses up: "Though the group ended up holding down their lunches, the rest of the crew wasn't as lucky. Over a series of 21 flights, there were 58 unscheduled episodes of vomiting."