Credit Card Experts Swear by This Secret Strategy to Get the Best Travel Reward Deals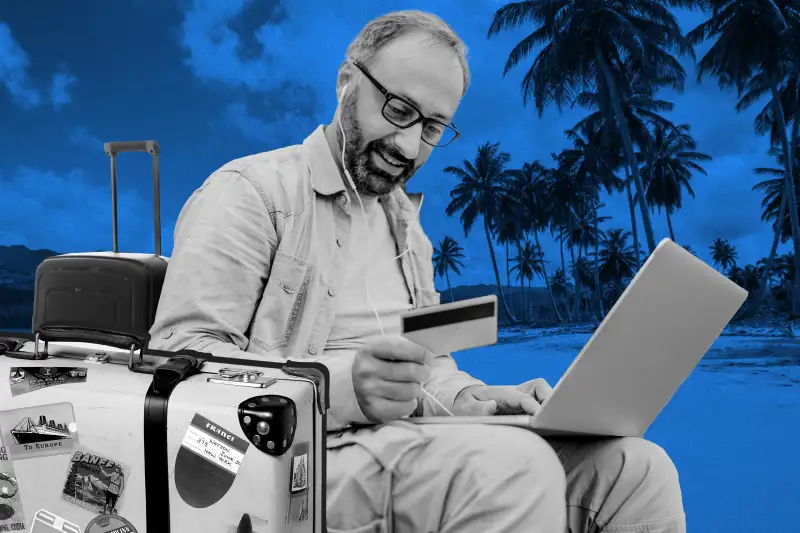 Eddie Lee / Money; Getty Images
Americans are using travel reward points more than ever before, yet many travelers are still making a rookie mistake when it comes to using points to pay for flights.
Usage of credit card rewards programs has surged since 2016, with travel being one of Americans' favorite perks, per an Ipsos survey last year. Too often, though, cardholders are unaware of what's possibly the best way to use points for travel.
The secret experienced flyers and travel experts swear by? Instead of booking a flight on a credit card travel portal, you can make a point transfer — a conversion of your credit card points to airline miles with one of your card issuer's airline partners.
The method can be so powerful that Calli Levin, 40, of Silver Spring, Maryland, says she's flying her family of four to Hawaii this summer "essentially for free."
Among Americans who use any sort of rewards card, about a quarter have used travel rewards to subsidize a vacation in the past year, according to Ipsos. But the point transfer method is underutilized, experts say, in part because it requires some additional steps compared to the more common practice of using a credit card travel portal. Point transfers can feel complicated for beginners, but once you get it down, the benefits are rewarding.
"Nine times out of 10, you're going to get a better value by transferring your points," says Patrick Revnew, a travel hacker who discusses credit card point strategies on his social media pages. "It's what I've found to be the absolute best value when it comes to using your points for travel."
How to fly with credit card points
Popular travel credit cards like the American Express Gold, the Chase Sapphire Reserve and the Capital One Venture X reward customers with miles or points when they swipe their cards for day-to-day transactions. (The three issuers did not accept Money's interview requests for this story.)
Each of these credit card companies has about a dozen or more airline partnerships that allow customers to turn their rewards into airline miles.
The weird part of this strategy — and perhaps the reason it's underutilized — is that to book the flight you want, you'll often need to convert your credit card points to miles on an intermediary foreign airline, and it could be one that you've never heard of before.
As an example, the list of Capital One's 1:1 mile transfer partners includes programs with well-known international airlines, like Emirates and Air Canada, as well as lesser known ones like Finnair and TAP Air Portugal. Major airlines like American, Delta and United aren't on the list.
But you can still book flights on those airlines thanks to the major airline alliances — Oneworld, Star Alliance and SkyTeam — which allow travelers to use frequent flyer points across all their member airlines.
The most popular conversion airlines have so-called sweet spots — generous deals for booking with miles — in their award charts and tend to be in alliances with major U.S.-based carriers as well as popular international airlines.
Levin, for example, used the point transfer method to book United Airlines tickets from Washington Dulles to Honolulu for her family for only 7,500 Capital One miles each. Her Capital One card has partnerships with a number of different airlines, but she zeroed in on Turkish Airlines as the intermediary because it has a favorable award chart for United: domestic flights go for 7,500 miles, no matter the distance.
Capital One miles are worth 1 cent per mile on the portal, so Levin essentially got this 10-hour flight for an amount of miles that would've been worth only $75 if she'd used her credit card rewards the more conventional way. For another point of comparison, it would've taken 22,500 United miles to book the same flight, she says.
The deal was so good it was hard for Levin to believe it was actually real until she had the confirmation number.
"It just seems very unlikely that I'd be able to use a credit card to transfer to a foreign airline to get to a domestic location for cheaper. It just is all very strange," she says. "But it's really a dream come true to be able to take our family of four on this plane trip, essentially for free."
There are also deals with point transfers for luxury international flights: Revnew recently got a first class Emirates seat from New York to Milan for 85,000 American Express points — when a paying customer would've been looking at an $11,000 fare.
If these deals sound too good to be true, it's because you've been redeeming your credit card points all wrong, those who swear by the method say.
"With these travel credit cards, the big banks like AmEx and Chase try to push you to book in their portal, and sometimes it can be a good deal, but most of the time you can get a much better deal by transferring," says Ginny Grady, a travel coach in Orlando.
How to find the best travel deals
To find the best deals, you need to look for "saver" award tickets, Revnew says. The names for these tickets can vary from airline to airline, but what it means is that a flight is available to be booked for a low amount of miles.
With United, for example, you can search for saver award tickets using one of the airline's search tools. (Note: With other airlines that don't have a detailed search tool, you may need to use third-party sites). Once you've found the United flight you want, the next step is checking which Star Alliance airlines that are partnered with your credit card are offering the flight. With Capital One, that would include Singapore Airlines, Avianca Airlines, Turkish Airlines and Air Canada. From there, all you need to do is to compare those airlines' rates, or how many miles are needed to purchase a flight, and the Capital One Travel rate to find the best deal.
The process is similar regardless of the credit card you use or the airline you want to fly. Say you have Chase points and want to book an American Airlines flight, you might end up converting your points to British Airways miles. That airline is in the Oneworld alliance and it often has great rates for shorter domestic flights. Grady recently booked a $300 American Airlines flight with British Airways for only 9,000 Chase points. On the portal, she would've had to use at least 20,000 points.
Finding good deals on Delta flights can be a bit harder in general, Grady says, but she recommends looking through Virgin Atlantic, especially if you have AmEx points.
"Once you start to learn about which transfer partners your card has and then the different airline alliances, that's where you can really stretch your miles further," she says. "It is definitely a steeper learning curve, but it makes all the difference once you learn those ins and outs."
Travel portals are simpler, but lack the deals
Finding award availability can be the biggest challenge with this strategy. Airlines tend to limit how many seats on any particular flight can be purchased through awards so tracking down a seat can be more difficult or even impossible sometimes, like around holidays or on busy routes. Levin, for instance, hasn't been able to find award space for the return flights for her Hawaii trip. (She's been checking multiple times per week to see if that changes.)
If you can be flexible with your travel dates, you'll have better luck finding availability. But even then, it's easy to get carried away spending hours searching for flights, researching conversion rates on blogs, opening frequent flyer accounts and comparing award charts.
For beginners, there'll inevitably be frustrations. Point transfers are irreversible, so it's possible to make mistakes. You're not going to earn loyalty status with a specific airline when you book this way. You have to watch out for fees, especially on international flights, which you have to pay in addition to using miles. And some of the foreign airlines' websites can be rather old school, so you may have to call to book.
Even with the downsides, the point transfer strategy is becoming more mainstream thanks to travel blogs and explainers on social media, Revnew says. But plenty of people don't know about it, and it can be intimidating for those who do, so he thinks the majority of people are missing out on the value.
Chris Lopinto, co-founder of flight tool ExpertFlyer, agrees. "I think a lot of people are using the travel portals because it's easy and simple and the credit cards push them that way," he says.
And that's not the worst thing in the world, he says. The portals are fairly simple to use, and the deals aren't necessarily bad. He thinks of them as a "good backstop" when you can't find award availability for point transfers, or don't have the energy to look for it.
"Sometimes I even have trouble keeping it straight and knowing who is going to charge what for what partner flight," Lopinto says. "It's complicated because airlines want it to be complicated."
More from Money:
7 Best Credit Cards of March 2023
These Credit Cards Just Started Offering 10% Cash Back on Uber and Uber Eats