Credit Card Companies Drop Plans to Track Gun Store Purchases After Pressure From Lawmakers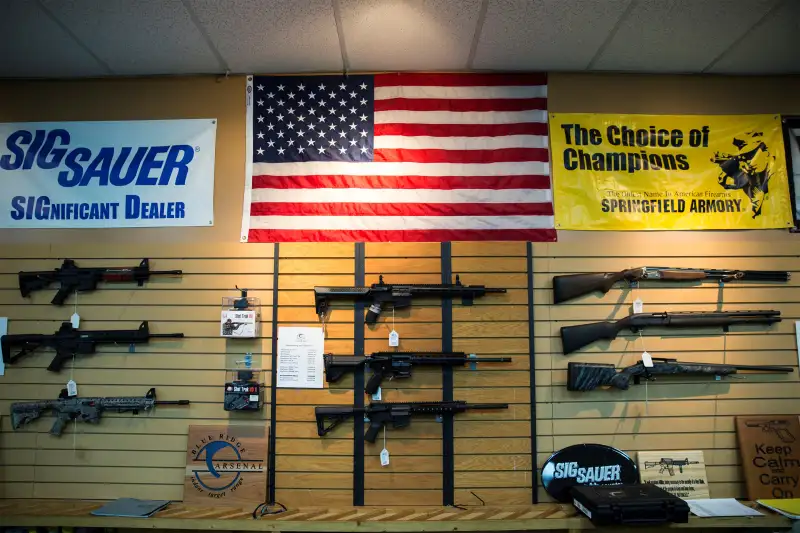 Credit card companies including Visa and Mastercard announced they are hitting the brakes on plans to add a new purchase code that could help track firearm sales.
Six months ago, payment giants said they would implement a merchant category code (MCC) specific to gun and ammunition stores, so that certain suspicious transactions might be flagged and reported to authorities.
Merchant category codes, as the name suggests, apply to retailers, not specific goods. Therefore, the implementation of the new code for gun stores would only indicate that a purchase was made at such a store. (Guns can also be purchased at sporting good stores, which likely wouldn't have gotten the new code.)
But the payment companies now say they've decided to halt their plans to add a code for gun stores as Republican state lawmakers move forward with efforts to block implementation.
What the companies are saying
A Visa spokesperson shared a statement explaining that legislative efforts to prohibit or restrict the code have led to "significant confusion and legal uncertainty in the payments ecosystem," adding that "the state actions disrupt the intent of global standards."
Mastercard said that if some of the bills being advanced in state legislature get passed, there would be "inconsistency," which is why the company says it has put its plan on pause.
A statement from Discover confirmed the company will not implement the code in April as it had planned. The company says it made the decision to "continue alignment and interoperability with the industry."
American Express has also paused implementation of the code, according to multiple media reports.
Why it matters
The new code was approved by an international standards body in September following pressure from gun control activists, who say that it could help financial institutions flag suspicious debit and credit card purchases at certain types of stores.
Amalgamated Bank, which is based in New York, led the push for the International Organization for Standardization (ISO) to add the code. Priscilla Sims Brown, the bank's president and CEO, has argued the code would help the company comply with its "duty to report suspicious activity and illegal gun sales to authorities without blocking or impeding legal gun sales."
Gun rights' activists and many Republican lawmakers and officials disagree, arguing that the code is an infringement on Americans' Second Amendment rights.
More from Money:
7 Best Credit Cards of March 2023
Household Debt Just Grew at the Fastest Rate in 20 Years
Biden's New Plan to Slash Credit Card Late Fees Could Save Americans $9 Billion per Year