Why Crypto Prices Are Rallying Right Now — and What's Next for Investors
Money is not a client of any investment adviser featured on this page. The information provided on this page is for educational purposes only and is not intended as investment advice. Money does not offer advisory services.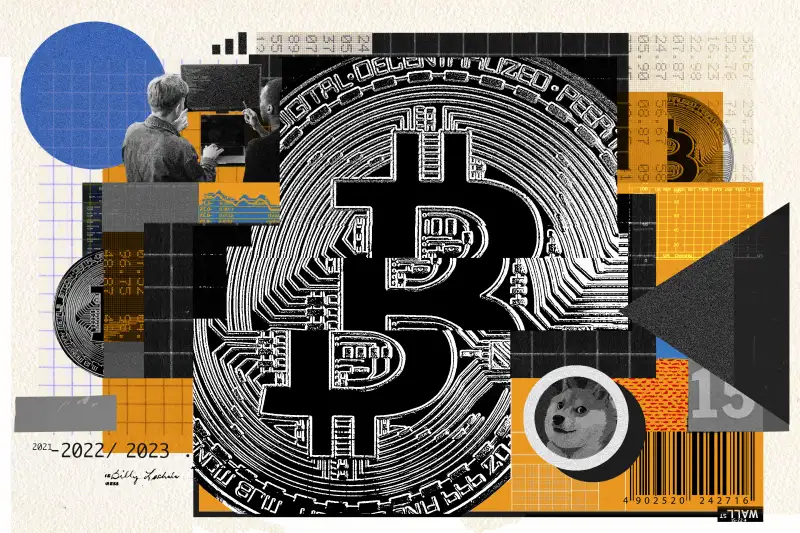 Eddie Lee / Money; Getty Images
Crypto has been off to a strong start in 2023. But can the rally continue?
Since the beginning of the year, bitcoin's price has jumped around 33% and ether's price, 30%. The recovery has coincided with upward movement in the stock market, including strong performances from riskier assets like tech stocks.
"When stocks rallied in early January, you saw crypto move with it," says Mizuho analyst Ryan Coyne. "The broader mindset in the market was more risk on rather than risk averse."
But the crypto rally hasn't come close to making up for the steep losses investors witnessed in 2022. The industry dealt with significant interest rate hikes — which tend to weigh on the prices of financial assets — as well as an erosion of trust that seemed to reach an apex during the collapse of the crypto exchange FTX. Bitcoin and ether's prices are both still down about 50% over the last year.
Crypto's struggles are likely not over. If major coins are going to rally higher in the months ahead, experts say it'll take overcoming looming threats of regulation, still-high interest rates and lingering investor concerns about the safety of their money on exchanges.
Why the crypto market is rallying
Traditionally, crypto fares better in low interest rate environments, and the Federal Reserve's rate hikes were partially responsible for the crash in crypto prices last year, says Michael Miller, a Morningstar analyst.
High interest rates make it more expensive for businesses and consumers to borrow money, which can make purchasing speculative assets less appealing. Higher rates also increase yields on other types of investments, which can make crypto less attractive in comparison, Miller says.
The growing sentiment that rates won't move much higher has helped drive the crypto rally in 2023, he adds. While chair of the Federal Reserve Jerome Powell recently signaled that more rate hikes will likely be needed, the latest increase was much smaller than previous ones, giving investors hope the central bank may be nearing the end of its tightening cycle.
"We've seen some decent economic numbers, but also some signs that maybe the Federal Reserve will start slowing down on the pacing of interest rate hikes," Miller says. "That has led to a pretty strong start to the year for a lot of speculative asset classes."
Another element of the rally may simply be that some time has passed since the darkest days of 2022 for crypto, and investors are regaining confidence as a result, Miller says.
"A lot of what pushed cryptocurrency markets down in the first place were successive waves of some really serious bad news in terms of major players within the industry collapsing," he adds." It's possible that as we move away from [those] negative events that some of the pressure comes off on cryptocurrency prices."
What's next for crypto?
Crypto prices could move higher in 2023 if crypto companies can show they're on a better footing and if the Fed stops raising interest rates, Miller says. But if those two things don't happen, or if we see more moves toward regulation from the U.S. government, like a recent crackdown on staking, prices could decline.
Matt Hougan, chief investment officer at crypto index fund manager Bitwise Asset Management, makes a bullish case for 2023. He argues that we're seeing a "relief rally" after the bankruptcies of 2022. (In addition to FTX collapsing, crypto lenders BlockFi, Celsius Network and Voyager Digital, as well as the crypto hedge fund Three Arrows Capital, filed for bankruptcy last year.) He also says technological improvements are lowering fees for ethereum transfers — referring to a planned multi-phase upgrade called "sharding" — which could make crypto more attractive as the year goes on.
"As we turned the corner into 2023, I think people realized that crypto was not going away," Hougan says. He adds that while regulatory pressure could make for another volatile year with pullbacks in crypto markets, the 2022 crash may have went too far and he predicts the market will make back some of the losses to end the year higher.
But crypto executives anticipate more lawsuits and investigations are coming, The Wall Street Journal reports. Just this week, New York regulators told crypto firm Paxos to stop issuing Binance-branded stablecoin BUSD, which is currently the seventh-largest cryptocurrency by market value.
On top of this, Coyne says many investors are still unsettled after the chaos of 2022, which caps crypto's potential for a really strong year. Some investors got burned in the last crash and are hesitant to get involved in crypto again, he adds.
Even if macroeconomic conditions become more favorable for crypto — say inflation comes down and interest rate hikes stop — Coyne doesn't see crypto prices reaching the levels of the 2020 and 2021 "craze" periods. And if rates continue to rise, it's possible 2023 could be another bad year for crypto, he adds.
Should you invest in crypto now?
Investing in crypto is inherently risky, and its future is uncertain — especially given recent regulatory concerns. If you're inclined to invest, financial advisors tend to recommend only investing a small percentage of your portfolio, like 2-5%. Common advice is to not invest more than you can lose.
Crypto investing also isn't for those who can't handle price volatility. The major ups and downs of crypto prices were evidenced last year when the price of bitcoin in November was down more than 75% from the level a year before.
Crypto "still remains a pretty seriously risky asset class with a lot of buyer beware elements to it," Coyne says.
More from Money:
Here's How Much Bitcoin Is Down Since Crypto Firms Went All in on Super Bowl Ads Last Year
8 Best Crypto Wallets of February 2023