New Kind of Disney Cosplay Slightly Less Embarrassing Than Original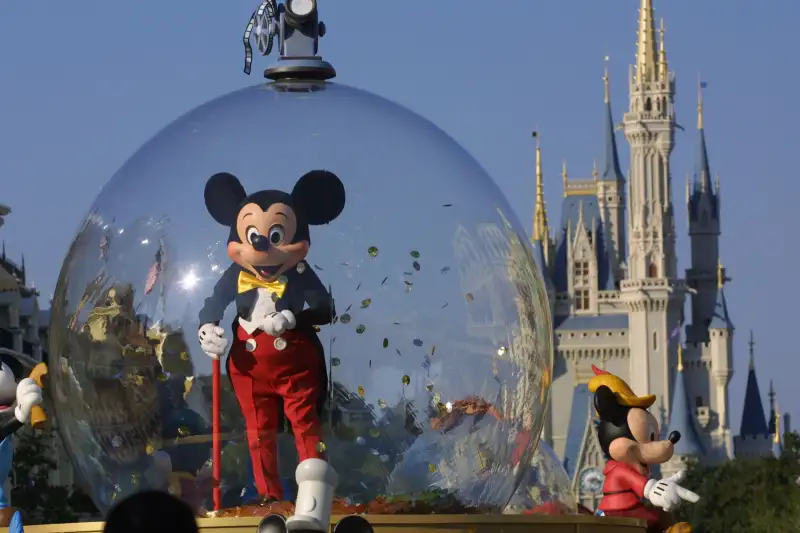 This week, the Orlando Sentinel reported on "Disneybounding," a growing dress-up trend that some will think is a super fun hoot, while others will perceive it as a disturbing sign of the coming apocalypse.
To be a Disneybounder, you dress up in regular clothes to achieve a look inspired by a Disney character. The look "falls somewhere between a character T-shirt and an elaborate costume," the Sentinel explained.
According to the Disneybound Tumblr ("Where Disney nerds and fashion geeks collide"), which was created three years ago by a woman named Leslie Kay and is credited with creating the trend out of nowhere, Disneybounding can be summed up this way: "Using items you can find in your own closet or local mall, create the looks outside of costumed or cosplay looks, which represent your favorite Disney character, while having fun with fashion!"
For instance, instead of dressing up in a head-to-toe Little Mermaid costume with a tail and all, you might wear green jeans or a skirt and a purple top, to create a vaguely Ariel-like look. A Disneybound Mrs. Jumbo outfit, inspired by Dumbo's mom, might consist of gray skorts, a pink blouse, and a light blue sweater.
The most obvious place to go Disneybounding in character-inspired attire is, of course, one of the Disney theme parks. Yet if these fans love Disney so much, why aren't they just wearing full character costumes?
Beyond the obvious—it's somewhat ridiculous for adults to dress in costumes when it's not Halloween (and perhaps even when it is Halloween)—Disney parks actually don't allow adults to wear masks or dress up in Disney costumes. Included on the official list of attire that's not appropriate at Disney World are "Adult costumes or clothing that can be viewed as representative of an actual Disney character." Presumably, without such a policy, theme park guests could be confused as to whether that guy in a costume is a Disney employee or just some random dude from Des Moines who enjoys dressing up as Cruella De Vil.
While Disney frowns upon adult guests wearing costumes at theme parks, the company has embraced Disneybounding. Last summer, the official Disney blog created a quiz meant to steer you toward the character whose look you should emulate in Disneybound attire. After selecting your favorite Disney song, overall style, Disney snack food, favorite retail brand, and so on, an algorithm spits out that you should try to dress like Pinocchio, The Little Mermaid, Olaf from Frozen, or whoever.
Disney also created a similar quiz to help high school girls choose which Disney character should be the inspiration for their look at the prom. Mrs. Jumbo is not one of the options.