Rebuilding Notre Dame Will Be Costly. These Billionaires Have Already Donated Nearly $1 Billion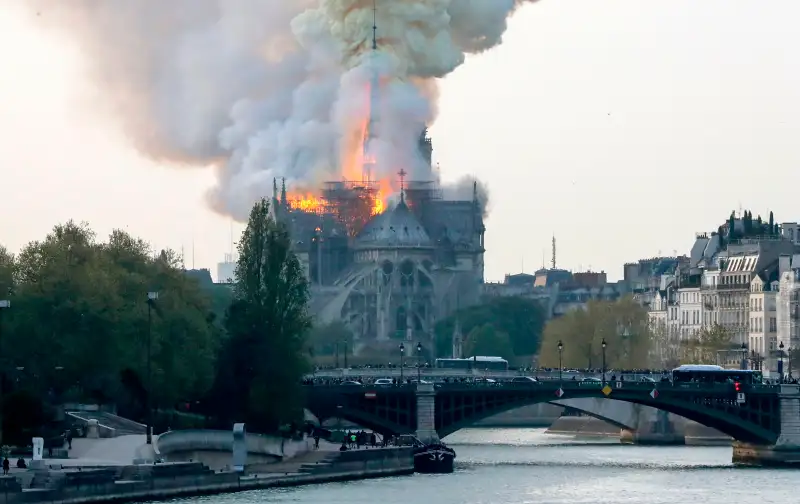 FRANCOIS GUILLOT—AFP/Getty Images
Less than a day after a tragic fire destroyed much of Notre Dame Cathedral in Paris, donations have flooded in to fund the rebuilding of the iconic 850-year-old landmark — including nearly $1 billion just from a handful of France's richest citizens and corporations.
Francois-Henri Pinault, the fashion mogul CEO of Kering, which owns brands such as Gucci and Yves Saint Laurent, was one of the first to step up. Pinault pledged that his family would donate 100 million euros (about $113 million) to restore Notre Dame after watching flames rise out from the historic cathedral in the heart of Paris.
"Last night, I was like many French people watching the tragedy of Notre Dame burning in front of me and I was so in shocked and I was among kids, adults, all people crying looking at that, and I said I had to do something," Pinault said on Tuesday, according to Euronews.
Pinault's 82-year-old father, Francois Pinault, is the founder of Kering, and the family has a net worth estimated at $37 billion, according to Bloomberg Billionaires Index. The younger Pinault is 56 years old and married to the actress Salma Hayek.
Soon after the Pinault family's pledge, another 200 million euros ($226 million) was promised to help rebuild Notre Dame Cathedral by Bernard Arnault, the CEO of LVMH Moët Hennessy Louis Vuitton — and the richest man in Europe. Arnault's current net worth is around $90 billion, which makes him the third richest person in the world, after only Amazon founder Jeff Bezos and Microsoft founder Bill Gates.
"The LVMH Group puts at the disposal of the state and the relevant authorities all of its teams — including creative, architectural and financial specialists — to help with the long work of reconstruction and fund-raising, which is already in progress," a statement from Arnault's company said. "The Arnault family and the LVMH group would like to show their solidarity at this time of national tragedy, and are joining up to help rebuild this extraordinary cathedral, which is a symbol of France, of its heritage and of French unity."
The French cosmetics company L'Oreal and its billionaire owners, the Bettencourt family, have also pledged to donate 200 million euros for the Notre Dame restoration. Another major French corporation, the oil company Total, has committed to donating 100 million euros to the rebuilding effort as well.
All together, just these donations from billionaire families and French corporations come to a total of 600 million euros, or over $675 million in U.S. dollars. Many others have pledged to help rebuild Notre Dame as well, including donations committed from French casinos and Societe Generate bank, plus 50 million euros from the city of Paris itself. Apple CEO Tim Cook said on Twitter that the tech company would be donating to the cause too.
The amount collected to rebuild Notre Dame Cathedral will surely increase — and all indications are that the funds will be sorely needed. French President Emmanual Macron has pledged to rebuild Notre Dame — "This is probably part of the French destiny," he said on Monday.
But the restoration is likely to take decades to complete, and it will cost a fortune. One early estimate indicated that the cost of rebuilding Notre Dame would be similar to the job underway repairing and upgrading British Parliament — a project that will run about $8 billion.