2018 Was the Year of the Trump Book. But Did Pro-Trump or Anti-Trump Books Have Better Sales?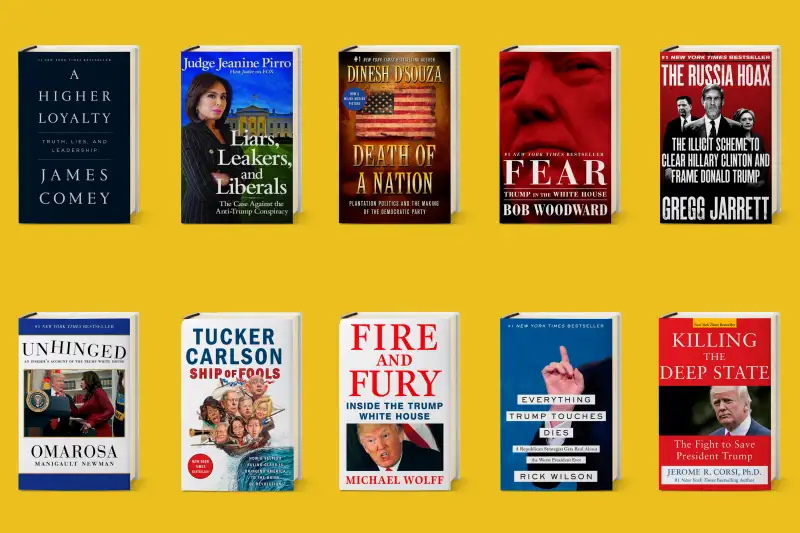 Each product we feature has been independently selected and reviewed by our editorial team. If you make a purchase using the links included, we may earn commission.
Say what you will about President Donald Trump — he was certainly good for book sales in 2018. This year, a staggering number of high-profile writers, pundits, and D.C. veterans weighed in with books about Trump, seeking to excoriate or exonerate.
With outsized names like Michael Wolff, Tucker Carlson, Bob Woodward, James Comey, and Jeanine Pirro competing for readers' attention, we found ourselves wondering: Who sold more books? Were authors in the pro-Trump camp more successful in terms of book sales, or did the never-Trumpers and Trump haters come out on top?
We rounded up the top five-selling books in 2018 on each side of the debate, as per NPD BookScan data (which includes hardcovers and paperback, when applicable, but not ebook downloads).
We limited the list to top-selling books squarely focused on Donald Trump, the Trump administration, and the polarized political scene over the past two years. So we've left out volume's like Michelle Obama's Becoming. Although the former first lady's memoir has sold more than 1.5 million copies and is the overall bestseller of 2018 — and although we imagine she has no shortage of opinions about her husband's successor — it's probably a safe bet that her readers were motivated more than just Trump animus. We also didn't include Bernie Sanders' Where We Go from Here: Two Years in the Resistance, which came out the week after Thanksgiving, because it's sold a mere 7,000 copies so far.
When we tallied everything up, we found that the anti-Trump books had the clear edge: The top five books on our list sold a collective 2,659,000 copies, with one that broke through the million-copy mark and a total of three clocking in 500,000 copies or more. Authors of the top five pro-Trump books together sold a total of 851,000 copies, with the top three all coming in below 300,000 copies each.
Anti-Trump Books
Copies sold: 1,013,000
Wolff was famously given nearly-unrestricted access to White House people and events, and his book contained some startling claims. Among them, Wolff's book reports that former Trump advisor Steve Bannon called Donald Trump Jr.'s meeting with a Kremlin-linked lawyer "treasonous," and that supposed allies like Rupert Murdoch and Rex Tillerson have described Trump's intellectual capacity in derisive, expletive-laden terms. President Trump tried to halt the book's publication with legal challenges.
Copies sold: 925,000
Anti-Trump readers clearly couldn't get enough of tales about White House drama, infighting, and conniving: Fear, by veteran journalist of Watergate fame Bob Woodward — which was released on Sept. 11, no less — painted a picture of a dysfunctional administration rife with backstabbing and staffers scrambling to react to each successive Tweetstorm. Trump called it "nasty" and "a bad book," and said Woodward never reached out to him for an interview, which Woodward denied.
Copies sold: 606,000
James Comey, the nation's former top cop, caught flack from Democrats and Republicans alike for his actions involving the investigation into Hillary Clinton's use of a private email server prior to the 2016 presidential election. Still, the fired F.B.I. chief clearly attracted readers who wanted to know what was really going on with Trump, Russia, and those infamous emails.
Copies sold: 86,000
The promised tell-all from reality TV star Omarosa got lots of buzz pre-publication thanks to her tempestuous — and short-lived — tenure at the White House. But this book by the former "Apprentice" contestant and Trump aide failed to crack the 100,000 sales mark.
Copies sold: 29,000
This book gained notoriety primarily because of its author. Rick Wilson is a famously caustic, longtime G.O.P. strategist and pundit, who had an "insider's view" of Republican orthodoxy and didn't hold back when it came to criticizing the current president.
Pro-Trump Books
Copies sold: 271,000
It's perhaps unsurprising that Carlson's book rises to the top of this year's pro-Trump library. It was written by one of Fox News' best-known hosts, who was the recipient of a congratulatory Tweet from the President about the book. When it was released in October, Ship of Fools bumped Bob Woodward's Fear out of the number-one bestseller spot.
Copies sold: 230,000
Readers clearly loved this book, with more than 1,500 Amazon reviewers giving it a near-perfect 4.9-star ranking. Fox News legal analyst Jarrett also got a plug from Trump in the form of a blurb calling his exposé a "must read." The President added in his quote: "A sad chapter for law enforcement. A rigged system!"
Copies sold: 214,000
Pirro's book makes the third top-selling pro-Trump book to be written by a Fox News personality. The former judge, district attorney, and TV court show host's book promises to pull back the curtain on the anti-Trump "Establishment," decrying the "Fake News Media" along with "haters" in "ninja Antifa getups." She also charges the Obama administration with attacks on Christians and gun owners, along with actions and policies that badly damaged the the U.S. economy.
Copies sold: 81,000
It seems as if the pro-Trump camp cannot get enough of the phrase "deep state," which pops up in more than one new book title. In addition to this book from Jerome Corsi, who has been a person of interest in special counsel Robert Mueller's investigation into Russian meddling in the 2016 elections, there's also The Deep State: How an Army of Bureaucrats Protected Barack Obama and Is Working to Destroy the Trump Agenda, by former Utah Rep. and current Fox News contributor Jason Chaffetz, as well as Trump's Enemies: How the Deep State Is Undermining the Presidency, written by former Trump campaign manager Corey Lewandowski. (Neither of those two cracked the pro-Trump top five, in case you were wondering.)
Copies sold: 55,000
Political commentator-slash-filmmaker Dinesh D'Souza, who was pardoned by President Donald Trump earlier this year after a conviction for campaign finance violations, is no stranger to divisive views: He kicked off a firestorm of controversy with earlier writings claiming that black Americans under slavery were treated "pretty well," and that the Democratic Party had ties to Nazi ideology. Death of a Nation also is the title of D'Souza's (widely panned) 2018 documentary.