You Can Now Buy Donald Trump's Childhood Home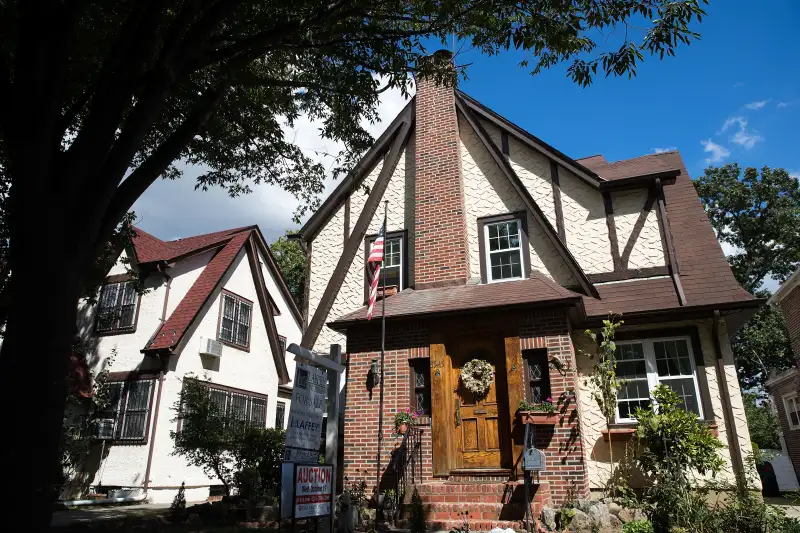 Drew Angerer—Getty Images
If you've ever hoped of living in one of Donald Trump's homes, now might be your chance.
A home in the Jamaica Estate neighborhood of Queens, New York -- in which the future Republican presidential nominee spent the first four years of his life -- is going up for auction Wednesday, CBS News reported. The suggested opening bid is $849,000 -- a far cry from the exorbitant price tags attached to some of Trump's current residences.
While the home at 85-15 Wareham Place lacks the grandeur of Mar-a-Lago, the brick-and-stucco mock-Tudor property is located in an east Queens neighborhood where homes can fetch up to $2 million. The property -- conveniently located near the E and F subway trains -- features five bedrooms, 4.5 bathrooms, a formal dining room,and an eat-in-kitchen. It also includes a finished basement, a screened patio, a den, and a two-car detached garage.
Read More: For $30 Million, You Can Be Donald Trump's Neighbor
Trump's father, real estate developer Fred Trump, built the home around 1940. Donald Trump lived there from his birth in 1946 until about 1950, when the Trumps moved around the corner.
The current owners are Manhattan restaurateurs Isaac and Clausia Kestenberg. They bought the home in 2008 and are now selling it as part of divorce proceedings.
Despite the home's prime location, it has struggled to attract high bidders. It was originally listed at $1.65 million, but the price was slashed to $1.39 million in August. The Kestenbergs originally purchased the home for $782,500.
Bidding will begin at 7 p.m. at Manhattan's Roosevelt Hotel -- just hours before he squares off with Democratic nominee Hillary Clinton in the final presidential debate. Included with the home is proof that Trump lived there: a copy of his birth certificate showing that the home was owned by his parents when he was born.