Palm Beach Is Sick of Paying for Donald Trump's Weekend Visits to Mar-a-Lago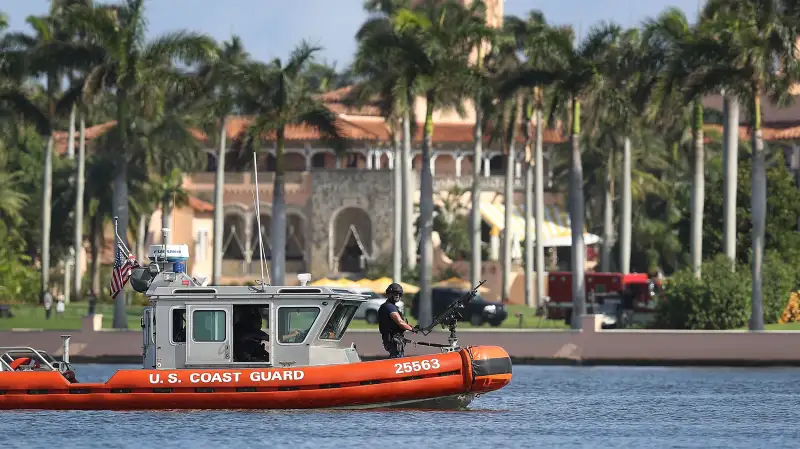 President Donald Trump will return to his lavish Mar-a-Lago resort in Palm Beach, Fla., yet again this weekend. It will be his fifth visit to the resort during the short period he's taken over at the White House.
Trump's past trips to Palm Beach have been nothing short of eventful, with a national security crisis occurring in front of high-paying Mar-a-Lago members during dinner, frequent golf outings at his private golf club, and surprise appearances at charity events hosted by Mar-a-Lago.
However, more than anything, his trips have cost taxpayers big time. CBS News reports American taxpayers spend more than $3 million each time Trump heads to the "Winter White House."
But that's only part of the price of Trump's weekend getaways. Residents in Palm Beach have been hit with additional costs to protect the president, to the tune of more than $1 million since Trump was elected.
As the Palm Beach Post first reported earlier this week, one local political leader has a solution: Make Mar-a-Lago pay for it.
Dave Kerner, a county commissioner for Palm Beach's third district, is asking the county's attorney office to explore making Mar-a-Lago's owner reimburse the county for "special benefits" given to the resort. Kerner's proposal would make Mar-a-Lago a "municipal service benefit unit," meaning the county can require the resort to pay for the costs incurred by Trump's frequent visits.
"We're very honored to have the president here, but at the same time, his travel here is such high frequency he's not visiting Palm Beach County — he's governing from it," Kerner told Money.
The Palm Beach Sheriff's Office says that the county has spent $570,000 to help security and other measures to protect Trump during his presidency, and that doesn't include overtime pay. Law enforcement officials assigned to aiding the president's visits are paid overtime, totaling another $60,000 or so per day. Trump also visited Palm Beach during the winter holidays after he was elected but before he became president, costing the county around $548,000. Altogether, the bill comes to well over $1 million in Trump-related costs incurred by the county over the past few months.
Kerner says the federal government has refused to reimburse the county. As a result, Kerner says he has no choice but to find another avenue to seek reimbursement, and charging Mar-a-Lago looks like the best option.
"Whatever our priorities are, the taxpayers didn't pay this money to us to protect the president," Kerner said.
The county is currently facing a $40 million deficit and a devastating heroin epidemic, Kerner said. He thinks local taxpayer dollars should be used on these pressing county issues, not on special accommodations for the president.
"This is not about President Trump; this is not about me being a Democrat," he added. "I just want to see that their taxpayer dollars are being used for what they're for."
Palm Beach taxpayers aren't the only locals feeling the Trump Effect. Some Palm Beach businesses are suffering as a result of frequent Trump visits too. For example, the New York Times reported that private businesses at the Palm Beach County Park Airport have to shut down due to flight restrictions imposed by the U.S. Secret Service.
Trump's trips to Mar-a-Lago have also spurred controversy due to the ethical concerns they raise. It's expected for a president to find a place to escape for leisure and meetings, but unlike past presidents, Trump is retreating to a resort that he owns and profits from. Every visit is essentially free publicity on a global scale for Mar-a-Lago and Trump's business interests.
Trump, who bought Mar-a-Lago in the 1980s, announced before he took office that his son, Donald Trump, Jr., would become director of the resort. However, by not placing his assets in a blind trust, Trump has not fully divested from his real estate empire and businesses. Some critics have accused Trump of seeking personal financial gain by promoting Mar-a-Lago as a frequent spot for his high-profile meetings as president.
TIME reports Trump made nearly $30 million by running Mar-a-Lago in 2015. And the resort could reap far higher revenues going forward: After Trump won the 2016 election, initiative fees for members were doubled to a staggering $200,000.
Meanwhile, it's worth noting that while President Barack Obama was in office, Trump frequently criticized him for "costing taxpayers millions of dollars" by taking trips.
//platform.twitter.com/widgets.js
//platform.twitter.com/widgets.js
Trump is hosting Chinese President Xi Jinping at Mar-a-Lago this weekend. That means another $3+ million in security costs passed along to American taxpayers, plus hundreds of thousands in additional expenses that must be covered by the locals in Palm Beach. And Mar-a-Lago is sure to get plenty of terrific free publicity, thanks to the media coverage in China in particular.