Is It Worth It to Boycott Donald Trump Products?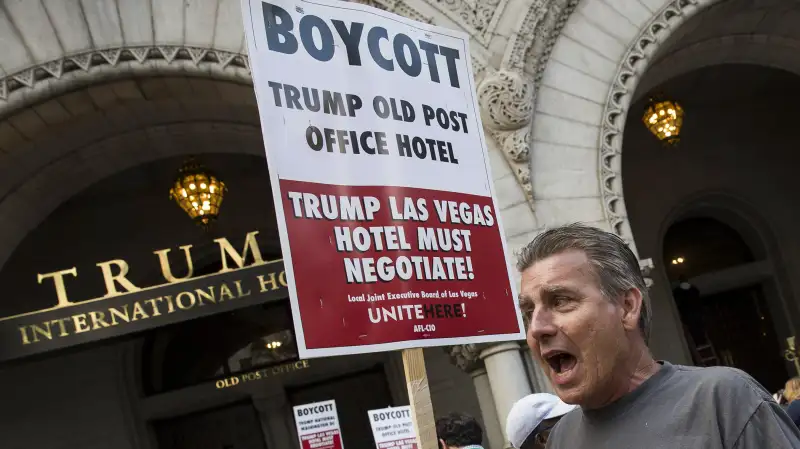 Samuel Corum—Anadolu/Getty Images
As Donald Trump's presidential campaign is seemingly headed in a downward spiral, the billionaire businessman has been dealt yet another blow: People are boycotting his hotels, golf courses, and other branded products.
A New York Times article published Tuesday recounted anecdotes from individuals who are canceling their stays in Trump hotels or shunning Trump restaurants in reaction to the Republican nominee's incendiary comments about women and race. It raises the question: If you're staunchly opposed to the Republican nominee, will your boycott of his products make any difference?
The short answer is: Probably not. A successful boycott is defined as a long-term effort that inflicts damage upon a company's reputation or financial bottom line and causes it to modify its behavior, says Maurice Schweitzer, a professor at the University of Pennsylvania's Wharton School of Business who has written extensively about boycotts.
A Trump boycott runs up against two challenges: time and a lack of organization. If Trump loses the election, he will lose much of his relevance, and the boycott against his brand—which lacks leadership and a central organized movement—will likely fall apart, Schweitzer says.
Read More: Donald Trump's Campaign Has Wreaked Havoc On His Businesses
Of course, the grassroots Trump boycott is not the first time people have put away their wallets to protest the moral or ethical stance taken by a company or individual. In 2010, Nestle gave in to pressure from Greenpeace activists and enacted a zero deforestation policy in the production of its palm oil in Indonesia. That same year, clothing manufacturer Fruit of the Loom caved to pressure from a student boycott and reopened a factory in Honduras it had closed after workers unionized.
Other brand protests have had less success. Schweitzer pointed to ultimately unsuccessful boycotts of BP filling stations after the Deepwater Horizon oil spill and Chick-Fil-A restaurants in response to its founders' views on same-sex marriage. They failed—as experts predict the Trump ban will—because they didn't incite a sustained protest that affected companies' bottom line or caused it to modify its policies.
While the presidential campaign has likely devalued the image of the Trump brand, Schweitzer said, it hasn't done so "in a way that's going to get him to change his behavior. In that sense, I don't think it's going to be effective."
Still, the boycott isn't an entirely lost cause. Consumers outraged by the Republican nominee's behavior are aided by the fact that there are readily available, and likely cheaper, alternatives to using Trump products. "It's more likely to work against someone like Trump because it's easy to book another hotel or move from one golf course to another," Schweitzer said.
Read More: 8 Epic Business Failures With Donald Trump's Name On Them
In another sense, however, the boycott may have struck the perfect chord. Brayden King, a Northwestern University professor who has researched boycotts, noted that one measure of a successful boycott may be how much media attention it attracts.
"Most consumers don't use Trump businesses," he noted in an email. "But using a boycott will definitely draw negative attention to his businesses and taint their reputations."