Donald Trump Says to Get Out of the Stock Market, But Stays in Himself
Money is not a client of any investment adviser featured on this page. The information provided on this page is for educational purposes only and is not intended as investment advice. Money does not offer advisory services.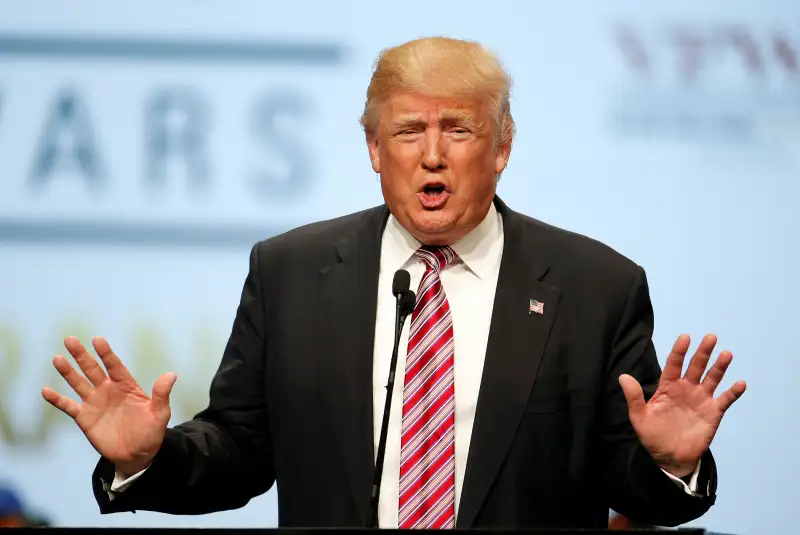 Donald Trump has some investment advice for you: Get out of the stock market. Funny thing, though: Trump apparently still has stock investments, a lot of them.
At least he did as of mid-May, the last report of his personal finances to the Federal Election Commission, as much as $91.5 million. The Republican presidential nominee declared he had up to $8.5 million in individual shares, up to $73 million in equity mutual funds, and up to $10 million with Paulson & Co. hedge funds that have a large presence in stocks. (John Paulson, the asset management firm's chief, was just appointed to the candidate's economic advisory team.)
Trump may have jettisoned his stock holdings during the last two-plus months, but that's unlikely. A request made to his campaign for an update—and an explanation of why he seemingly has stayed in stocks—went unanswered. Asset disclosures to the FEC are reported in several ranges, like $1 million to $5 million. Here, we are using the upper number of each range.
Ironically, Trump has been warning people to get out of stocks for months because of a horrific recession he saw coming. He recently reiterated that bearish counsel in a phone interview with Fox Business' Stuart Varney and shifted his rationale for an exit a bit. He told Varney that he was worried that the market was being artificially propped up by the Federal Reserve's low interest rates.
"I did invest and I got out, and it was actually very good timing," the businessman-turned-candidate said. "But I've never been a big investor in the stock market."
Judging from his most recent financial disclosure, his assertion that he "got out" is only partly true. Last summer, the Trump campaign announced that he had unloaded most of his stock holdings in January 2014, retaining just $22 million. The announcement, in a press release, provided no further breakdown of what remained. Thus far, contrary to his assessment, his timing has not been good: The S&P 500 since mid-January 2014 is up almost 19%.
Of course, the vast majority of Trump's wealth — which he puts at $10 billion, Forbes puts at $4.5 billion, and Bloomberg at $2.9 billion—is in real estate. Trump's sizable portfolio in stocks is spread across four brokerages, led by Deutsche Bank's asset management arm. He also has a big stock position with 11 mutual funds sponsored by Baron Capital.
A review of Trump's investments illustrates how heavy his equities involvement is:
Individual stocks. For the most part, Trump goes for shares of large blue chips like General Electric and Exxon Mobil . Many of them pay nice dividends. He does invest in tech firms, which tend to be giants on the order of Google-parent Alphabet and Apple . A stock market tumble is less likely to devastate these large companies, but they would hardly be immune.
Mutual funds. Most of his mutual fund money is in the 11 Baron funds, ranging from small-capitalization stocks to emerging-market ones. These are decent performers, with four of them ahead of the market this year and only one in the red. Two of them have a coveted five-star ranking from research organization Morningstar, and two others have four stars. The problem with them is they have high fees, charging around 1.3% of assets yearly.
Hedge funds. This is where Trump really steps out on the wild side. Hedge funds are vehicles for the wealthy that aim to beat the market, often by taking outsized risks. That's the case with his foray into three Paulson funds, two of which generally are focused on stock plays, such as betting on mergers: Advantage Plus and Paulson Partners. (The other, Paulson Credit Opportunity, specializes in bonds.)
John Paulson, who made his name betting against subprime mortgages leading up to the financial crisis, has had less luck lately. Paulson's flagship Advantage had negative returns in four of the five years through 2015 and 2016's first quarter (the latest available), according to website ZeroHedge. Paulson funds are the fourth largest shareholder in troubled Valeant Pharmaceuticals , whose stock has suffered a 90% swoon over the past 12 months, amid controversies over the high prices it charges for drugs, among other things.
Trump's biggest hedge fund investment (up to $50 million) is in BlackRock's Obsidian, which is dedicated to fixed-income, not stocks. This doesn't mean safer stuff like Treasury notes or investment grade corporate bonds, however. Obsidian takes large positions in junk bonds, whose performance often correlates to the stock market.
Trump is hardly alone in his downbeat view about stocks, to be sure. Celebrated money manager Bill Gross also cautions that faith in stocks' further rise is unwise. The reason: He frets that low rates are eroding the nation's economic base, in particular harming banks, which depend on income from loans. Other investment strategists worry that stocks are overvalued and due for a fall. The S&P 500's price/earnings ratio, a gauge of the broad market's valuation, is now just over 18, higher than the historical average of around 15.
That said, the standard financial advice is to hold a large amount of stocks, through fair times and foul. The argument is that equities have proved to appreciate well over the long term in tune with the overall economy, which despite some frightful downturns has historically expanded. It's smart to diversify your wealth across many asset classes, the thinking goes, with stocks having an important place.
So a large cadre of investing pros see the stock market continuing to advance amid decent economic news, such as Friday's robust jobs report for July. "Forget all the noise" from pessimists, says financial adviser Andrew Houghton, co-founder of Delta Asset Management in San Francisco. "The data show us that the market could take off." He adds that he has no opinion on Trump's views or situation.
Nevertheless, to hear Trump tell it, doom lies ahead for stock investors. That is, unless he wins the election.