Will Donald Trump's Tax Returns Be Released? Democrats Just Made Their First Move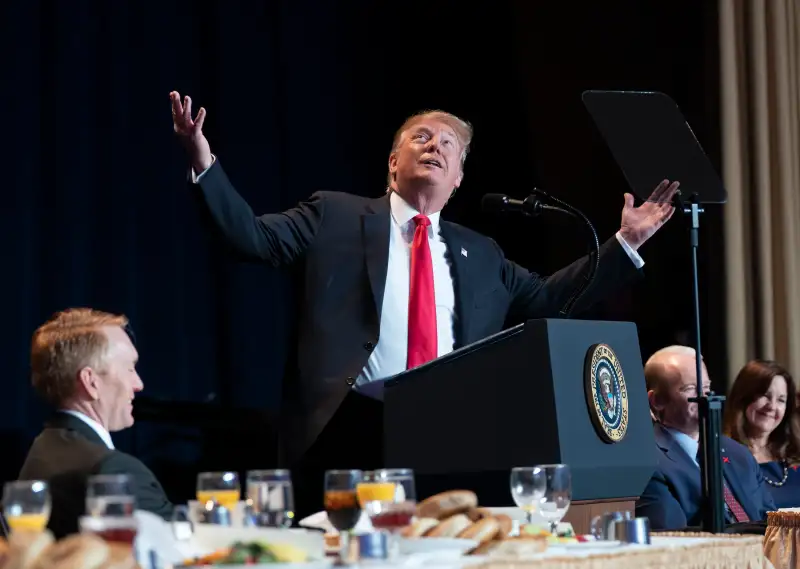 Nearly two-thirds of registered voters say they want Donald Trump's tax returns released—and a Congressional hearing today is taking one step in a multi-prong effort to obtain the president's tax returns and make them public.
Donald Trump promised many times that he would release his tax returns while campaigning for president. But the 2016 election came and went, and two years into his presidency the Trump tax returns have remained private.
Now Democrats, who took over control of the House after a wave of 2018 election wins, have made promises of their own — to get their hands on President Trump's tax returns one way or anther, review them for conflicts of interest and other wrongdoing, and possibly make them public.
Exactly how Democrats might get access to Trump's tax returns remains up in the air. Among the options are passing legislation that would require presidents and presidential candidates to release their tax filings, or simply making a request to the Treasury Department to release the documents to certain Congressional committees. If the latter strategy is successful, it's unclear if Trump's tax returns would ever become public. Another possibility is that some of Trump's tax returns would be revealed in the course of one of the many current investigations into the president's businesses and the 2016 campaign, including the Robert Mueller investigation focused on Russia's attempts to interfere with the election.
Extensive legal battles are expected no matter what, as Republicans and the Trump administration seem prepared to fight all efforts to compel the release of the president's tax returns.
Before Trump, every president and every major presidential nominee in modern times voluntarily released his or her tax returns, in the interests of transparency and avoiding potential conflicts of interest. But an individual's tax returns are private and there is no requirement for presidents or any other politicians to make them public.
This could change, however. On Thursday, the House Ways and Means Committee will hold a hearing discussing broad ethics reform legislation that could include a provision requiring Trump and presidential candidates to release 10 years of tax returns.
Certain Congressional committees, including the House Ways and Means, also have the authority to request the tax returns of any business or individual, even a president. Richard Neal (D-MA), chairman of Ways and Means, has been saying for months that he hopes President Trump will release his tax returns voluntarily.
While the committee hasn't formally requested Trump's tax returns, it is expected they will soon — and it is also expected that the Trump administration won't cooperate. Neal said he anticipates "a long and grinding court case," according to CNN, and that Democrats are moving ahead slowly and judiciously so that their efforts are not in vain.
Republicans say that the administration should not cooperate with requests due to concern that Trump's tax returns would be leaked to the public. What's more, they say that forcing President Trump to release his tax returns could be a slippery slope.
"If Democrats or any party can abuse their power to rummage through the tax returns of the president, what will stop them from abusing that power in the future to frankly target any individual American that they see as a political enemy?" Kevin Brady (R-TX), the top-ranking Republican on the House Ways and Means Committee, told reporters on Wednesday.
Here's more of what we know about what might be in the Trump tax returns — and why they still haven't been released to the public.
What Donald Trump Tax Returns Have Been Leaked Already?
While Donald Trump has never voluntarily released his tax returns from any year, a few documents from his tax filings have trickled out to the media.
Leading up to the 2016 election, the New York Times published Donald Trump's tax returns from 1995, when he reported a loss of nearly $1 billion — which could have effectively allowed Trump to avoid paying federal income taxes for 18 years.
Two pages from Trump's 2005 tax returns were revealed on Rachel Maddow's TV show a couple of years ago, indicating that Trump reported over $150 million in income and $38 million in taxes paid that year.
This past fall, the New York Times published the results of an extensive investigation into how Donald Trump allegedly "participated in dubious tax schemes" and inherited hundreds of millions of dollars from his parents to fund his real estate empire. The investigation, which reviewed some of the Trumps' personal and business tax returns, found that the president's parents "transferred well over $1 billion in wealth to their children, which could have produced a tax bill of at least $550 million under the 55 percent tax rate then imposed on gifts and inheritances," the Times reported. Instead, "The Trumps paid a total of $52.2 million, or about 5 percent, tax records show."
What Is in Donald Trump's Tax Returns?
Donald Trump has said many times that tax returns don't show much, and that people wouldn't understand his returns.
Yet among other things, an individual's tax returns show how much money you earn, where that income comes from, and what kind of charitable contributions you've made and other expenses you're deducting.
Other than the few spare documents that have been leaked, we do not know exactly what's in Trump's tax returns. In one of the 2016 presidential debates, the Democratic candidate Hillary Clinton speculated that Trump refused to release his tax returns because he was hiding something — perhaps that he wasn't as rich as he claimed, that some of his income stemmed from questionable business partners, or that he paid little or no taxes.
Why Hasn't Donald Trump Released His Tax Returns?
Donald Trump and his associates have changed their stories many times to explain why he isn't releasing his tax returns. Early in the presidential campaign, Trump said that he simply "can't" release his tax returns because he was under audit. Yet the IRS and tax experts say that an audit would not prohibit anyone from releasing their returns.
Trump has also said that the public wouldn't understand his tax returns and therefore it would be unwise to release them. He has told reporters that "it's not of your business" what tax rate he pays, and that he fights "very hard to pay as little tax as possible." He has claimed that Americans don't care about his tax returns, using his 2016 election win as proof. "The only one that cares about my tax returns are the reporters," Trump said in a press conference in the weeks before his inauguration.
Trump spokesperson Kelly Conway said in early 2017 that, despite repeated promises, Trump would never release his tax returns voluntarily, even after an IRS tax audit is over.
In recent months, though, Trump himself has again said that he "would have an open mind" to releasing his tax returns once the IRS audit is finished. At the same time, Trump said, "I'm on a very continuous audit because there are so many companies -- and it is a very big company, far bigger than you would even understand."
The bottom line is that Trump's tax returns haven't been released because he hasn't been forced to release them. But that could change soon, depending on how Democrats, investigations, and likely court battles proceed.