Donut Ice Cream Cones Arrive in America This Week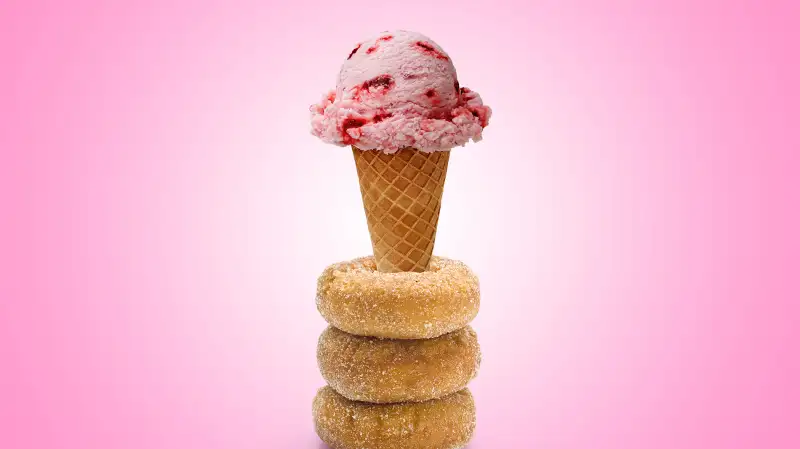 Photo illustration by Sarina Finkelstein for Money; Getty Images (2)
Are you a dessert lover who has ever found yourself forced to choose between indulging in a doughnut and an ice cream cone? Luckily, your struggles are over—at least for one day, when a Massachusetts ice cream shop is letting sugar fiends enjoy the best of both worlds.
On April 1, an ice cream shop in Waltham, Mass., says it will serve ice cream in a cone-shaped doughnut that's been coated with sugar and dipped in chocolate.
Doughnut ice cream cones sound too good to be true, but rest assured, this decadent dessert is no April Fool's Day prank. Pizzi Farms is bringing the treat to America in honor of its first day of the season, which happens to fall on April 1.
The doughnut ice cream cone concept originated in a bakery in Prague, where the sweet pastry is made from dough wrapped around a stock, and grilled and topped with a sugar and walnut mix. The treats, called trdelník in the Czech Republic, soon became a worldwide social media sensation a month ago.
//platform.instagram.com/en_US/embeds.js
//platform.instagram.com/en_US/embeds.js
When Pizzi Farms owner Rick Pizzi discovered them on Instagram, he set out to see if he could create his own version of them in his shop. So if you're in the greater Boston area on Friday and find yourself in need of a snack that'll probably be delicious and make all your friends jealous, this treat seems like it could more than satisfy your cravings.
Just be sure to hit the store early: There will be just a limited supply of doughnut ice cream cones to go around.