Everything You Need to Know About Dow 25,000, in Just 3 Tweets
Money is not a client of any investment adviser featured on this page. The information provided on this page is for educational purposes only and is not intended as investment advice. Money does not offer advisory services.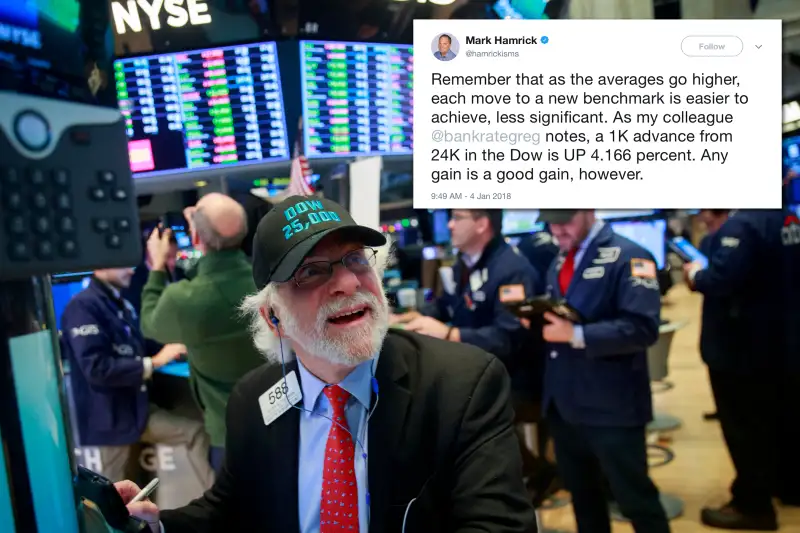 Drew Angerer—Xinhua News Agency/Getty Images
The Dow Jones Industrial Average just hit 25,000 for the first time ever.
Although the record won't be official until the market actually closes above that level -- the index crossed the benchmark today in intraday trading -- it represents the latest milestone in a remarkable run U.S. stocks have posted after the past year.
The latest rise comes about two weeks after President Trump signed a landmark tax bill, which cuts the U.S. top corporate tax rate from 35% to 21% -- a move that's expected to boost corporate profits. But a stronger global economy has also played a role; stocks around the world have rallied over the past year.
That said many prominent analysts are now worrying the market could be overheated.
If you really want the tl;dr, here are three tweets that will tell you pretty much everything you need to know about Dow 25,000.
If you have been following the stock market at all over the past year it may seem like the Dow is setting records at a dizzying pace. That's true. The Dow hit 24,000 only in November.
It's partly because investors really are super bullish on stocks. But it's also partly due to the math of Dow milestones. The Dow first hit 10,000 in March 1999, during another giddy era for investors. The 1,000-point climb from 9,000 took almost two years -- but it also represented a roughly 11% increase, more than twice latest gap between 24,000 and 25,000 in percentage terms.
In other words, the higher the Dow climbs, the less the distance between seemingly big milestones.
You may have noticed something about the timing of Dow 10,000 -- one of the last times the index hit such a fat, round number. Soon afterward, those giddy stock market gains turned into stomach-churning slides. Tech stocks were hit so hard they only regained their 2000 highs in 2015.
While the U.S. economy seems healthy, with unemployment just above 4% and GDP growth at 3.2% in the third quarter, many pros worry that stock market optimism has again outstripped reality. Indeed, investors have been paying more than $30 lately for every $1 in annual U.S. corporate earnings (based on a 10-year average.) As the above tweet makes clear, that premium is higher than at any time since the dot-com bubble.
Of course, milestones are milestones. Mathematically there is nothing particularly significant about the index level hitting a round number, just as there is no particular reason to assume that a couple celebrating their 25th wedding anniversary is measurably happier than one celebrating their 24th.
While stock market investors like to dress up their thinking with numbers and equations, at lot of times they react with their gut just like everyone else. So let's face it: Dow 25,000 is still a big deal (as President Trump has already jumped in to assure us). And that's doubly true when the market has been on a long run and people are looking for reasons to celebrate.