Drake Visited Miami and Gave Away $200,000 to a Bunch of People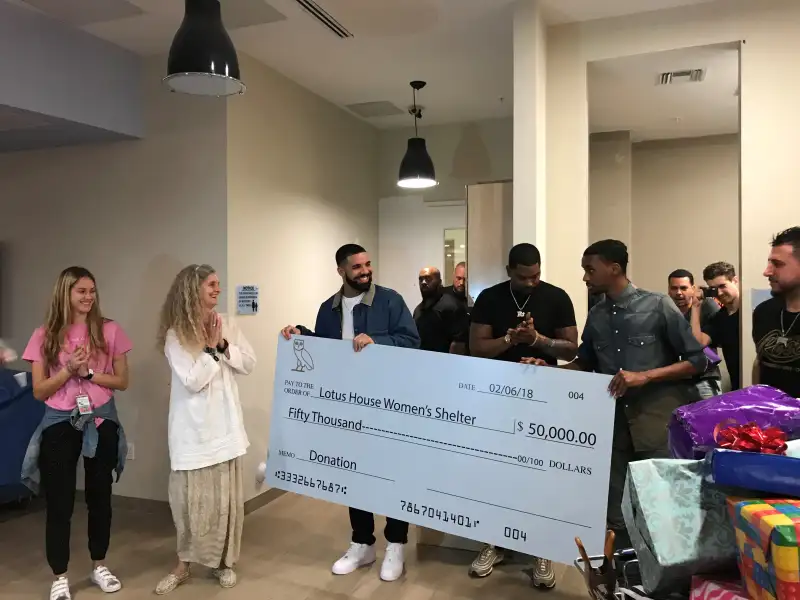 Splash News/Lotus House—Newscom
Grammy-winning artist Drake once rapped, "Donate a million to some children, that's just how I'm feeling." This week, he didn't quite get to a million, but Drake is donating to more than just "some children."
The Toronto-native has been giving out tens of thousands of dollars to people at Miami, Florida high schools, homeless shelters and even grocery stores. The total dollar amount donated reached at least $204,500, according to reports from the Miami Herald, Local 10 News, E! News and other outlets.
The charity-spree began when Drake shot parts of the music video for his new song, "God's Plan," at Miami Senior High School. To a ballistic crowd of teenagers, the rapper announced he would donate $25,000 to the school and donate additional school uniforms from his clothing line, October's Very Own.
Afterward, Drake felt like donating a little bit more. He surprised University of Miami student Destiny James, a public health major, with a $50,000 donation to her tuition. James said Drake made the donation after reading an essay detailing the trials she overcame to get to college and told her he appreciated how hard she's worked, according to her Instagram post.
The rapper also gave an additional $10,000 to the university's Frost School of Music outreach program that serves struggling children in nearby communities, according to the University of Mimai's student paper.
The rapper also paid for all the patrons at Sabor Tropical Supermarket, encouraging people to fill their carts and get as much as they wanted. The grocery tab totaled $50,000, according to E! News.
Finally, Drake surprised residents of the Lotus Village homeless shelter for women and children with yet another $50,000 that would go towards a new facility. The rapper also handed out $150 Target gift cards to all 130 women who live at the shelter, according to the Miami Herald — totaling $19,500. He even gave toys and games to the 140 children who reside at the shelter.
All together, the reported money Drake donated this week amounted to $204,500, not including the undisclosed amount he spent on toys at the homeless shelter, clothing for high schoolers, and potentially other donations missed by news outlets.