I'm a 32-Year-Old Police Officer With Zero Debt. Here's My Plan to Retire in 10 Years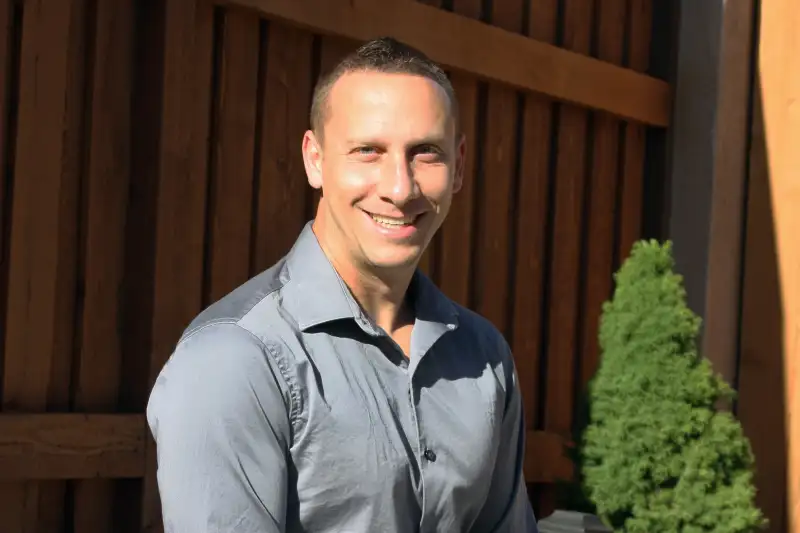 courtesy of Brandon Davis
Saddled with student debt, many millennials have postponed financial milestones like home ownership. But not Brandon Davis.
The 32-year-old police officer has already bought two homes. He owns his current 3-bedroom, 2-bath house, near Reno, Nevada, outright. He paid off the mortgage with the recent sale of his first place, which was fully paid for and had been rented out.
Remaining debt-free is a key strategy for Davis, who plans to retire in 10 years, at 42. As a public employee, he can start collecting his pension at that young age. But his ability to retire early isn't only about his choice of employment. It's also about the choices he's made with his finances along the way. "I'm extremely, extremely self-disciplined," he says.
Here's how he does it:
Control Your Spending
Davis hit his career running. He didn't attend college and worked seasonal jobs, like in ski resort security, until he was eligible to join the police force at age 21. Since then, he's lived well within his means.
In preparation for buying his first home, Davis says, "I didn't go anywhere or do anything for at least four years." For fun, he went on hikes with his girlfriend and his dog and watched Netflix.
He isn't tempted by fancy brews, of the alcoholic or caffeinated variety. (He doesn't drink and doesn't like coffee.) He never buys lunch. Instead, he packs meals of chicken, vegetables, and potatoes from home. He works just a mile from home to save on gas costs and owns his truck, a 2014 Dodge Ram, outright.
Unlike many adherents of the FIRE movement (Financial independence, retire early), Davis doesn't track his spending down to the penny. But he keeps a working mental tally and says "due to saving enough I will be comfortable in all my purchases."
Davis and his girlfriend have chosen not to have children. He does have a German Shepard, Mirage. Becoming a police officer and owning a German Shepard were two of his childhood dreams.
Build a Contingency Fund
As a public employee, Davis will not be eligible for Social Security benefits. For various historical reasons, certain government workers do not pay Social Security taxes and thus are not eligible for benefits on their own record.
That means Davis will rely primarily on his police pension, which will pay 67.5% of his highest earning three years. He currently makes between $75,000 and $100,000, depending on the amount of overtime he works.
In order to retire with 20 years on the job and not 25 -- the standard for full pension benefits — Davis "bought into" the system, paying $71,000 five years ago to purchase an extra five years of benefits. If he had had children, he likely wouldn't have had that kind of money available, Davis says.
Davis will be eligible for Medicare at age 65, but he doesn't get paid retiree medical to tide him over until then. He'll need to buy his own health insurance, either from the county or the outside market, at a cost today of about $550 a month. As a current employee, he doesn't pay anything toward his health benefits.
Davis says he has about $90,0000 saved in a taxable brokerage account to pay for his health care when he retires. He has an advisor at Edward Jones manage his investments, a mixture of individual stocks, bonds and mutual funds, for him: "That's not my specialty."
That's the only money Davis has in the market. Since he has the guaranteed income of his pension, he's not planning to live off investment interest like others who punch out of the their jobs early. He currently spends only $15,000 a year, or roughly $1,250 a month, so he's confident he'll be able to live off his pension income, which would be between $4,500 and $5,100 at his current salary levels but will likely be higher in the future as his salary rises.
Tap Your Hobbies for Your Second Act
After he retires, Davis plans to indulge his passion for travel. To date, he's enjoyed trips to Alaska and Nassau in the Bahamas, paid for almost exclusively through credit card rewards points. He plans to take his travels up a notch after he stops working. "I want to see everywhere and everything," he says.
If he decides that he wants to work in retirement, he'll make his job about travel. He envisions a possible second-act career as a security specialist at events, or working in security for a cruise ship. "Either way, I'll work it for my benefit."