A $49,000 Bunny and 6 Other Crazy Numbers for This Holiday Weekend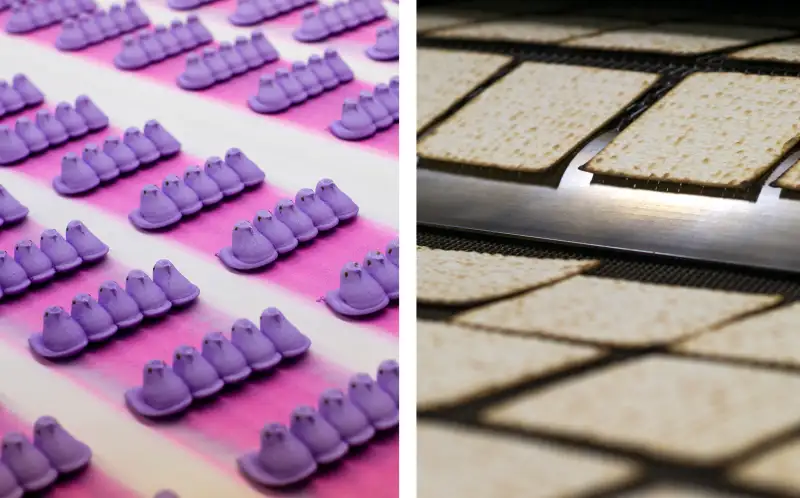 Kristoffer Tripplaar/Alamy (left)—Ron Antonelli/Bloomberg via Getty Images)
This year, Easter and Passover fall on the same weekend, which means grocery stores will be overrun by shoppers grabbing last minute-supplies for seders and holiday dinners. Consumers will shell out more than $2 billion just on candy alone.
Here are some other impressive numbers associated with these two holidays.
$16.4 billion
The amount consumers plan to spend this year on Easter, compared with $15.9 billion last year, according to the National Retail Federation's annual survey. That averages out to about $140 per person.
35
The number of Peeps flavors available during Easter season. You can enjoy a sugar-coated marshmallow chick in flavors that include "party cake," "sour watermelon," "sweet lemonade," and "mystery flavor."
$49,000
Cost of a chocolate Easter bunny with diamonds for eyes being sold by chocolatier Martin Chiffers via luxury product site veryfirstto.com. Don't worry about waste: The site states that "Once the bunny has been eaten, the diamonds can be set into a bespoke piece of jewellery (such as earrings) free of charge."
30%
The typical premium for kosher foods versus nonkosher foods, year-round. Special "kosher-for-passover" products are even more expensive because of the extra requirements the food must meet.
$10,000
The penalty for price gouging on kosher-for-Passover products, as proposed by a new bill in the New York state Senate.
$11,000
The price of the eight-day "Prime Passover Experience" at the St. Regis Monarch Beach in Dana Point, Calif. For that sum, you get an ocean-view room and butler service, plus options for horseback riding, private sailing, limo service, yoga, spa time, and vintage wine with your Passover meal.
More than 40%
Bon Appetit/Alamy (left)—Scott &Zoe/Getty Images (right)
Increase in the sales of eggs, which feature both in Easter egg hunts and on the seder plate, in the week before Easter.