Ellen DeGeneres Has Spent at Least $145 Million Buying and Flipping Homes. See Her Biggest Wins—and One Enormous Loss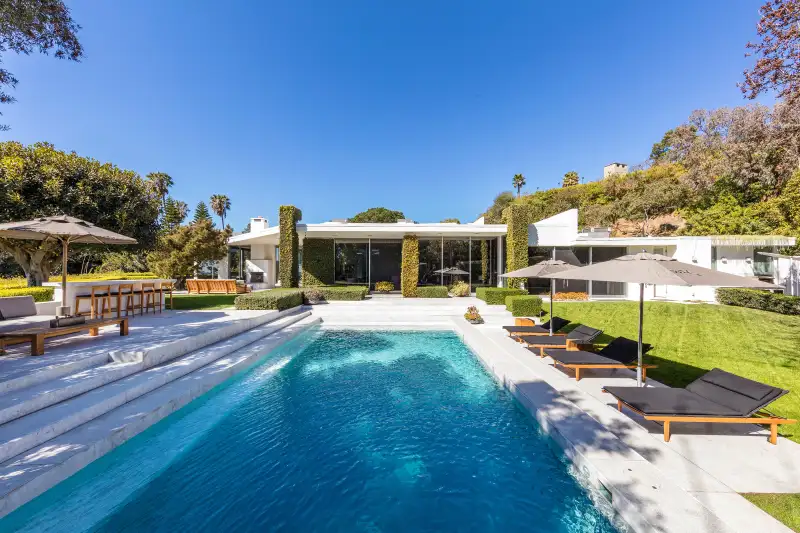 In the larger-than-life world of luxury real estate, where multi-million dollar homes are traded between celebrities like baseball cards, there may be no investor more prolific than Ellen DeGeneres.
Second to her long-running talk show, DeGeneres is known for scooping up pricey realty, often selling for million-dollar profits. Though she's known as a flipper, DeGeneres has disputed the assertion that she buys homes to sell them. "I've never bought to sell," she told the New York Times in 2014, "I always say: 'This is it. I'm never moving.'"
In her 2015 coffee table book, Home, DeGeneres compared her houses to guests on her talk show. "They have a story to tell and great bones, but what really matters is what's on the inside," DeGeneres writes in the book's introduction. "And after you've spent a little bit of time with each one and learned what you can, it's time to bring out the next house."
It's true, DeGeneres admits, that she and wife Portia de Rossi move a lot. But just how much is "a lot?" Good question.
DeGeneres told Architectural Digest in 2011 that even she has lost track of how many homes she's bought, but Vogue pegged the number at 15 in 25 years. Fortunately, her habit has been extensively chronicled, giving fans the chance to peek at some of her most stunning properties.
Here are some of DeGeneres's most remarkable flips:
Rancho San Leandro
Bought in 2017 for $7.2 million
Sold in 2018 for $11 million
DeGeneres's most recent flip was the sale of a Spanish-style estate in Montecito, Calif., a pricey part of Santa Barbara where the median home listing price is just over $4.3 million. The home, which reportedly borders Oprah Winfrey's estate on one side, was sold to Tinder founder Sean Rad, Variety reported in June 2018.
The property, which DeGeneres purchased only six months prior, is made up of two homes: a 6,764-square-foot main house with four bedrooms and four bathrooms and a 2,750-square-foot adobe home that dates back to the 1850s.
The Brody House

Bought in Jan. 2014 for $40 million
Sold in July 2014 for $55 million
DeGeneres may have only held onto this mid-century estate for half a year, but she loved it enough to mention it in Home.

"I don't regret it at all," DeGeneres wrote of buying the sprawling Holmby Hills mansion in Home. "When you're addicted to architecture and style and design, how do you not buy that house?"
DeGeneres wrote that she was "completely in love" with the A. Quincy Jones-designed 13,500-square-foot home -- but it wasn't meant to be forever. The home was crisp and clean like a museum, she writes, but showed every hint of dust or smudges. "Ultimately it was too much," DeGeneres writes.
In July 2014, DeGeneres sold the home to Napster founder Sean Parker for $55 million -- $15 million more than she paid.
A Hal Levitt original
Bought in 2012 for $17.4 million
Sold in 2013 for $20 million
DeGeneres only owned the Beverly Hills home known as the Skouras Residence for about a year and a half, but the comedian remembers the home feeling remarkably warm and cozy. That might not sound remarkable -- after all, houses are supposed to feel warm and cozy -- until you consider just how big the five-bedroom house is.
"We could hang out in the living room and talk and relax," DeGeneres wrote of the 8,000-square-foot home in the Trousdale Estate section of Beverly Hills, which was named for original owner Charles Skouras Jr. "We could watch TV in the TV room and stretch out on the sofa with our dogs."
DeGeneres sold the home in December 2013 for $20 million, according to property records, $2.6 million more than she paid for it in May 2012. DeGeneres may have moved on to other houses, but, by the time Home was released in 2015, the comedian was feeling nostalgic about the estate.
"It was just a wonderful homey kind of home," DeGeneres writes in Home. "Now that I think about it, why did we ever leave?"
Should DeGeneres still harbor second thoughts, the real estate maven may have a chance to snap the house back up. The home hit the market once again in May 2018 for $33.75 million.
Beverly Hills Estate
Purchase completed in 2008 for a combined $48 million
Sold in 2012 for $37 million
DeGeneres has owned a lot of real estate in and around Los Angeles, but this Beverly Hills compound is perhaps her most well-known. The talk show host and wife Portia de Rossi paid $29 million for the 9,200-square-foot property in December 2007 before buying three surrounding homes to incorporate into the estate, according to Variety.
"It was a really beautiful property and we loved it there," DeGeneres writes about the 1963 home in her 2015 book. "In fact, we got married there."
The home, DeGeneres writes, was perfect for parties. It had a game room, gym, art studio and plenty of bedrooms. In the end, she says, it was just too much house to take care of. The pair sold it to American Idol host Ryan Seacrest for $37 million -- a rare overall loss that could be due to a post-financial crisis dip in Los Angeles housing prices -- in 2012.
A horse ranch in Thousand Oaks
Bought in 2008 for $8.5 million
Sold in 2013 for $10.85 million
DeGeneres and de Rossi bought this former equestrian facility in the hills above Los Angeles for $8.5 million in 2008. Over the following years, the pair assigned each of the two barns and eight cabins their own unique decor theme, from "art" to "romance," and built a wooded escape from the city. And they didn't just renovate the buildings. DeGeneres and de Rossi also installed a tennis and badminton court on the grounds.
"I have to say, the ranch has been one of my favorite projects to date," DeGeneres wrote in Home. The pair sold the estate in Sept. 2013 for $10.85 million.
Two Los Angeles condos
Bought in 2014 for $13.2 million combined
Sold in 2017 for $11.85 million combined
If you think the two 12th-floor condos DeGeneres and de Rossi bought in Los Angeles in 2014 sound like a departure from the other properties in their portfolio, you're not alone. "It was a giant experiment," DeGeneres wrote in Home, "with epic views of the city, and no gardens to weed."
The two condos remained separate, DeGeneres wrote, but were used for different purposes. One side, the brighter residence, served as their living quarters, while the other, decorated in dark tones, was used for entertaining. DeGeneres sold the condos in 2017, taking a $1.35 million loss on the spread.
A Malibu beach house
Bought in 2011 for $12 million
Sold in 2012 for $13 million
DeGeneres and de Rossi purchased a beach house from Brad Pitt and Angelina Jolie in 2011 for $12 million. Despite its amenities, which included private Malibu beach access, a tennis court, a pool and a prime location above the Pacific Ocean, the pair didn't seem to take to it like they did their other abodes. It doesn't even get a mention in Home, and the comedian only held onto the property for about a year. The pair "quietly" sold the home in June 2012 for $13 million, according to Zillow.