Erika Eckley Helps People Die With Dignity. Here's What She Fears About Health Care Reform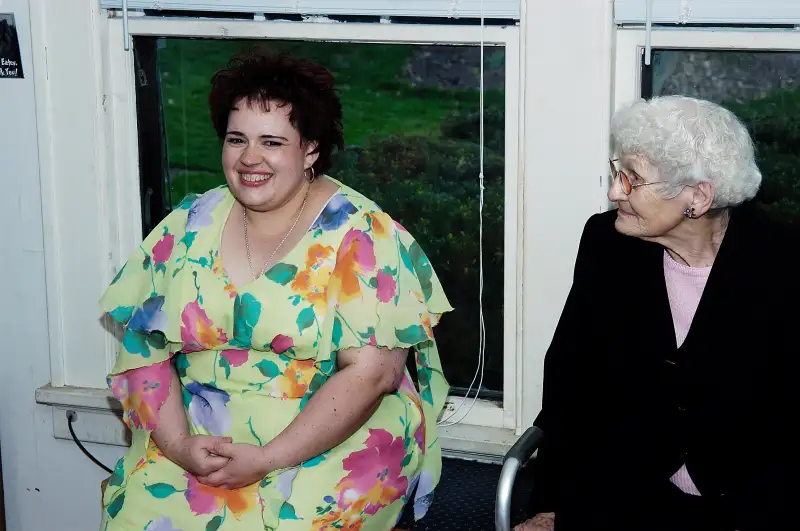 Kelly Wilkins was 39 years old when she learned she had breast cancer, and 44 years old when the doctors told her she would not get better. She was discharged from Broadlawns Medical Center in Des Moines, Iowa, and moved back home. Hospice nurses took care of her in those final days, thanks to her Medicaid insurance.
Wilkins' sister, Erika Eckley, watched how those nurses softened the blows of dying. When Wilkins was too weak to climb the stairs to her bedroom, for example, the hospice nurses installed a medical bed in her living room so family could gather around her.
"There's just a comfort level when you're in your own home versus being in a clinical hospital," Eckley says. Wilkins was able to reunite with her two cats, whom she'd painfully missed. She reread her favorite books. The hospice nurses talked to Wilkins' mother, who didn't move from her daughter's bedside, about the grief of losing a child.
The hospice experience moved Eckley to join the field herself. Today she is the executive director of the Hospice and Palliative Care Association of Iowa. That makes her particularly well positioned to assess some of the personal and public health impact of the Senate's proposed health care bill — which would slash federal Medicaid funding by $772 billion, according to the nonpartisan Congressional Budget Office.
Eckley fears that the measure will leave low-income people to die less gracefully, without the pain medicine, counseling and company that hospice care provides. Around 5% of hospice patients are covered directly by Medicaid, according to the National Hospice and Palliative Care Organization. But many patients also receive hospice care in nursing homes, which are reliant on Medicaid funding.
In her Des Moines office, Eckley spends her days preparing and sharing information about services like Medicaid to Iowa's 105 hospice locations. Lately, she's been looking at how the federal cuts to Medicaid could play out in her state.
"They could reduce the number of people who qualify for Medicaid by making eligibility more restrictive," she says. "The state, in looking to reduce its costs, could eliminate the hospice benefit under Medicaid."
Nursing Homes Strained
She adds a point she says is often overlooked: "About 50% of the hospice beneficiaries are in nursing homes. Nursing homes are paid through Medicaid funding," she explains. "Nursing homes in Iowa might close if they have more losses coming through the Medicaid funding."
And the death of those facilities could cause widespread damage, she says.
"If rural hospitals, nursing homes and hospices close, those communities are going to die as well, as those are the largest economic engines in a lot of those communities. Once those are gone, they don't come back. So this isn't just about whether or not someone can afford to be in a hospice. This is whether or not we can afford to let our communities languish, just because we don't want to pay for a Medicaid benefit."
'The Hospice Individuals Loved Her'
Even though hospice care comes at the end of someone's life, it can still have a tangible impact, Eckley says. One study found that people in hospice care live an average of 29 days longer than non-hospice patients.
One story stands out to Eckley, of a woman in southern Iowa who received hospice care through her Medicaid insurance.
"There was a younger woman who had been incarcerated and she had cancer. She was given the opportunity to be released from the prison for her final days, and to be taken care of in the hospice. Through her treatment, she had lost her hair. The hospice volunteers provided her with hats that people had knitted to keep her head warm. The hospice tried to help her get in touch with family that she'd lost contact with.
"Shortly before she passed, she told the hospice that she was grateful for the care they'd given her because nobody in her life had ever loved her the way the hospice individuals loved her at the end of her life."
Around two weeks later, the woman died.
"This is changing lives," Eckley says, adding that hospice services also provide support for the loved ones around the dying.
At Death, a Lifeline for Survivors
Eckley remembers how the hospice nurses stayed with her sister until the very end. They helped Wilkins to call her family members who couldn't be there, to say goodbye. They talked about the stages of grief to the family members who were there.
Even though the signs of the end were clear, Eckley says, it was still a shock when her sister stopped breathing: "It was hard to make decisions and to function."
But the hospice nurses knew what to do. They made arrangements for her sister's body to be collected. They called the funeral home.
"The family can focus on saying their goodbyes to the body without dealing with the administration," Eckley says.